IIM-B, Goldman Sachs select 15 entrepreneurs for Women Startup Programme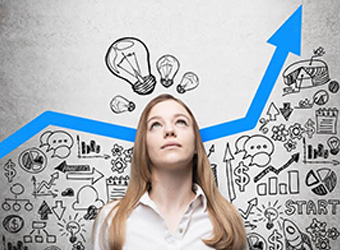 Indian Institute of Management Bangalore's NS Raghavan Centre for Entrepreneurial Learning (NSRCEL) and global investment bank Goldman Sachs have selected 15 women entrepreneurs-in-the-making and their ideas for incubation over the next year, under the final phase of the Women Startup Programme.
The 15 women who have been selected will receive a fellowship of Rs 40,000 per month while they further develop their business ideas.
Launched in November 2016, the Women Startup Programme saw participation of over 1,700 aspiring entrepreneurs from across the country for a five-week online course focussed on encouraging identification and testing of business ideas.

Later, 50 women entrepreneurs were selected for a three-week boot camp at IIM-B to enable each participant to develop a robust "problem-solution" methodology for comprehending the success and sustainability of their ventures.
The final round culminated in a one-on-one demo day last week, where participants presented to a panel of entrepreneurs, Goldman Sachs professionals, and business leaders, including PC Mustafa, founder & CEO of ID Fresh Food, Manish Singhal, founding partner of Pi Ventures, and Abhay Hanjura, founder & CEO of Licious.
"The innovative business ideas developed through this mass outreach online and classroom programme reflect...the tremendous potential of women entrepreneurs," said Sonjoy Chatterjee, chairman and co-CEO, Goldman Sachs (India).

Prof. Suresh Bhagavatula, program director at IIMB and chairperson, Entrepreneurial Ecosystem Development, NSRCEL, said technology, either as the core business idea or to scale, was a key theme in the programme.
"Many ideas also focused on community. Through the boot camp, our women entrepreneurs-in-the-making were able to learn and apply business acumen and technology expertise to help their ideas continue to grow into a viable business," he further added.
The business ideas ranged from matching volunteers to social causes and specialised healthcare systems to customised social networks.

The three-week boot camp provided the 50 participants with an opportunity to network with successful women entrepreneurs, venture capitalists, MBA students from IIM-B, and Goldman Sachs professionals, apart from receiving classroom instruction on developing a business plan, understanding costing and pricing, sales and marketing, and negotiation skills. The average age of the class was 34, with the youngest student being 22 years' old and the oldest being 53.
Another programme that focusses on women entrepreneurs is empoWer, run by Mumbai-based technology startup accelerator Zone Startups India. Last year in June, it had selected 15 women entrepreneurs for the six-week accelerator programme. It comprised mentoring sessions, workshops, industry connects, case studies of successful women-led startups, peer-to-peer, and investor connects. The top three performers received Rs 60 lakh at the end of the programme.
---