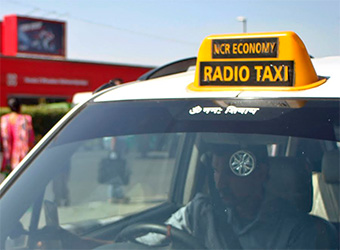 US-based Uber Technologies Inc's India subsidiary Uber India Technologies Pvt. Ltd has obtained a restraining order from the Karnataka High Court that bars protesters, including union leaders and members, from blocking and stopping the company's cabs.
"The Hon'ble Karnataka High Court has issued an injunction restraining unions, their leaders, members and their followers from preventing Uber driver partners from driving. We...hope it will enable drivers to get back behind the wheel, something many have been telling us they wish to do," Uber said in a press statement.
The company had moved court following several incidents of violence on February 23 by drivers of Uber and ANI Technologies Pvt. Ltd-run Ola. Besides, many cases of protestors forcefully stopping cabs, physical assaulting drivers and blocking roads have also been reported since the strike began.
Last week, a group of protesting drivers pelted stones at Uber's office in Bangalore's HSR Layout.
"We now request police to effectively enforce the court order, take action against people carrying out illegal acts and ensure the safety of our riders and driver partners...In the event of incidents of intimidation or disruption, we urge riders and drivers to dial 100," the Uber statement said.
Meanwhile, taxi drivers in Mumbai are planning a similar agitation on Tuesday against declining earnings and unfriendly incentive policies, reported Hindustan Times. Interestingly, Mumbai has so far been unaffected even as app-based taxi drivers have been striking in Delhi, Hyderabad and Bangalore.
Mumbai cabbies working on the driver-partner model claim that Ola and Uber are not safeguarding the assurance of a minimum daily booking and, instead, diverting most bookings to company-owned cabs, the HT report said.
Protestors in Bangalore have been demanding that both Ola and Uber should adhere to Karnataka On-Demand Transportation Technology Aggregators Rules, 2016, which fixed taxi fares at Rs 19.50 per kilometre (for AC cabs) and Rs 14.50 per kilometre for (non-AC cabs). Currently, the cab-aggregators offer deep discounts to offer rides at a minimum charge of Rs 6 per kilometre.
Drivers have also been demanding better incentives and relaxed work hours, apart from an immediate stop on attaching more cabs. Besides, they want the taxi operators to immediately stop penalising drivers based on customer ratings.
In Bangalore, the drivers had observed a one-day protest on February 16 when a fresh round of talks between driver representatives and cab-aggregators failed to yield any results. Uber representatives abstained from the meeting while Ola asked for 15 more days to address the issues raised by the agitators. Two protesting drivers attempted suicide outside the Ola office in the city during the agitation.
Services were partially affected on February 15 as well due to a strike called by various unions protesting against a recent hike in driving licence and other fees by the Regional Transport Office (RTO), in addition to the flexible fare structure followed by cab aggregators and falling income of drivers associated with them.
---