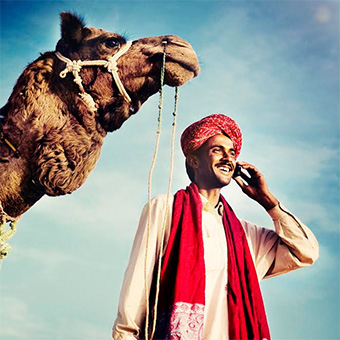 For those not comfortable in English, using messaging platforms can be a tedious task. There are phones these days that integrate regional language keyboards in the operating system, but ever tried stringing together a five-line sentence in Punjabi? Hunting the correct 'maatras' on the cumbersome keyboard can easily set you back by multiple minutes. Hence, an app called Gappi tried to change how people converse by converting speech to text, which was made possible by using Liv.Ai's technology.
"Only 5% in India are comfortable with English, and if you ask how many can express in English, those numbers are even less. So, we use Liv.Ai's API at the backend, and do the handholding for the user from our side," said Nikhil Jha, founder of Gappi, a chat app available in multiple Indian languages that converts speech into text.
This is just one of the many use-cases that Liv.Ai's technology offers.
Liv Artificial Intelligence Pvt Ltd was founded in May 2015 by three friends from IIT Kharagpur, Subodh Kumar, Sanjeev Kumar and Kishore Mudra. They all believe that the next big catalyst is the disruption the Internet is bringing to industries such as healthcare, mobile-tech, defence, transportation and deep learning.
"One thing we realised was that our machines should be able to talk to us, and we should be working on speech recognition," said Subodh.
The first few months were spent in research, as it is a deeply technical field with scarce resources.
"People in India are not proficient in English, but the ecosystem has been built around English. Content creation to build this system is a hassle. Speech recognition in regional languages eliminates the need to speak or type in English, helping machines to talk to you in your language," added Subodh.
For example, one company that Liv.Ai is working with is in e-commerce, which uses its automated speech system to call customers for feedback. Using Liv.Ai's application programming interface (API) reduces time and labour costs as the answers get transcribed into text and are ready for analysis by the company, without any gestation in between. Similarly, the government is also using this technology to get feedback from citizens and call centre companies are using it for voice search.
Liv.Ai's technology can be used in any company with a consumer interface, or one with a large mobile base that wants to let its customers talk to them in their own language.
Currently, this business-to-business (B2B) startup is working with six to seven companies in e-commerce and the government sectors.
But there is more in store for this startup. Liv.Ai is developing its technology to go beyond providing transcripts of conversations and to draw inferences from text, enabling companies to carry out tasks or data analysis the moment they receive input from the customer.
For example, for large hospitals, their priority is to identify customers that opt for high-value items. Liv.ai's technology processes the customer conversations and converts them into leads for the sales team.
Another use-case scenario for Liv.Ai's technology is with telecom service providers. Usually, customers have to spend considerable time on interactive voice response before getting their queries addressed. Liv.Ai automates the entire process. A customer request such as 'I want to return my order' is either directed to the correct person or the machine itself can ask for details about replacing or returning the article.
Liv.Ai is currently doing a proof-of-concept with banks for the full-stack call centre automation process.
"Banks spend a lot of money on customer care. But with us, you just have to say that 'I want to transfer Rs 500 to Sanjeev' and it will be done, and then you just need to confirm," explains Subodh.
By widening the scope for the technology's application, Liv.Ai wants at least 80% of the Indian population to able to talk to apps in any language.
"More than half of the clients our customers receive are first-time Internet users, and they would like to talk in their own language. If you want to talk in your regional language, then speech is the default input. It is much more comfortable as compared to text. Our target is the whole Internet mass of India," claimed Subodh.
The company, which comprises seven people, has raised angel funding, but the founders did not divulge more details.
While investors believe that disrupting speech with machine learning has its merits, it is a capital-intensive business to scale.
"The challenge is that we do not have enough research here imparting this expertise. So, the technology itself is new, plus we have limited pools of resources. The knowledge base here needs to improve, but companies like Liv.Ai are still trying to do something innovative in this space," says Kunal Khattar, partner at early-stage venture capital firm advantEdge.
While Khattar believes that resources pose a hindrance for scaling up such a business, those pioneering in this field will definitely have a first-mover advantage, he adds.
"This can be monetised only from a B2B perspective, and for that, the technology has to evolve significantly more in order to decipher what has been inputted. So the level of interactivity goes up in order to be useful, and it requires significant capital," he concludes.
---