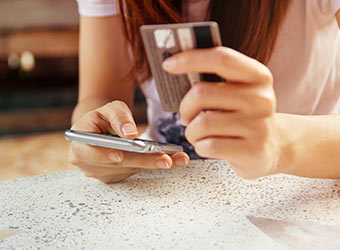 India's mobile wallet companies have a knack for being in the news. Just a day after Vijay Shekhar Sharma-led market leader Paytm said it will levy 2% fee for adding money to the wallet using credit cards, arch-rival MobiKwik has announced that it will continue to offer "free" uploading of money to its wallet, including from credit cards.
MobiKwik founder and CEO Bipin Preet Singh said, "In order to popularise the government's vision of a cash-less society, we at MobiKwik have decided not to charge 2% on credit card recharges so that more people can transact online without having to worry about additional charges."
While announcing the charge, One97 Communications Ltd-run Paytm had said that "misuse" by many users had necessitated the step.
"We saw a disturbing trend when many users started funding their Paytm wallet with their credit cards and transferring it to the bank all for free. They were not only getting free loyalty points which effectively is free cash but also getting access to free credit," Paytm had said.
It went on to explain that "Paytm pays hefty charges when you use your credit card to card networks and issuing banks. If a user simply adds money and takes to bank, we lose money. Our revenue model requires users to spend money within our network."
"Some financially savvy users (surprisingly many of them employees of national financial institutions) exploited this model to rotate money, and at Paytm's cost," the blog added.
However, the 2% fee on credit card transfers would be reversed in the form of a gift voucher for the same amount, which will be issued within 24 hours via email and SMS. The company added that users need to add more than Rs 250 using a credit card to be eligible for cashback.
But the company also made it clear that it will not charge any fee if a user shops on Paytm or pays for utilities using his credit card. Also, there is no credit card fee on transactions done using Paytm on its partner apps like Uber, Zomato, BigBasket and Swiggy, among others.
Paytm has encouraged users to add money to the wallet via UPI and IMPS.
MobiKwik sees opportunity
Even though it understands the loophole, MobiKwik is ready to bear the cost. When contacted, a MobiKwik spokesperson told VCCircle, "People don't pay anything when they use their credit cards to transfer money to their bank accounts routed through the wallet. This is the loophole. But, people who are doing it are a very small percentage, almost negligible. Hence, continuing our focus on customer acquisitions and increasing transactions on our platform, we have decided not to levy such charges."
MobiKwik's latest announcement is clearly directed at gaining more customers and, perhaps, attracting some from rivals. Ever since demonetisation happened, mobile wallet companies have had a dream run, clocking unprecedented numbers. However, it's been a lop-sided affair with the Vijay Shekhar Sharma-led company pocketing most of the spoils. If their claims are to be believed, Paytm now has 200 million customers (including individuals and merchants) while MobiKwik's individual user count stands at 55 million and merchant count is about 1.4 million.
Another major wallet company FreeCharge did not reply to an email from VCCircle seeking its stance on the issue.
Cutting losses
Paytm's move seems to be in line with other players in the ecosystem, such as banks, looking to cut their losses that they have been incurring since the days of demonetisation. Mobile wallet players also announced a lot of freebies for both individuals and merchants at that point, to attract customers. However, the announcement by Paytm shows that even wallet companies are looking to plug avoidable leaks in the system.
Commenting on the issue,Sanjay Khan Nagra, senior associate at law firm Khaitan & Co, said, "Paytm has enough customers of its own, and they can afford to let go of those super elites in India who use credit cards to load and transfer money. It doesn't really impact them in the long run. At some level, these credit card companies are also rivals to Paytm because at the merchant level both of them are competing in the payments space. And when you allow customers to transfer money to Paytm through credit cards and take credit points, it's the credit card companies who benefit."
Moreover, when we compare Paytm and MobiKwik, Paytm has a larger customer base than its rivals', so its losses from said activity would have been a lot more, Nagra pointed out.
And, at some point it had to stop, he believes, as going forward "the issue itself will become redundant as there is no future of credit card companies in the long run".
Berkshire Hathaway Inc's Charles Munger, who also owns some stake in American Express, recently said he doesn't see a very bright future for credit card companies. While explaining the credit card ecosystem, Nagra said, "On credit card, at all places there's some charge because at some points payments would have gone to the these credit card companies and banks who are enabling those payments. Aadhaar Pay is launching soon in India, which will enable merchants to accept payments through biometric authentication/thumb impression. Credit card companies in the world exist because they make money out of payments and that, in itself, is to go out soon. There will not be much use of credit cards."
---