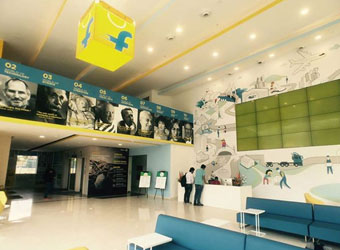 Flipkart Pvt Ltd, the Singapore-based holding company of India's largest e-commerce marketplace, has reportedly raised $1 billion in a massive fundraising round.
The funds were secured at a down round that valued the company at $10 billion, the report added citing the same people.
Flipkart had a peak valuation of $15 billion in 2015. The investors in the current round included Microsoft, eBay and Tencent Holdings, the report said.
In an emailed response to VCCircle, a Flipkart spokesperson said, "As a company policy, we do not comment on market speculations."
News about Flipkart's imminent fundraising has been doing the rounds for a while now with various media platforms reporting it at various points in time.
In January, it was reported that Flipkart is likely to raise Rs 3,400-5,400 crore ($500-800 million) at a valuation of $10-12 billion.
Flipkart had a tumultuous 2016. The company struggled with exits of many top-level executives and a markdown in its valuation about a dozen times. A mutual fund managed by Fidelity Investments lowered the value of its investment in Flipkart by 36% to $5.56 billion. Morgan Stanley valued Flipkart at $5.57 billion in September 2016.
The latest valuation resetting comes on the heels of a major organisational restructuring in the second week of January when Flipkart appointed Kalyan Krishnamurthy, a former Tiger Global executive, as its new chief executive officer and made co-founder Binny Bansal group CEO.
The top-level shuffle, which comes exactly a year after Binny Bansal was made CEO, signals that the company is still striving to set the house in order even as it fights a tough battle against Amazon in online retailing.
---