Nearly 90% startups expect peers to merge, pivot or shut in 2018: TechCircle survey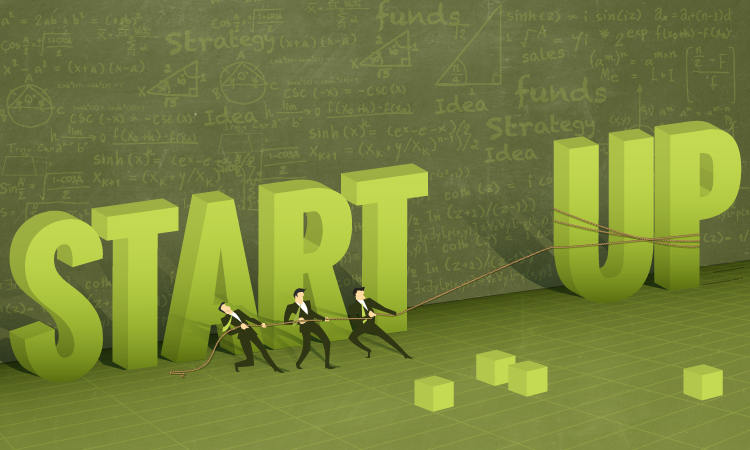 The roller-coaster ride Indian startups went through over the past couple of years in terms of funding may have prompted investors to focus sharply on profitability or revenues but the biggest challenge entrepreneurs are facing is more basic: hiring the right talent.
According to a survey of entrepreneurs conducted by TechCircle, 45% of the 111 respondents considered recruiting the right personnel their top challenge and 36% felt that maintaining revenue growth would be difficult in the new year.
Harishankaran K, co-founder of technical recruitment platform HackerRank, says that experienced people, especially those who work at multinational companies, are unwilling to unlearn a lot of things and learn new skills. "In MNCs, you focus on a niche while other teams do [the] rest. In startups, you have to do everything. Hence, the pool available for everyone is the same and it is tough for startups to fight with MNCs for talent," he says.

He also adds that Indian education curriculum does not include the latest technologies, which makes it difficult for startups to hire from campuses. Also, small companies cannot afford to train new employees.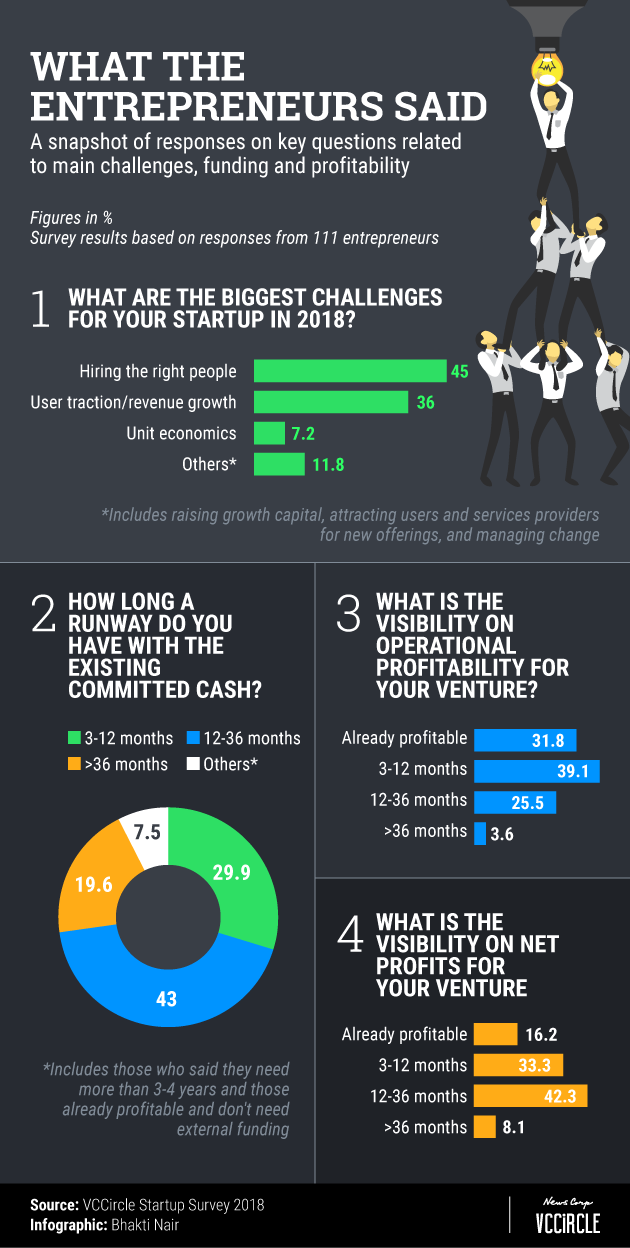 Besides talent and revenue growth, 8% founders, including those of unicorns and soon-to-be-unicorns, said managing unit economics would be another challenge to overcome.

Entrepreneurs also expect to see a lot of shake-up happening in the industry in 2018. A tad more than 40% said the startup ecosystem will see mergers while 27.5% said there will be shutdowns among their peers and 17.4% felt some ventures will pivot to survive.
While most startups never publicly report shutting down their business, at least 19 VC-backed ventures reported ceasing operations in 2017 compared with 32 in 2016.
Serial entrepreneur K Ganesh views this as an alarming trend. But Sunil Rao, partner at venture capital firm Lightspeed India Partners Advisors, believes that not every merger and acquisition kills value creation.

"Inorganic growth is always good because some people get exits whether [they are] angels or seed investors. It also gives us good success stories and hope. Not every deal is expected to be successful in the ecosystem. Not everybody is expected to be a unicorn. Also, not everybody can run companies for 10 years," he says.
According to Ganesh, startup founders do not give priority to long-term value building. This is a cause for concern because mergers and acquisitions in India are rare and exits are tough. He believes that the next milestone entrepreneurs should focus on is achieving profitability or developing self-sustainable models. "Especially in India, companies are sold and not bought. To get good value and terms, one must build the company to good levels," he adds.
Another significant finding of the survey was that though most founders (43%) said they are comfortable with the funding cushion they are sitting on, nearly one-third will run out of funds in 2018.

Ganesh believes entrepreneurs underestimate the runway due to their optimism. "In reality, the runway would be much shorter on the average since the costs are normally realistic. The revenue projections don't translate that easily, so the burn ends up being much larger and the runway becomes much shorter," he added.
He also said that it is critical for founders to have a runway of at least 18 months to survive.
While venture capital fundraising has slowed, venture debt, despite being a niche offering, has slowly picked up pace in the country. Around a third of the startup founders that TechCircle surveyed said they would raise debt and 10.2% would opt for venture debt as an alternative to VC funding.

India has only a handful of venture debt providers, though the number of VC firms is comparatively much higher. The main venture debt companies in India are InnoVen Capital, Trifecta Capital Advisors, Capital Float, IFMR Capital and Lendingkart.
Another trend that emerged in the survey was that almost one-tenth of startup founders expect their peers to raise funds in a down round, or at a lower valuation than previous funding rounds. One in four entrepreneurs expects to raise funds at flat valuations.
The survey also shows that a whopping 80% founders feel there is no bubble in the ecosystem.

Mohan Kumar, partner at VC firm Norwest Venture Partners, partially disagrees. "The early-stage bubble is gone. However, the late-stage bubble is there. There is a paucity of reasonably successful big companies in the Internet space and hence there is a bubble," he told TechCircle.
Ganesh, on the other hand, acknowledges the survey finding, saying that sanity has set in the ecosystem. "Things have cooled off in the last two years. Expectations are realistic, focus is on unit metrics and not on vanity metrics," he added.
Going forward into 2018, investors are bullish on startups to deliver on revenue growth, onboarding more paying customers, securing exits and expanding offline.
(With inputs from Binu Paul, Manu P Toms and Vijayakumar Pitchiah)
---