A typical Indian address will contain the words "opposite to", "near to", "next to" or "adjacent to". The additions are meant to make it easier to find a place but often end up doing the exact opposite. The result is lost postmen going door to door or delivery boys going round in circles.
Locating addresses is a particularly pressing problem for last-mile logistics in India. Solving it boils down to providing the quickest and most accurate route. Locus, a logistics management startup that operates out of both India and the US, says its platform can decode all the complexities of a handwritten address.
"Our platform can solve the problem of pin codes in India with our geocoding technology [based on deep learning], which is much more granular than pin codes with an accuracy percentage of 98%," says Nishith Rastogi, co-founder of Locus.
Simply put, Locus' technology platform scans an address, detects the locality and marks it on a digital map for delivery personnel after zeroing in on the exact latitude and longitude.
In the process, Locus says, companies whose deliveries run into the thousands on a single day save both time and money. They can also do away with collecting information about pin codes.
According to Rastogi, while other players do offer such a platform as part of other services, Locus' product has greater depth. "We may operate in just one area , but we do a really good job out of it," he claims.
Niche player
Operated by Mara Labs Inc, Locus was founded in March 2015 by Rastogi, a BITS Pilani alumnus, and Geet Garg, an IIT Kharagpur alumnus. They had earlier worked together at online retailer Amazon.
Location has been central to their work both inside and outside Locus. They had earlier co-founded Pinchat, a location-based interaction app. The duo also operate a non-profit initiative through an app called Ridesafe, which focuses on women safety. They developed the app after the brutal gang-rape and murder of a Delhi student in December 2012.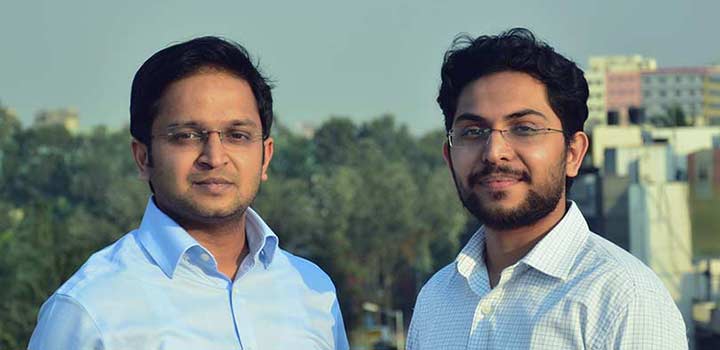 Nishith Rastogi (left) and Geet Garg, co-founders of Locus
Locus provides its flagship product from its Bangalore-based Indian subsidiary Mara Studios Pvt. Ltd. The company also has an office in Mumbai.
The company offers its entire logistics technology stack in the form of platform-as-a-service (PaaS). The geocoding technology mentioned earlier is a feature of the larger route optimisation platform it provides companies to manage their deliveries.
Locus comes into play once packages are sorted for delivery. It offers its platform through a mobile app. The app supports nine Indian languages and works even when there is no mobile network.
Locus has more than 30 customers, divided equally among large, medium and smaller sizes. Apart from India, it also has a small presence in Indonesia and North America.
The broad swathe of Locus' clientele includes e-commerce, logistics and fast-moving consumer goods (FMCG) companies. Rastogi claims that the top three Indian FMCG brands and well known e-commerce players are among his customers.
The logistics-tech sector comprises pure-play tech firms that offer only technology-based solutions and companies which go the extra mile and involve themselves in operations as well. Locus belongs to the first category.
Rastogi admits that Locus is a smaller player compared to the likes of Delhivery, Rivigo and BlackBuck. But the company prides itself on having a specific set of skills.
"Say if you need warehouse management, fleet management system and transaction management system all rolled into one, you don't need us," he says. "However, if you have all these aforementioned capabilities and need a route planning and optimisation solution, our product is currently the best in this space."
While Locus's route optimisation platform caters to organisations of all sizes, large companies, which typically undertake more than 10,000 deliveries a day, stand to gain the most from its product, Rastogi says.
"Our product is expensive, but translates into huge savings for the company. Big players understand the logistics play and we understand the tech play," Rastogi says.
Attracting attention
Like many of the obscure addresses and pin codes it decodes, Locus has generally flown under the radar.
"The bigger players need this noise because they are into both technology as well as operations and need public-facing customers. We need to be known only by a few players," Rastogi says.
Despite keeping a low profile, the startup has received investors' attention. The company has raised close to $3 million, as per information available on VCCEdge, the data research platform of News Corp VCCircle. Its backers include Exfinity Venture Partners, Blume Ventures, Beenext, GrowX Venture Management and Microsoft Accelerator.
Locus' most recent funding round took place last October, when it raised an undisclosed amount from Japan-based diversified consumer and business services provider Recruit Holdings Co. Ltd.
"As we don't really incur customer acquisition costs, our current funding position is quite comfortable, also complemented by our revenues. However, we may raise when we look to undertake a significant expansion drive," says Rastogi.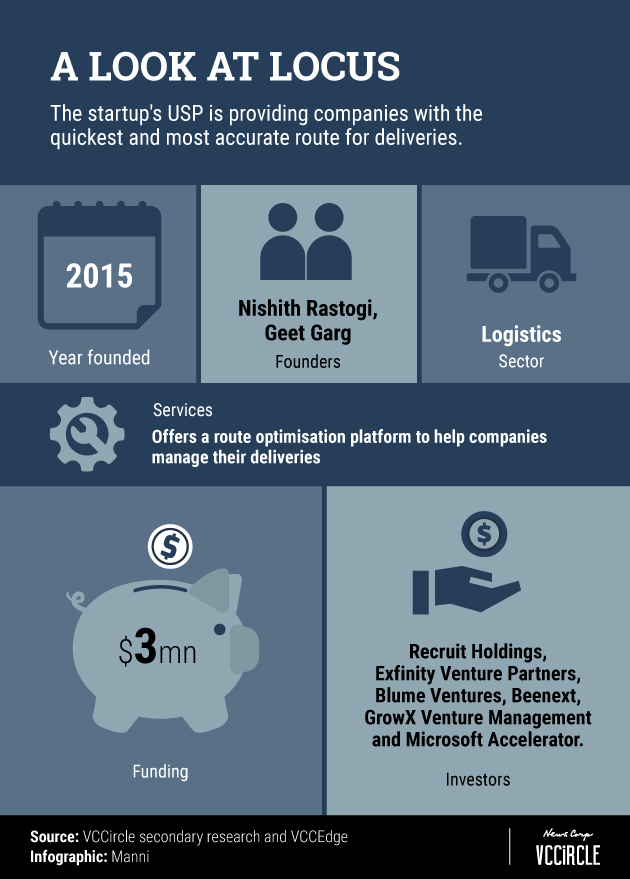 Locus did not provide detailed figures but said its revenue is growing 20% month-on-month. According to Rastogi, the company has attained operational breakeven and its unit economics is positive.
"But this was because we had a lower consumer base as we launched only in mid-2015. At the end of this year, we will probably clock a five-fold growth in revenue," Rastogi adds.
Booming sector
India's logistics sector has traditionally been highly fragmented, and innovations in recent years have merely scratched the surface. But optimism is in the air.
According to government estimates, India's logistics sector will grow more than three times to around $360 billion by 2032. In addition, India jumped 19 places - from 54 to 35 - on the World Bank Logistics Performance Index for 2016.
According to industry analysts, the growth of business-to-consumer (B2C) logistics over the past five years and demand for quicker deliveries have put a lot of pressure on players in the sector, thereby creating opportunities for the likes of Locus.
"There are still a lot of gaps to be addressed and we have barely scratched the surface," says Rastogi.
The company's immediate plan is to double its clientele and expand in Southeast Asia and North America.
"A product that can work for the Indian conditions is a one-size-fits-all solution as India presents very hard conditions for such a product besides accounting for a very huge logistics market due to its big geography " adds Rastogi.
Rastogi says he is open to collaborating with better-funded players. Locus could hypothetically sell its route optimisation software to the bigger players.
But for now, Rastogi says, the company's next tech-based solution will address optimisation-related issues pertaining to network and supply chain.
"With GST (Goods and Services Tax) bringing about some macro-level changes, one of the biggest problems Indian companies face today is designing the supply chain network," Rastogi says. "As our clients share more information and feedback, there will be more standalone modules that will plug into our core platform, something like an AWS (Amazon Web Services, a cloud computing platform) for the logistics industry."
---