Online financial services marketplace BankBazaar has appointed Aparna Mahesh as chief marketing officer.
Mahesh will lead BankBazaar's marketing strategy to drive its next phase of growth, the firm said in a statement.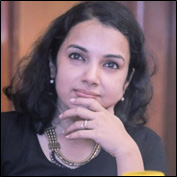 Mahesh joins the firm with close to two decades of marketing experience, with her most recent role being CMO of full-stack foodtech company FreshMenu. Prior to joining FreshMenu, she headed brand marketing at online classifieds platform Quikr.
"Fintech in India is a sector that is seeing tectonic changes, thanks to the push towards digitisation and a long overdue improvement in financial literacy among customers….BankBazaar has demonstrated a steadfast commitment to keeping the customer at the heart of everything it does," Mahesh said.
Owned by Chennai-based A & A Dukaan Financial Services Pvt Ltd, BankBazaar was established in 2008 by brothers Adhil and Arjun Shetty along with Rati Rajkumar. The financial services firm provides customised rate quotes on loans, credit cards and insurance products. In India, BankBazaar has partnered with over 85 financial institutes and has diversified to offer over a dozen financial products, including insurance and mutual funds, besides the banking products it initially began with.
"We started our journey with a digital-only strategy aimed at the metros, as that is where the bulk of our customers existed then. Today, cashless and paperless finance is gaining acceptance across India, and it is time to revisit our marketing strategy. It is the time we look beyond the online space exclusively, and reach out to more people than ever through mass media as well," said Adhil Shetty, co-founder and CEO, BankBazaar.com.
Apart from India, BankBazaar has offices in Singapore and Malaysia.
In its most recent fundraising, the company had raised $30 million (Rs 195 crore) in a Series D funding round led by UK-based credit rating bureau Experian in December 2017.
Previously, it had raised $59.1 million in a Series C round in July 2015 from Amazon, Fidelity Growth Partners, Mousse Partners and existing investors Sequoia Capital and Walden International.
In January 2014, it had raised $13 million in Series B funding led by Sequoia Capital with participation from Walden International.
In August last year, the company had hired former Hitachi Payment executive Ramesh Srinivasan as its new chief financial officer (CFO).
---