Has the coupon and cashback industry hit saturation point?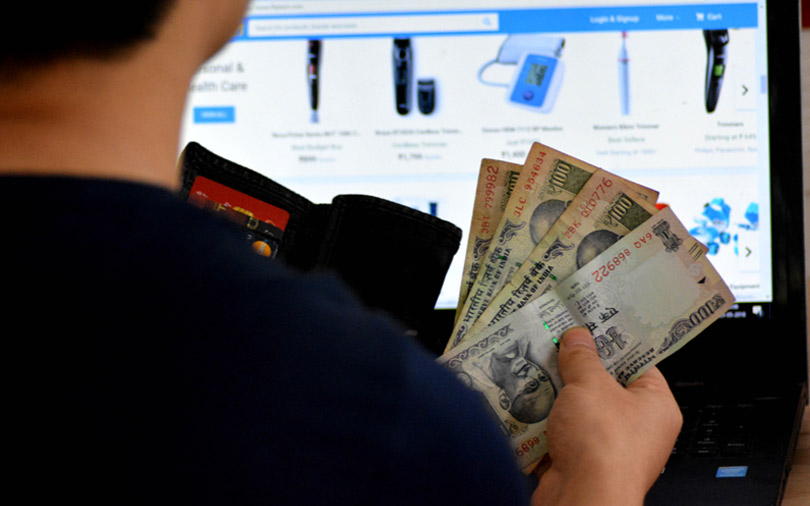 E-commerce in India is possibly at its prime, but things aren't going quite as well for one of its dependents - the affiliate marketing industry. Its players have to contend with apathy from their primary market of e-tailers, resultant low marketing budgets, lack of awareness among customers, and fast-fading interest from investors. So while the sector is desperate to drum up growth, its prospects look bleak.
"There has been a slump in the last two years," said Lancelot D'souza, vice president of affiliate business and growth partnerships at CouponDunia. "The e-commerce industry has grown at a pretty decent clip, but the overall affiliate performance marketing industry has not grown at the same capacity."
Key components

Coupons, cashback, price comparisons and gift cards are the major components of digital performance or affiliate marketing.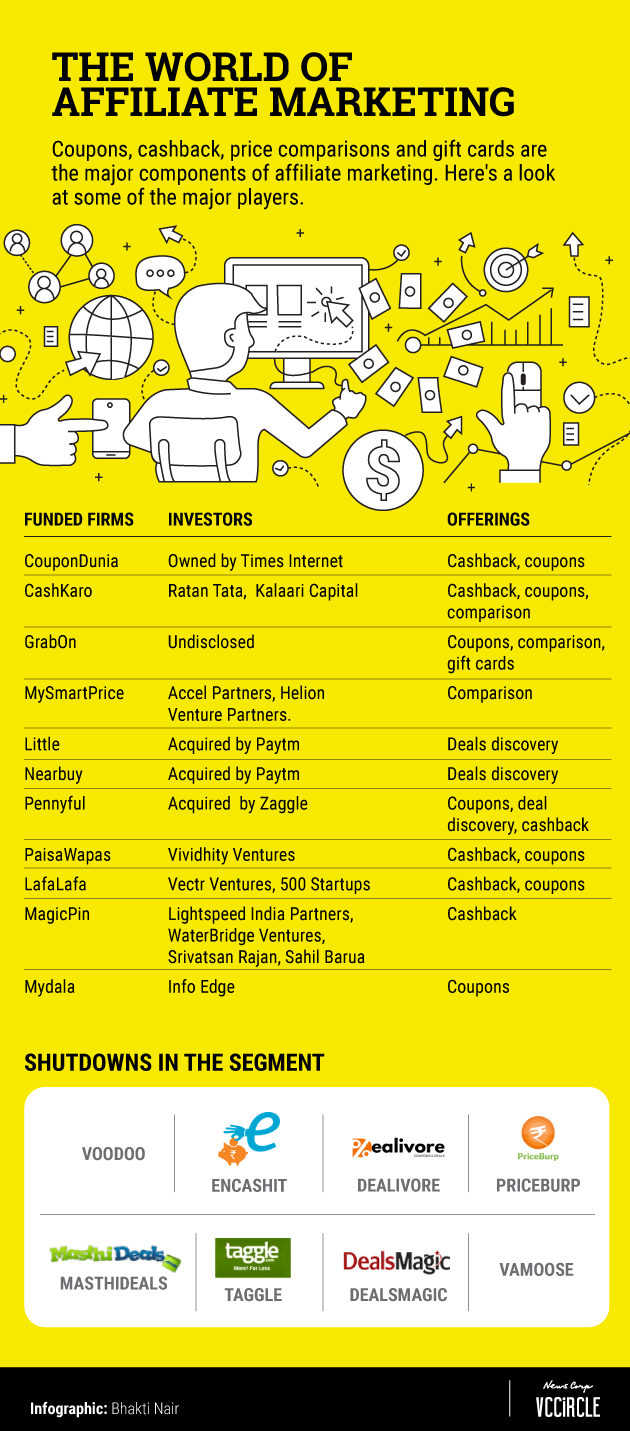 The affiliate channel partners drive sales for e-commerce players and according to estimates, these platforms account for about 20% of the gross merchandise value (GMV) of online commerce. For smaller brands and e-tailers, they work as an effective but inexpensive method to promote their products.

In turn, affiliate marketing firms earn commission from brands or e-commerce companies for sales driven through their websites.
Both coupons and cashback players provide discounts in addition to what e-tailers offer.
While the benefits of coupons can be percentage-based discounts or free gifts that can be instantly redeemed upon purchasing from the relevant online retailers, cashback offers discounts in the form of hard cash which can be transferred to a customer's bank account. But the cashback process takes about 30-60 days as the amount clears for transfer only after the cancellation and return period ends.

CouponDunia is a vertical leader in the cashback segment along with CashKaro. According to a study by market research firm Forrester, the coupon business in India comprises around 13.5% of the total e-commerce audience in India.
In May 2014, Times Internet Ltd acquired a majority stake in CouponDunia, while CashKaro has raised about $4.5 million so far from investors including Kalaari Capitaland Tata Sons' chairman emeritus Ratan Tata.
MySmartPrice.com, which has raised $11 million so far from Accel Partners and Helion Venture Partners, is the leading price comparison player, while GrabOn leads the couponing segment.

Swati Bhargava, co-founder of CashKaro, feels the affiliate marketing segment is saturated and cannot accommodate many players.
"There are two or three players here, leading each of the categories such as price comparison, coupons or cashback. This space is not large where 10 companies can survive on the top. It is big enough for three or four at best," she said.
In fact, several discounts and coupon platforms have shut shop in the past few years with the latest being SAIF Partners-backed deals and price comparison app Voodoo. A number of other startups including Encashit, Dealsmagic, MasthiDeals, Taggle and Vamoose have closed down.

Falling revenues
While the big boys of e-commerce such as Flipkart and Amazon have continued to raise funds and have kept sectoral growth intact, investments into smaller firms almost dried up over the past couple of years.
As a result, overall spending in affiliate marketing dropped drastically, many campaigns were stopped and commission rates have since declined.

"E-commerce companies are trying to be leaner by giving the affiliate companies a lesser payout.," said CouponDunia's D'souza. "While the number of transactions have not decreased significantly, the revenues have not increased. This is primarily because the firms reduced commissions or paused campaigns over the past few years due to lack of funds."
He claimed that many brands refuse to pay affiliates for app transactions while many don't consider cross-device tracking.
Ashok Reddy, founder of coupons and deals marketplace firm GrabOn, said an e-commerce slump in certain verticals has affected the coupon industry directly, forcing them to end campaigns and cut down on commissions.
According to an industry observer who did not wish to be named, India's largest e-commerce players—Amazon and Flipkart—allocate about 5-8% of their overall marketing budget for performance marketing.
At least 50% of this allocated budget goes towards price comparison, 30% to coupons and 20% to other deals. This allocation varies for each player. Some of the big brands such as Snapdeal, Goibibo, and Lenskart have paused their campaigns while a number of others like Faasos have decreased commissions, the aforementioned person said.
Reddy said demonetisation was a big blow to the couponing industry as it took a hit on the mobile recharge segment, which used to drive a bulk of traffic and transactions to coupon platforms.
While transactions picked up in other segments like food and fashion after demonetisation, business from mobile recharges further scaled down with the arrival of Jio, Reliance Industries' telecom venture whose low tariffs have shaken up the segment.
The smaller players
Besides the vertical leaders, there are at least a hundred platforms operating different variants of affiliate marketing, of which only about a handful of startups have raised venture capital investments.
"After the vertical leaders [in the affiliate marketing industry] raised money, it was difficult for other players to raise money," CashKaro's Bhargava said. "That's why the next set of players had to go away or operate on the margins."
The most recent high profile deal in the segment saw Vijay Shekhar Sharma-led Paytm acquire and merge its investee firm Little and online deals startup Nearbuy to create the country's largest online deal discovery platform.
In addition, digital payments and cashback company Zaggle had bought online coupons firm Pennyful, and a number of smaller firms such as PaisaWapas; Couponhaat; and LafaLafa raised funding over the past few years.
"I think there's no new solid player that has come with a different value proposition," said GrabOn's Reddy. "The existing players are still trying to explore strategic or VC investments. Without a unique selling proposition, it would be very hard for a new player to come and establish [themselves] in this segment."
Is a comeback possible?
Reddy expects the advertising spends to scale down and performance marketing fund allocation to grow when the e-commerce companies approach profitability because affiliate marketing directly impacts sales conversions.
"The good news for the segment is that a number of niche players and brands have started making transactions of late. In 2018-19, we expect many smaller players to come forward to embrace performance marketing as an effective tool for growth," he said.
He added that the only way coupon players can scale is to raise more funds and spend it on awareness programmes, especially in Tier II and III cities.
CashKaro's Bhargava too feels the emergence of new publishers and bespoke retailers is a good sign for the industry. She said the players in the affiliate marketing segment have enough money to ward of competition but are incapable of carrying the huge burden of long-term marketing spends.
"The awareness levels are very low in India, especially about cashback. The marketing spend in the segment is relatively small. The kind of burn Flipkart, Amazon, and Myntra have done to get e-commerce going, nobody in affiliate has done that to get [it] going," she said.
CouponDunia's D'souza said there needs to be more product and brand awareness for the industry to grow.
"I see couponing and cashback flourishing for at least five years and in the meantime, these companies need to evolve and embrace other ways and means of affiliate marketing," he said.
Update: An earlier version of this story incorrectly stated that Dealivore had shut down. The error is regretted.
---