Uttar Pradesh-based online eyewear marketplace ClearDekho has raised Rs 2 crore (about $300,000) in a pre-Series A investment round from funding and incubation platform Venture Catalysts, a company statement said.
Several institutional investors such as Mumbai-based Samyakth Capital, a hybrid growth fund, and Pune-based Windrose Capital, which invests in digital-first early- to mid-stage startups, had participated in the round through the VCat platform. Other individual investors who also put in money include Gagan Gupta, Anand Naidu, and Dhianu Das, who are angel investors; Krishnan Akhileswaran, group chief financial officer at Apollo Hospitals; Gaurav Singhvi, founder of financial services firm Financial Supermarket; and Yogesh Chaudhary, director of Jaipur Rugs.
The startup will use the funds to enhance its marketing initiatives, strengthen back-end operations, and to hire talent, Shivi Singh, co-founder of the venture, said in the statement.
"We also plan to expand our product portfolio and launch our private label brands in the budget category," Singh added.
Established by Singh and Saurabh Dayal in 2016, Cleardekho Eyewear Pvt. Ltd sells budget eyewear online as well as in retail stores. Its product ranges from prescription eyeglasses, sunglasses, reading glasses and branded contact lenses.
An alumnus of IBS Hyderabad, prior to starting up, Singh was the India head of strategy and partnerships at VisionSpring, an affordable eyewear brand which has partnered with sunglasses company Warby Parker for its Buy a Pair, Give a Pair programme. Dayal, an MBA graduate from IIM Lucknow, has previously worked with wallet firm Paytm, data analytics company Prognosys, and HCL Infosystems.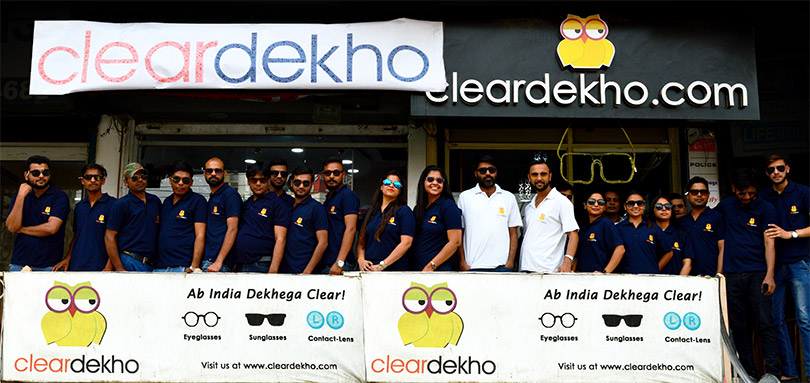 The company has opened 25 stores across Delhi, Haryana, Uttar Pradesh, Uttarakhand and Rajasthan within six months of operations. It claims to be serving more than 50,000 customers.
"We have a unique, asset-light franchise business model. With the latest infusion of funds, we plan to replicate our success in other geographies. We plan to launch 100 stores before December 2018 and have 500 ClearDekho stores operational across India within the next 2 years," Dayal said in the statement.
Venture Catalysts
Mumbai-based Venture Catalysts was founded by Apoorv Ranjan Sharma, Anil Jain, Anuj Golecha and Gaurav Jain in December 2015. It typically invests between $250,000 and $1 million in early-stage startups. In July 2016, it raised $500,000 from Zaffiro Ventures.
Its most recent investments include crowdfunding platform ImpactGuru, Kolkata-based Ideal Insurance Brokers, and lingerie brand InnerSense.
---