SoftBank-backed Ola's revenue nearly doubles in FY17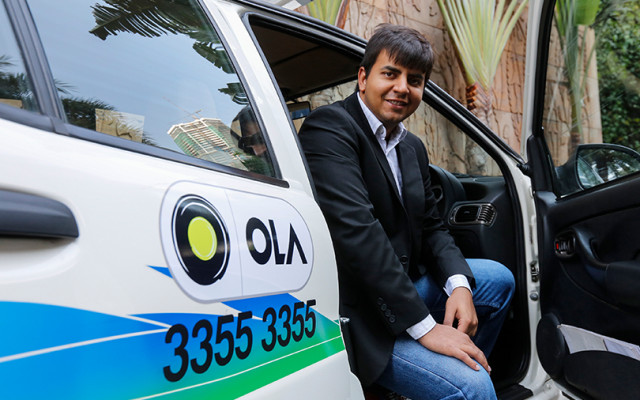 Photo Credit: Shah Junaid/VCCircle
The total income of homegrown cab aggregator Ola, operated by ANI Technologies Pvt. Ltd, nearly doubled in the financial year 2016-17.
According to filings with the Registrar of Companies (RoC), Ola posted total income of Rs 1,285.9 crore in 2016-17, up from Rs 664 crore in the previous fiscal.
Total income typically includes income from a company's core business as well as non-core activities such as investments.
The net worth of the company stood at Rs 3,486 crore in 2016-17, according to the filings made on Wednesday. Net worth is the difference between the company's assets and liabilities.
The company has yet to file its detailed financials, which means that profit and loss figures are not yet available.
An Ola spokesperson declined to comment on the financials.
Earlier this week, TechCircle reported that Ola Fleet Technologies Pvt. Ltd, the cab-leasing arm of Ola, had posted a steep rise in revenue for 2016-17 but higher costs had widened its loss
Standalone operating revenue rose 18 times to Rs 98.4 crore in 2016-17 from Rs 5.6 crore the year before.
Standalone net loss widened to Rs 71 crore from Rs 13.3 crore in 2015-16. Total expenditure jumped to Rs 171.6 crore from Rs 22.5 crore.
In October last year, Ola raised $1.1 billion (Rs 7,174 crore) from investors including China's Tencent Holdings Ltd and Japan's SoftBank, adding it was in advanced talks to raise another $1 billion.
Bhavish Aggarwal-led Ola is valued over $4 billion, according to VCCircle estimates. It has so far raised nearly $2 billion in overall funding.
Ola and rival Uber are locked in a fierce battle and have burnt a massive amount of capital in recent years to gain an upper hand in India's growing ride-hailing market.
Uber, which has been saddled with losses, earlier this year promised to double down on its investments in India.
Update: An earlier version of this story incorrectly mentioned figures for consolidated financials. The error is regretted.
Comment(s)