Flipkart has built an online fashion empire over the past few years. And for the rest, staying on the catwalk is proving to be far from a cakewalk.
A number of venture capital-backed fashion e-commerce players have fizzled out, even as horizontal leader Flipkart has continued to flex its financial muscle after welcoming two of the top players - Myntra and Jabong - into its family.
Those acquisitions - in 2014 and 2016, respectively - essentially dealt a hammer blow to the competition.
The Flipkart-Myntra-Jabong combine now claims to command around 75% share in India's online fashion market. And given Flipkart's acquisition by Walmart, coupled with e-commerce rivals Amazon and Paytm Mall's plans to step up their game, can second-tier fashion retail startups remain relevant?
Killing off the competition
Outside Flipkart's fashion universe, there are established Indian and international brands as well as large-format retail outlets such as Lifestyle, Shoppers Stop, and Central selling online through their own websites. For these players, offline remains the focus and their online presence is merely an attempt to keep up with the times.
But for online-only fashion firms such as Koovs, Voonik, Zivame, LimeRoad and Craftsvilla among others, Flipkart's dominance is a constant worry.
While these startups have all been experimenting with various business models to ride the e-commerce wave, none of them are close to challenging the homegrown e-commerce giant.
"Non-differentiated marketplaces without niche offerings will find it difficult to find any takers, both from a customer and investor perspective." said Sreedhar Prasad, partner and head, consumer markets & internet business, advisory - KPMG India.
The fashion e-commerce space was once in vogue among investors. But the money started to dry up after reality struck. Several portals were put up for sale at throwaway prices while others had to scale down or shut shop altogether.
For instance, Sequoia Capital-backed Freecultr was snapped up by textile-to-retail conglomerate Arvind. Zovi, Fashionara, Ratan Tata-backed Kaaryah.com, Yebhi.com and Styletag all bowed out of the race.
"These companies did not go bust because they offered bad customer experience," said Sujayath Ali, co-founder and chief executive officer of fashion portal Voonik. "The market became overheated because of competitiveness. Unit economics went for a toss."
Ali said all these companies also made the false assumption that cash would flow freely and they would get plenty of time to reach profitability.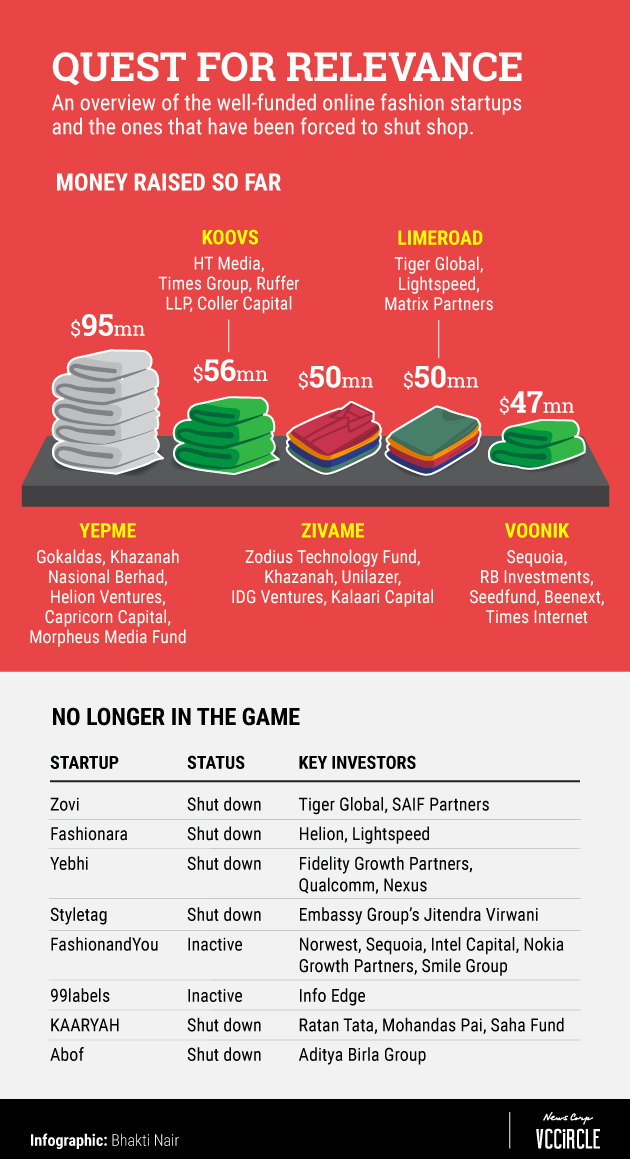 Onslaught of discounts
After being laid low by Flipkart's deep discounting, private label brand Yepme is now preparing for a major pivot.
"Everyone in this domain needs to understand that the leader in the market decides the profitability of the sector," said Vivek Gaur, co-founder and chief executive of Yepme. "There's nothing much the smaller players can do when the leaders of the market have decided to lose money for an unforeseeable future, about half a decade or so may be, to win market share and eliminate competition."
A host of companies operating in the flash sales category such as Fashionandyou, Styletag and 99labels were also badly affected by the onslaught of discounts from the horizontal giants.
"When the top players started discounting heavily, it affected all the smaller ones. The whole definition of discount on branded merchandise was getting defeated because Myntra and Jabong started doing that," said Aasheesh Mediratta, former CEO of Fashionandyou.
He said the company was forced to scale down and turn into a complete marketplace model as it received only half of the promised investment amount from its last major funding round.
Niche approach
Fashion constitutes nearly a third - the largest share - of the overall e-commerce market in the country. India's online fashion market is estimated to touch $12-14 billion by 2020, according to a joint study titled Fashion Forward 2020 by the global Boston Consulting Group (BCG) and social media giant Facebook released last year,
At present, online commerce contributes to around 10% of the $70 billion-strong fashion market in India. According to the Fashion Forward study, more than half of sales in the space will come from cities in the Tier-2 category and below.
What all this means is that there is a large opportunity to be tapped. And niche may just be the way to go.
A herd of startups in the broader fashion e-commerce segment position themselves as specialised, niche players in a number of sub-categories such as ethnic wear, kids and women wear, designer wear, beauty products, unbranded products, international brands, private labels, and more.
Voonik started off as a personal stylist but pivoted to an online marketplace for unbranded fashion in early 2016. Since then, it has raised sizeable funding and made half-a-dozen acquisitions.
CEO Ali is confident that the company can achieve a leadership position in the unbranded segment.
"Fashion requires a ground-up approach," he said. "The need for a fashion destination is a lot more pronounced in the unbranded segment as compared to branded. We know by now that the opportunity exists."
Ali thinks that it wouldn't be difficult for companies that have survived for at least five or six years in this market to sustain and turn profitable if they remain small. The alternative is to go aggressive while not burning toomuch capital.
Fashionandyou's former CEO Mediratta said the market can accommodate for niche and differentiated offerings, but horizontal players will always have the bigger share.
"Niche with differentiated play is the future for these players," he said. "Startups need to specialize on 3-4 categories that account for at least 50-60% of merchandise, so that the customers have a reason to come to their website. They could sell general products on top of that."
According to Yepme's Gaur, given that both Flipkart and Amazon have access to global sourcing, homegrown fashion retailers should form strategic tie-ups that can give them products at marginal costs rather than looking for pure financial backing.
He said startups in this segment will have to figure out something different that is not very lucrative for the horizontal players to spend time on.
But KPMG analyst Prasad feels that even with a differentiated model, customer acquisition will prove to be quite expensive.
"To convince someone to buy from an unknown website is very difficult. People will always do trial and error with new websites and they wouldn't spend much," he said.
Omnichannel play
Prasad said that the omnichannel model could be a practical strategy for fashion startups as it could help them build trust while helping them slash spending on website traffic.
And a few ventures already seem to going in that direction.
Aditya Birla Online Fashion (Abof), Aditya Birla Group's flagship fashion and clothing portal, shut down late last year but has since said that it would restart the business as a fast fashion omni-channel brand.
Since launching in 2016, Mukesh Ambani-led Reliance Industries' AJIO has tasted reasonable success with its omnichannel play, even as the likes of FabAlley, Zivame, Fynd and LimeRoad are increasingly stepping up their offline play in the hope of staying relevant.
---