Are affiliate marketing firms sacrificing growth to stay afloat?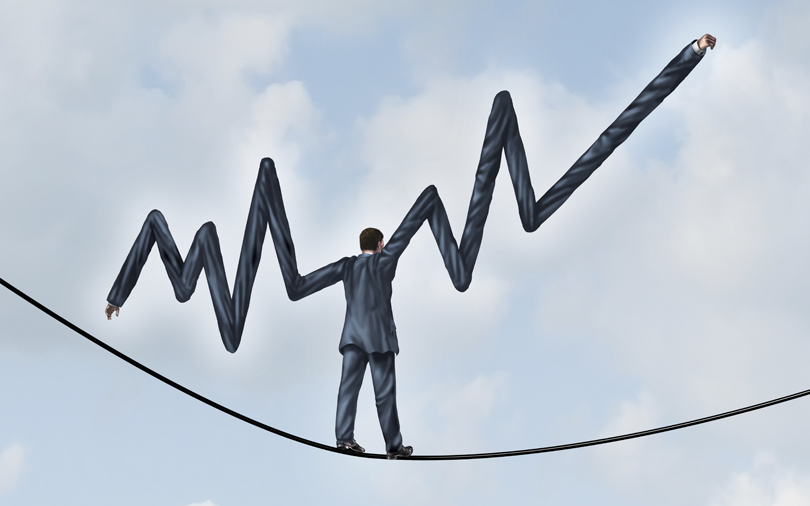 A month ago, TechCircle took a closer look at the affiliate marketing industry and found that it had hit a rough patch.
Companies offering coupons, cashbacks, price comparisons and gift cards are heavily dependent on e-commerce players, earning commission for driving around a fifth of their sales. But insiders told TechCircle that e-tailers were increasingly turning their backs on affiliate marketing firms in a bid to cut costs, prompting investors to follow suit. In the process, the industry had hit saturation point and a number of players were forced to shut shop.
Now, a look at the financial statements of the leading companies in the various affiliate marketing segments further reflects this slowdown.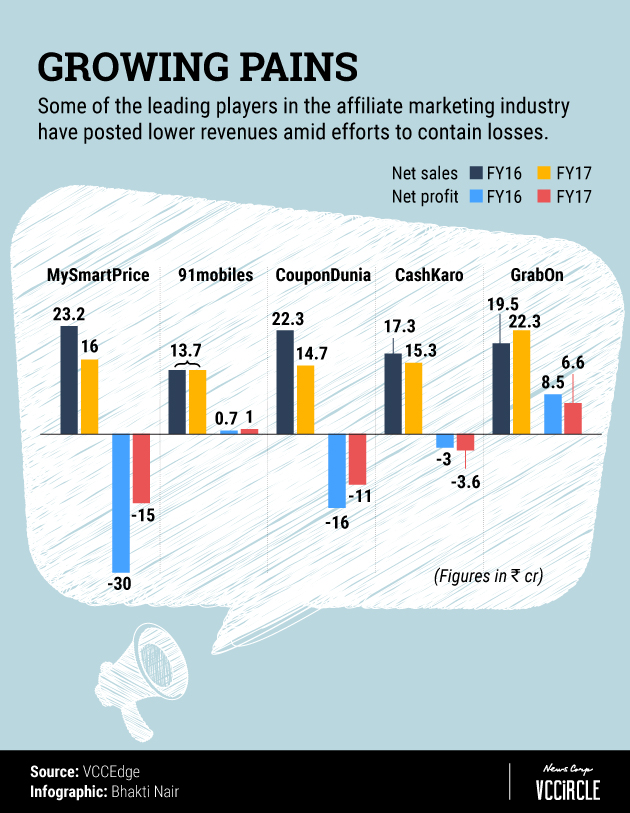 While a handful of venture capital-funded firms in the space are trying to ride out the storm, most of them have posted lower revenue compared to previous years as they sought to streamline services and contain losses.
MySmartPrice.com, which is backed by Accel Partners and Helion Venture Partners, is among the leading players in the price comparison space, where users stack up the prices offered on gadgets by various e-tailers.

The platform's net sales fell 31% to Rs 16 crore in the financial year 2016-17, according to VCCEdge, the research arm of News Corp VCCircle. But it also managed to almost halve its losses to Rs 15 crore in the same period.
The net sales of MySmartPrice.com's rival 91mobiles.com, which is run by 91digital Web Pvt. Ltd, stood unchanged at Rs 13.7 crore between 2015-16 and 2016-17. The India Quotient-backed firm's net profit fell to around Rs 70 lakh in that time frame.
Coupons and cashback

Ratan Tata-backed CashKaro and Times Internet-owned CouponDunia are the vertical leaders in the cashback segment, where discounts are offered in the form of hard cash which can be transferred to a customer's bank account.
CashKaro, which also counts Kalaari Capital as an investor and has raised $4.5 million so far, posted lower net sales in 2016-17 compared to the previous fiscal. While its losses increased to Rs 3.6 crore during the same period, the company has been looking to expand its footprint.
In February this year, CashKaro launched operations Singapore where it operates under the brand ZoBucks. The firm is also operational in UK under PouringPounds.com. It has also just launched a mobile app for Android devices, featuring over 1,500 sites including Amazon.in, Tata CliQ, Nykaa, and Jabong.

According to Swati Bhargava, co-founder of CashKaro, the firm grew about 150% last year. However, its financials for 2017-18 are not yet available.
CashKaro operates in three affiliate marketing segments – cashback, comparison and coupons. Cashback contributes about 65% of its revenues, coupons account for 20% while the rest comes from price comparisons.
"Cashback is the one that is actually putting the money back into the users' pocket and that's why it drives most of our revenue," said Bhargava. "In the cashback model, we are actually sharing our commission with the users and that's a solid reason for them to come to us."

Rival CouponDunia's net sales reduced by a third to Rs 14.7 crore between 2015-16 and 2016-17. The company managed to narrow its losses to Rs 11.1 crore.
In an effort to retain customers, Mumbai-based CouponDunia had revamped its business model in 2016 to focus on the cashback business.
It felt that the couponing industry, where percentage-based discounts or free gifts can be redeemed, didn't offer much scope for differentiation.

"There has been a slump in the last two years, specifically with regards to the couponing industry," said Lancelot D'souza, vice-president of affiliate business and growth partnerships at CouponDunia.
GrabOn, a leader in the coupons segment, bucked the trend to increase its revenue in 2016-17. However, the company also recorded a slowdown in net profit at Rs 6.6 crore.
GrabOn founder Ashok Reddy said the slump in certain verticals of e-commerce has affected the coupon industry directly, forcing these companies to end campaigns and cut down on commissions.
"While the number of transactions have not decreased significantly, the revenues have not increased, said CouponDunia's D'souza. "This is primarily because the firms reduced commissions or paused campaigns over the past few years due to lack of funds."
---