Earlier on, online auto classifieds firms specialising in used cars felt they could function a bit like driving schools. They would provide the cars in the form of listings, let buyers and sellers take the wheel, and then do a bit of hand-holding from the passenger's seat to help close the transaction. But then came the speed bumps as these startups found it difficult to scale.
"In the used cars business, a marketplace or a classifieds model is difficult to monetise," says Niraj Singh, founder of used car marketplace Spinny. "The products are not the same. The same car model driven for the same distance and of the same age could still be different, which is not the case with new cars."
Also, there was a fundamental issue at play - trust.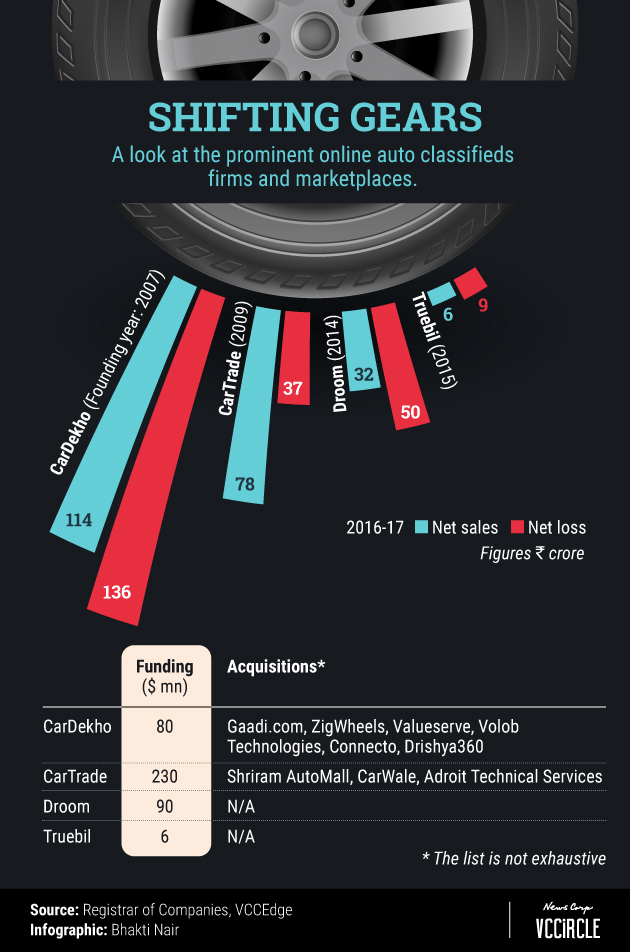 "For buyers, it is a leap of faith when they are investing such a big sum. They ended up transacting in apprehension and fear," says Singh.
So buyers wanted used cars platforms to take the driver's seat - assuming full responsibility for the product and not just the process.
In a nutshell, what has happened over the past couple of years is that online platforms have started buying the product outright from sellers and then keeping an inventory. The turnaround is limited as demand significantly exceeds supply. These platforms then find buyers online and seal the deal offline.
Spinny, which is backed by Blume Ventures, decided to pivot from a consumer-to-consumer (C2C) managed marketplace to an inventory model. Spinny now finalises transactions at its three offline centres in the NCR region.
The Gurugram-based firm is now slowly expanding its business by buying more cars and setting up offline centres and is looking for fresh funding.
But Spinny wasn't the only one feeling the pinch. The bigger players in the used car classifieds segment have also found the going tough, finding it difficult to close deals online for such high-value products.
Changing tack
CarTrade, among the leaders in the sector, didn't grow much in the financial year 2016-17, posting only marginally higher net sales than the previous fiscal.
The firm provides online sales leads to offline used car dealers, apart from inspecting and verifying the models on its platform.
Truebil, which also started as a C2C marketplace, decided to integrate online and offline a couple of years ago via Truebil Direct, an inventory model where customers can scrutinise the vehicles.
"Being a pure-play C2C player doesn't make sense anymore given that the market has been consolidated over the years," says Truebil co-founder Shubh Bansal.
Firms in this segment have realised that generating leads alone is not enough to attract buyers as the sector matures and customers want more than just listings.
"Classifieds have an expiry date and offline dealers are often not very transparent," says Arpit Agarwal, principal at Blume Ventures. "They sometimes tamper with the product and lack credibility. Hence, in India, the end-to-end ownership model seems to be the one that works best for sustainability and profitability."
Mohan Kumar, executive director at Norwest Venture Partners, which backs Quikr for which auto classifieds is a major segment, says that with offline garages everywhere, it is imperative for online players to offer services that ensure trust.
Truebil's Bansal agrees, saying his biggest competitors are offline players.
"Our algorithms can tell the sellers the timeline for sale and probable value for the car. These technological parameters give us a key edge over the offline players and eventually, online is going to be a big part of this market and that's where our strengths are," he says.
Droom, which recently closed a $30 million Series D round of funding, still swears by a C2C model where it conducts extensive verification to help buyers while working with offline dealers.
Founder Sandeep Aggarwal says that the company provides services that are close to taking full ownership.
"We ensure standardisation of used cars. The deal is we provide fulfilment with premium tools apart from a standardised and transparent price," he says.
Droom's book-value product Orange enables customers to see the rating of the seller, history of the car and inspection report to help make a decision.
Aggarwal also claims that Droom's used cars business is as big or even bigger than CarTrade and CarDekho — the market leaders in the segment.
Financial statements tell a similar story - for 2016-17 at least. Droom reported revenue of Rs 32 crore in that fiscal, higher than CarTrade's standalone net sales of Rs 25 crore. However, CarTrade has since acquired used vehicles firm Shriram Automall from Shriram Group.
New focus areas
Interestingly, CarTrade and CarDekho are increasingly being driven by new cars, serving as a strong lead generation platform for dealers and manufacturers. CarDekho is the leader in the segment having reported consolidated net revenue of Rs 114 crore in 2016-17, though it is unclear exactly how much came from new cars.
"Used cars are not the primary business of large and funded online auto classifieds firms," says the founder of a prominent online car platform, who did not wish to be named. "They are basically media platforms for discovering new cars, latest product launches and content generation. Their major revenue, say about 60-70%, is from the new cars segment."
For instance, TechCircle recently reported about how CarWale - which CarTrade acquired for nearly $100 million in 2015- had emerged as the revenue engine for its parent firm based on its financial statement for 2016-17.
However, CarTrade founder Vinay Sanghi suggests otherwise.
"Used cars business is now 70% of our revenue as of March 2018. Our business is seeing rapid growth and we have been consistently improving margins," he told TechCircle.
He also dismissed the 2016-17 financials as "old data", saying it did not provide an accurate picture of the prevailing trend. CarTrade, however, is yet to file it financials for 2017-18 and Sanghi may have been factoring in numbers from Shriram Automall in his estimates.
That said, stagnating growth amid efforts to control losses have led most used car players in search of new growth avenues such as used car financing, insurance, servicing of vehicles and roadside assistance.
The segment has also seen a few shutdowns, with VC-funded firm GoZoomo among those that have reached the end of the road.
"It has been so competitive in India that none of us are able to charge a premium from used car dealers," says the founder of another startup that shut down recently.
"Most of the dealers here are not willing to pay for leads or subscribe to a tech product. We have seen some consolidations over the last few years and that's a good sign. Once there are only a few strong players, they will be able to command a premium for the leads."
---