Last December, digital wallet and e-commerce major Paytm engineered a merger between its floundering investee company Little and Nearbuy, a rival online marketplace for offline neighbourhood deals that was also struggling to scale. The coming together created the largest player in the deal discovery space, with around 88% market share and a valuation of around $100 million.
Paytm, which acquired a majority stake in the combined entity, earned a few plaudits for its astute approach in protecting its investment. But as the dust settled on the deal, question marks arose about the viability and sustainability of the two online-to-offline (O2O) players, which had both started operations in 2015.
Now, a peek at the Ministry of Corporate Affairs (MCA) filings of Little Internet Pvt. Ltd and conversations with the combine's chief executive Ankur Warikoo provide an insight into plans for a turnaround.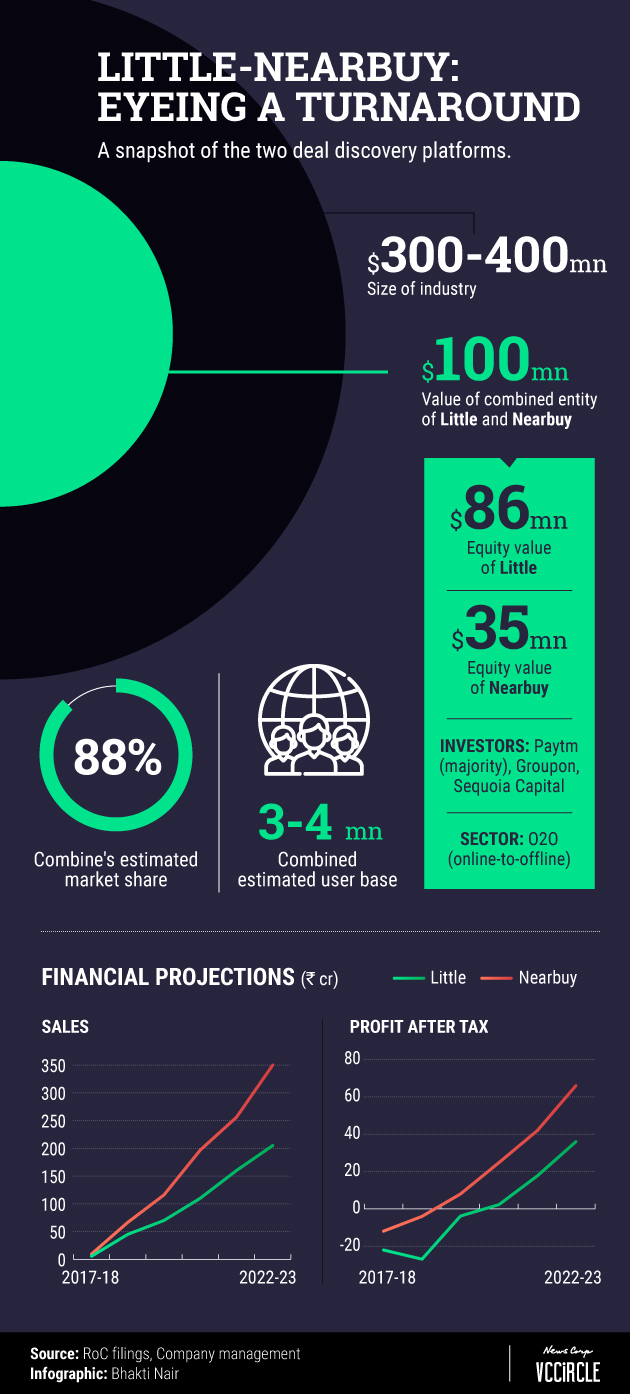 But first, let's give you some background.
Little, which was started by the co-founders of private label e-tailer Zovi, had previously raised $50 million in all from Paytm and venture capital firms including Tiger Global and SAIF Partners. But two years on, it didn't have much to show for this hefty investment, notching up less than a crore in revenue.
Nearbuy was known as Groupon India before a Sequoia Capital-led management buy-out in 2015. By 2017, its merchant network was double and revenue 10 times that of Little's despite raising less than a third of the money that its rival had secured. But liquidity was a problem.
At the time of the merger, Nearbuy was almost running out of cash with less than a crore in reserve. Little, on the other hand, had around Rs 110 crore (around $17 million) in the bank. That disparity was no doubt a factor in the merger.
Seven months since the merger was announced, the backend is already in place. Warikoo says there were a few hiccups initially but the sales, tech and operations teams of both entities are now working as one as Little's team shifted to Nearbuy's office in April. However, Little and Nearbuy and are still operating as separate brands for customers.
Now, let's take a peek at the financial projections in a setup where both players primarily make money via commissions from merchants.
Little has pegged its projected sales at Rs 70 crore by the financial year 2019-2020, while posting a net profit of Rs 8 crore. By 2022-23, it expects these figures to touch Rs 205 crore and Rs 66 crore respectively.
Nearbuy is looking at sales of Rs 117.58 crore in 2019-20 with net loss of Rs 3.79 crore. By 2022-23, Nearbuy expects its sales to touch Rs 255.99 crore with net profit of Rs 17.73 crore.
Warikoo says the projected sales are realistic and differ from the Gross Merchandise Value (GMV, or total value of merchandise), which would be significantly higher.
He says Little-Nearbuy has already made considerable progress in terms of unit economics - it is profitable on every transaction after accounting for marketing expenses. However, payroll and fixed costs are still proving to be a drag.
"We are capitalised and on a growth expansion mode. As long as we are unit economics positive, we can manage our fixed costs with the investment raised out of this merger," says Warikoo. It is not clear what this amount is, though some media reports have pegged it at $25 million inclusive of Little's unspent money from earlier fundraising efforts.
Plan of action
Little-Nearbuy's turnaround plan is based on three fundamentals - increasing its merchant base, attracting more customers and introducing newer categories.
Warikoo says the combine currently works with around 48,000 merchants in more than 30 cities. "The plan is to grow this number to 250,000 in three years. We have a maximum available universe of roughly around 350,000 merchants," he says.
This is where Paytm, with its huge customer base, is expected to play an instrumental role. Little-Nearbuy expects to have a customer base of 30 million in three years, a ten-fold increase from its existing reach.
Warikoo remained tight-lipped about launching new categories, but said the combine's vision was to to have a strong presence in the top 50 Indian cities.
But as we said earlier, industry experts and analysts hold divided opinions about the future of deal discovery and coupon platforms in general.
The broad consensus is that while the business has the potential to scale, it won't be a cakewalk.
"O2O ventures are likely to see significant traction over the next 2-3 years with the macro-level factors just turning ripe," says Anup Jain, managing partner at Orios Venture Partners.
He added that Zomato Gold is a good example of the potential. The restaurant discovery platform's subscription product, which offers discounts at partner restaurants, has gained significant transaction.
Warikoo points to an increase in discretionary spending among Indian consumers, which he says has more than doubled to 7% of individual income over the past decade.
"Five years down the line, we expect the Indian O2O space to become a $5 billion industry and we hope to be at the forefront of it," Warikoo said.
A few factors in Little-Nearbuy's favour are price-conscious Indian consumers always on the lookout on the deal, the government's digital push and deeper penetration and availability of low-cost smartphones coupled with the rollout of regional languages to mobile applications.
"When these ventures started out, the market opportunity largely existed in the metros, as far as data infrastructure and penetration of smartphones goes," says Anil Joshi, founder and managing partner of Unicorn India Ventures.
According to Joshi, many people still prefer the touch-and-feel retail experience and platforms like Little and Nearbuy could be particularly relevant in tier-2 and 3 cities.
But Satish Meena, senior forecast analyst at research firm Forrester, doesn't think deal discovery platforms were really ahead of their times when they started out.
"It's not that every customer is looking for a deal all the time," he says. "One may not go to a mall just because they see a deal on the mobile phone. However, if the customer is already in a mall and there are deals in the vicinity, that has a larger chance of getting converted into a deal."
This, perhaps, is why Little and Nearbuy are still operating as separate entities. In terms of positioning, Little is more of a heavy discounts platform while Nearbuy is primarily a discovery space for activities, according to Warikoo.
In addition, Little's target audience largely comprises college students and millenials while Nearbuy mostly caters to customers older than 25.
A lack of customer loyalty plagues the deal discovery space, which is mainly why Little and Nearbuy are among the last ones standing. That would also explain why many analysts say it is essential for Little and Nearbuy to ramp up their offerings and value proposition.
Forrester's Meena says three categories dominate the deals space - restaurants, beauty & spas, and events.
He feels that Little and Nearbuy need to diversify to electronics and fashion in order to replicate the success of such platforms in China. According to Warikoo, the O2O sector is a $70billion -$80billion market in China while it is just $300 million -$400 million in India today, an indicator of the wide gap, at the same time, the huge potential of the space.
At present, the Nearbuy-Little combine operates in five categories with food accounting for half of its business. Boutique health & wellness contributes a quarter, the things-to-do category provides 20% of existing business, while shopping and travel make up the numbers.
Likewise, packaging and presentation with a personalised touch will also be key.
"A consumer should not be bombarded with deals in books when he is looking for offers in fashion," says Meena.
What's in it for Paytm?
While a sound revenue model and pricing will hold the keys to Little-Nearbuy's success, how does Paytm stand to gain or suffer?
According to Warikoo, the acquisition complements Paytm's core offerings, which is payments, financial services and e-commerce.
Orios' Jain says O2O helps Paytm stay relevant. "This will create a user case for consumer and offline seller loyalty, eventually translating into the overall wallet business of Paytm, " he says.
But integration may be the best way forward according to Forrester's Meena.
"If Paytm can offer targeted deals and personalise them for the customer, that is when the execution of this deal will make total sense," he says.
And that plan already seems to be in motion. Warikoo says that sometime this month, all Nearbuy and Little merchants will also go live across Paytm's platforms.
---