Russian billionaire Yuri Milner, whose investment firm DST Global has backed unicorns such as Ola, Swiggy and Flipkart, hosted a gala dinner in Bengaluru in August 2015 at which he implored entrepreneurs and investors to help in the hunt for alien life.
Elsewhere in the room, Flipkart co-founder Binny Bansal was trying to bring Neeraj Jain down to earth. Donning his angel investor hat, Bansal urged Jain to change his company's business model.
That company was Zopper, then a hyperlocal e-commerce firm. Jain and co-founder Surjendu Kuila paid heed to Bansal's advice and opted to pivot. They split the business into two distinct divisions: a Point-of-Sale software-as-a-service (SaaS) platform for offline merchants and an extended warranty solutions unit for electronics purchased at offline outlets.
The company managed to stage a turnaround in three years, reducing its losses and even turning profitable for a few months last year. And a few days ago, TechCircle reported that Flipkart-owned digital payments firm PhonePe was set to acquire the PoS business of Noida-based Zopper.
In a startup ecosystem where successful pivots are rare and often nothing more than an attempt to keep afloat, how did Zopper manage the feat?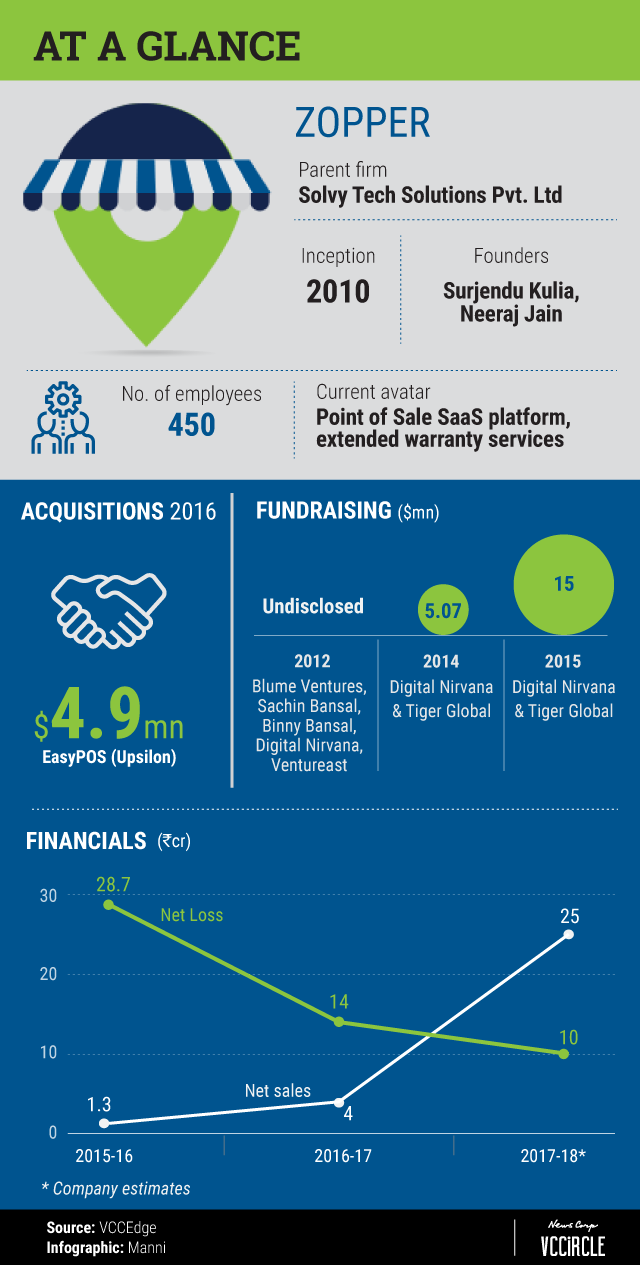 How Zopper got here
Binny Bansal and Flipkart co-founder Sachin Bansal had both personally invested in an earlier avatar of the venture in 2012. At the time, it was a community-based product review site called Reviews42 that Jain had co-founded with Kuila in 2010.
In 2014, they decided to pivot to e-commerce in a bid to broaden their horizon. But that decision didn't pay off. Zopper, operated by Solvy Tech Solutions Pvt. Ltd, racked up huge losses as it played catch up with well-heeled e-commerce companies including Flipkart.
"In 2015-16, we lost a lot of money." said Kuila, who spoke to TechCircle before last week's report on the impending acquisition by PhonePe. He has since not commented on that deal.
"The fundamentals were not playing out well and we could not compete with the larger e-commerce players," he added.
He, however, insisted that the problem was not because of a failure to understand the market.
Zopper was one of the first players in the hyperlocal e-commerce space, connecting users to offline retailers.
"Now everyone is talking about omni-channel," said Kuila.
But at the time, the discount wars in e-commerce were at their peak. While merchants updated their inventory on Flipkart and Amazon without fail, they were not as prompt when it came to Zopper.
As a result, customers often ended up ordering products that were already sold out.
"If you contribute less than 10% to someone's sales, then you are not on their radar," said Kuila​.
While in the doldrums, Zopper's co-founders analysed their troubles and spotted an opportunity.
Kuila and Jain realised that if the company could control the software that manages billing, customer relationship management (CRM) and inventory management, it would not be dependent on merchants for information. Snapdeal's erstwhile subsidiary Unicommerce offered a similar software for managing inventory.
With this mind, Zopper acquired EasyPOS, a cloud-based PoS software maker, in 2016 to deepen its engagement with retailers.
Rechristened as Zopper Retail, the platform was not an instant hit. But the introduction of the Goods and Services Tax (GST) a year ago proved to be turning point as many retailers were forced to file returns or face the likelihood of losing input credit.
Zopper has since signed up more than 15,000 customers for Zopper Retail, charging them between Rs 1,000 and Rs 2,000 a month for its services. Kuila said he expected the segment to bring in around 45% of Zopper's revenue in the current financial year.
Plotting a comeback
Around the time it launched the PoS business, Zopper's leaders interacted with merchants and discovered there was a huge unmet demand for extended warranty of electronic items sold at offline retailers.
It partnered with state-run New India Assurance to offer e-warranty under Zopper Assure.
The unit now has 340 service partners and 150 distributors across 152 cities.
"In fact, our penetration in smaller cities is much bigger than metros with 55% of our business coming from tier-2 cities and beyond," Kuila said.
While Zopper has competitors in the form of OneAssist, OnSiteGo and Bajaj,
Kuila feels the market potential is huge as less than 1% of electronics are bought with extended warranty.
The warranty arm now contributes the major chunk of Zopper's revenue. And as things stand, Zopper's e-commerce division has completely shut down.
Kuila claims that Zopper is doubling its revenue every year. It has 450 employees on its roster, with two-thirds of them in sales roles. Kuila oversees the warranty business while Jain spearheads PoS operations and will join PhonePe post the acquisition.
Now, as Zopper looks set to embark on a new journey, perseverance seems to have played a vital role.
"You cannot spend eight years of your life in one business and then let it go. So you never put all eggs in one basket," said Kulia.
Having learned from experience, Kulia is keeping his ear firmly to the ground.
"In the last two years I have spent 600 days travelling to the distant corners," he said, adding that most entrepreneurs often fail because they lose touch with both their existing customers as well as potential ones.
---