Two years ago, the Indian government decided to embrace e-commerce by launching a national procurement portal called Government e-Marketplace, commonly known as GeM.
GeM is an essentially an online marketplace for central and state ministries, public sector undertakings, autonomous institutions and local bodies to buy goods and services at discounted prices.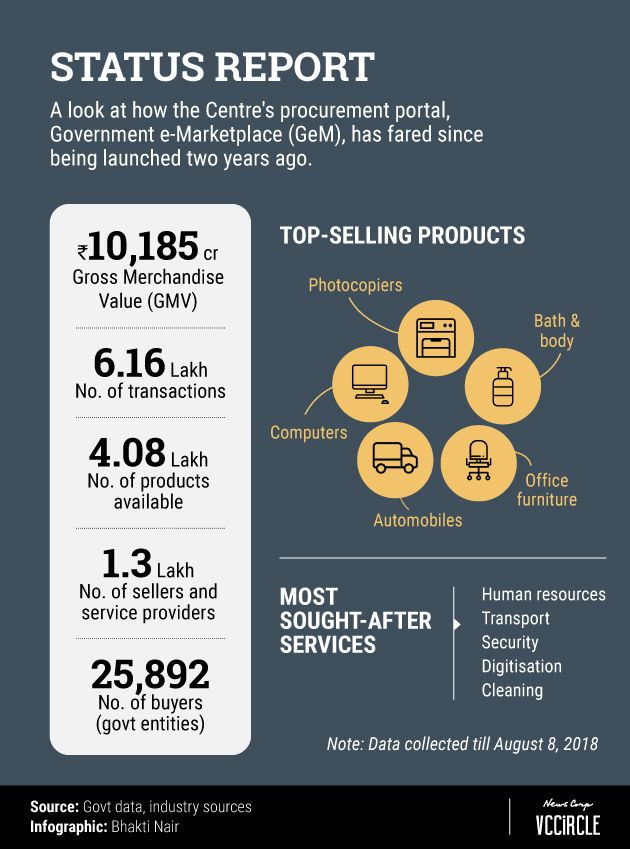 GeM celebrated its second anniversary earlier this week, with the government saying the portal had clocked a Gross Merchandise Value (GMV) of Rs 10,000 crore (around $1.4 billion) since August 9, 2016. GMV is the value of all goods and services sold on the platform.
Flipkart, which is India's largest e-commerce company and caters to a much wider audience, recorded a GMV of $7.5 billion in the financial year 2017-18.
In a press statement, the government said that 40% of the transaction volume on GeM involved micro, small and medium enterprises (MSMEs) registered on the platform.
It further said that government institutions from across 36 states and union territories (UTs) are registered buyers.
In addition, two-thirds of these states and UTs have signed a formal memorandum of understanding with GeM to make it their core procurement portal.
Infibeam Avenues, a business-to-business e-commerce and software services firm, and fintech startup Intellect Design Arena power the GeM platform.
Automobiles and photocopiers are the among the best-selling products on the portal, which provides e-bidding and reverse e-auction facilities. Likewise, transport and security are among the most sought-after services.
---