* This story is part of a fortnightly series on accelerators and incubators in which TechCircle compiles report cards highlighting the successes and failures of the startups nurtured and spawned.
PayPal Incubator, the flagship incubator and accelerator of online payments giant PayPal Holdings, Inc. started out in 2013 as a sector-agnostic accelerator but has gradually returned to its roots.
"Fintech is a very promising sector," Guru Bhat, technology and engineering head at PayPal, told TechCircle in a telephonic interaction. "We are on a journey to re-imagine money. With democratisation of financial services, opportunities open up. We have a certain affinity for startups that offer an advancement for payments."
Launched in partnership with The Indus Entrepreneurs, a global organisation for entrepreneurs, and locally headquartered in Chennai, PayPal Incubator provides startups with technology counsel and mentorship, infrastructure support and networking opportunities.
Bhat said PayPal Incubator typically looks at startups that focus on core payment features such as wallets, gateways, and remittances. The technologies at play include biometric authentication, artificial intelligence, machine learning, Internet of Things and Big Data.
He said PayPal's motive is reducing the friction that exists for both online consumers and merchants apart from solving local problems with the help of local startups.
The accelerator picks startups based on the discipline on display.
"We have an idea of what their run rate should be doing in terms of managing their finances and operations better," said Bhat.
So far, three batches comprising 15 startups have graduated from the Indian branch. Five startups for the fourth cohort were shortlisted last year.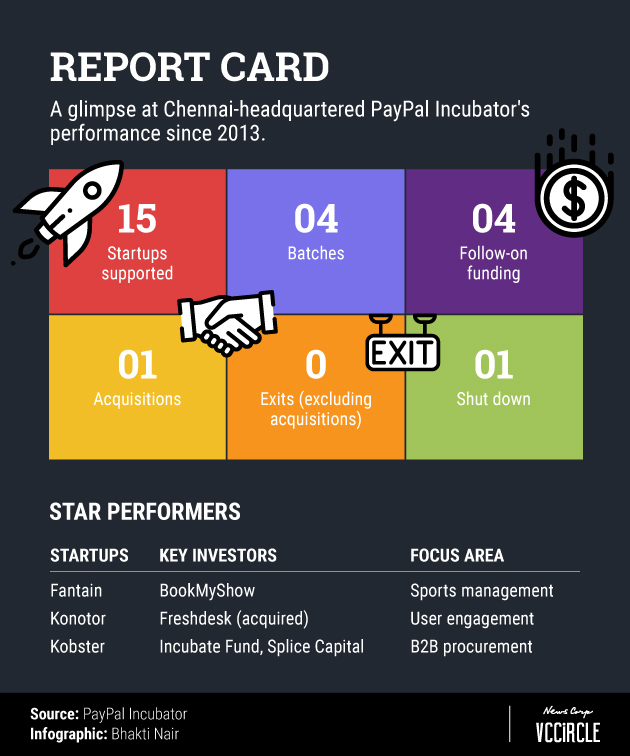 During the course of the programme, startups get mentorship in the form of technology integration with their product. The incubator provides startups access to product managers with whom the founders can validate specifics.
In August last year, PayPal set up two new innovation labs at its Chennai and Bengaluru tech centres, its first such facilities in India and third globally after the US and Singapore.
These labs support projects in data science, software-defined radios, virtual and augmented reality, and basic robotics, deep tech among other fields. They have now been integrated with the incubator.
PayPal does not take equity in the startups selected for the programme, which typically lasts between six to 12 months.
"Our graduation time is not generally sacrosanct but depends on startup to startup," Bhat said. "Some startups achieve a greater level of maturity in a shorter time while some take a little longer. We are completely flexible with startups graduating at their own pace."
Bhat believes the startups face a number of obstacles.
"Attracting talent is a challenge for them. We've seen this in our cohorts and that's where PayPal Incubator has a role to play," he said.
One startup from the incubator's stable has shut down — PiQube, which built an algorithm to assist recruiters with finding suitable candidates based on their skills. The startup had in 2015 received $500,000 (Rs 3.2 crore) from private investment firm The HR Fund.
Here's a look at some of the startups incubated by PayPal that have gone on to achieve success.
Fantain: Fantain Sports Pvt. Ltd is a Chennai-based fan relationship management (FRM) solutions provider specifically catering to sports businesses in India.
The firm was founded by IT professionals Anand Ramachandran, Vivek Venugopalan and Aravind Ramachandran in 2012. Indian Premier League (IPL) teams Kolkata Knight Riders and Sunrisers Hyderabad are among its clients.
Bigtree Entertainment Pvt. Ltd, which runs online entertainment ticketing property BookMyShow, acquired a majority stake in Fantain in 2016.
Konotor: Konotor helps businesses engage with users in a proactive and contextual manner through features such as two-way messaging, in-app support and marketing automation.
Founded in 2012 by Srikrishnan Ganesan, Deepak Balasubramanyam and Vignesh Girishankar, the startup was acquired by software-as-a-service (SaaS) firm Freshdesk Inc for an undisclosed amount in December 2015.
Konotor's clients includes Target, Zomato, Times Internet, Faasos, and BankBazaar.com, among others.
Kobster: Operated by Kobster Eshop Pvt. Ltd, the startup was established in July 2012 by Vineet Neeraj, Karthik R and Mohan G. It is a cloud-based e-procurement tool.
Kobster Elite helps businesses and resellers procure office supplies in bulk. Its tech platform also helps cut costs and analyses spends through intelligent reports and analytics, according to information on the company's website.
In July this year, the Chennai-based firm raised an undisclosed amount in pre-series A funding led by Japanese seed investment firm Incubate Fund.
Before that, it secured an undisclosed sum from venture capital firm Splice Capital in 2015.
---