Subscription-based grocery delivery not right for India: Milkbasket's Anant Goel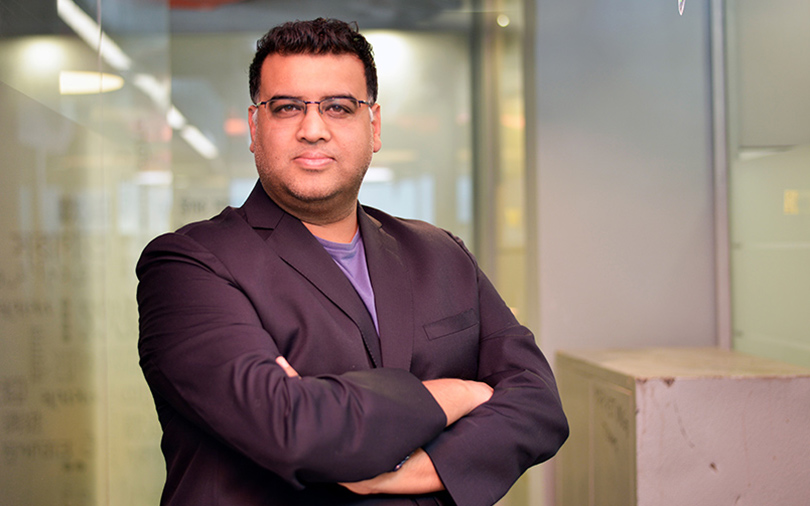 When Milkbasket, the micro-delivery grocery service owned by Gurgaon-based Aaidea Solutions Pvt. Ltd, started up in 2015, milk, bread and eggs were its staple. Founders Anant Goel, Ashish Goel, Anurag Jain and Yatish Talavadia have since expanded their business to a whole range of daily groceries and now get about 11,000 orders a day.
Compared to established players such as Amazon and BigBasket in the grocery delivery market, Milkbasket positions itself as the online version of local mom-and-pop grocery stores, only with more SKUs (stock keeping units). BigBasket, Amazon and, more recently, Flipkart follow the hypermarket model.
The micro-delivery model seems to have resonated with investors so far. The startup has raised close to $12 million from Kalaari Capital, Unilever Ventures, EVC Ventures, Lenovo and Blume Ventures. In a conversation with TechCircle, CEO Anant Goel talked about the startup's 'top-up' grocery delivery model and the roadmap ahead. Edited excerpts:

How does Milkbasket position itself in the online grocery segment?
We have been able to differentiate ourselves in two ways by which people fulfill their household needs. We divide that into 'stock-up' and 'top-up'.
Stock-up is planned, bought in lesser frequencies, usually from bigger format stores. Top-up is higher frequency, lower volume and fulfilled more by the local ecosystem. It leans more towards perishables, but also has a lot of non-perishables. This local ecosystem has a stronger presence, accounting for 96% in the grocery space.

We position ourselves as the country's first online top-up need fulfillment player. However, for some reason, we have always been thought of a subscription-based grocery player, which we are not.
Do you think subscription-based delivery in online grocery can work in India?
It will not work. Grocery works in a unique way. In India, and even outside India, ordering grocery is more a wish-based and on-demand fulfillment process. Subscriptions restrict you as a consumer.

What are the differentiating characteristics of the top-up fulfillment model?
There is typically no minimum order, frequency is high, it's on-demand and the needs are fulfilled in real time. Over a period of time, we have realised that low-ticket transactions multiplied with high frequency means greater consumer spend.
We offer about 5,000 SKUs, which is sufficient to take care of the daily top-up needs. This number is more than mom-and-pop stores would have but less than a hypermarket, which would have around 20,000 SKUs.

From a household perspective also, the top-up category accounts for three-fourths of the total spend in this category. This is a very interesting phenomena we have observed.
Do you see more top-up fulfillment players coming up in online grocery?
We saw a big exodus of such players in 2015, the year we started operations. By the end of that year, about 14-15 players emerged in the segment, most of whom have now shut down. Right now, only two-three are left. I think there is a possibility of small players in Tier-II centres who might want to do that.

How many big online grocers can survive in India?
I believe 20-30 such players can survive without having to kill each other. Let us assume that the largest online grocery in the country makes over Rs 1,000 crore in yearly revenue. Currently, the size of the Gurgaon grocery market, a city of 25 lakh people, is Rs 6,500 crore. If half of Gurgaon's consumers move online, there is room for two-three big players.
Why is grocery considered a tough nut to crack despite the huge market opportunity?

I would attribute a lot of it to the business model adopted by most players, which is the Walmart model where you create a big hypermarket and attract people through discounts.
We, as a country and culture, are very different and are predominantly an impromptu top-up buy economy in terms of consumer behaviour. Also, most Indian households have small kitchens and refrigerators. In fact, some refrigerator sizes sold in India are not available in many western markets.
The mom-and-pop model is right for India. Hypermarket models can see success, but it would be limited.
Is your goal eventually to become a big online grocery player, say like BigBasket?
In 2016, a lot of well-funded ventures in this space were beginning to or had already shut down, a year after we launched operations. So, naturally, we also had to go through a tough period in terms of negative outlook and investor sentiment.
Currently, we serve around 250 communities in Gurgaon, compared with 100 a year ago and 10 two years ago. To the question on whether we are looking to become a stock-up player, I don't think we are. Our wallet capture per household is the highest in this space. People spend more money with us than they do with the established players.
Any particular reason why you named your venture Milkbasket?
The 'milk' in Milkbasket is just coincidental. From day one, when we started with milk, bread and eggs, we wanted to serve households everyday early in the morning at their doorstep. Milk is perhaps the only grocery item that has traditionally been delivered to households for years and hence we associated ourselves with it.
We also have a lot of customers who do not buy milk at all and that number is growing. Our milk revenue contribution is around 30%. Two-and-a-half years ago it was 90%. We now have national-level tie-ups and sourcing capabilities with over 150 brands in the country.
Could you explain your warehousing and inventory model?
We have created an in-house hybrid inventory model where we categorise products into three categories: the ones we stock, the ones we do as a marketplace and live fulfillment (made to order for customers), which are the ones for which we have tie-ups with the brands. We have a total warehousing capacity of 60,000 square feet today.
The internal structure of our warehouse and supply chain has been optimised over time. For example, three years ago we used to take around one-and-a-half minutes to pack an order. Now, we take 30 seconds. We are also ramping up automation.
What about your supply chain and logistics?
We are a supply chain company at heart, which is what online retail is all about. However, the dynamics of grocery supply chain are altogether different.
We are a full-stack player and control everything from procurement to last-mile delivery. That is the only way we can create some service standards. This also allows to undertake a delivery model where we don't charge our customers.
The problems that you face at different levels of scaling up are very different. When we had 50 people, we had a different process, a different management layer and different tracking solutions. Now, with 400 members, we look at last-mile delivery differently.
We still have not reached a stage where drones and robots can do deliveries. So if we are delivering groceries, say to 20,000 homes today, it still has to be through a person.
What is your order rate?
We started with 22 orders on day one. Currently, we do a little over 11,000 orders a day. Over the past year, we have seen 15-20% month-on-month growth in our operations. We have delivered close to four million orders till date with a 99.8% fill rate. We make money on every order currently.
Are you planning to increase the number of your SKUs?
In our top-up business model, the number of SKUs boils down to the market we operate in. A city may only require 3,000 SKUs. So, when we are solving 90-95% of a household's top-up needs with this model, trying to solve the other 5% makes us unsustainable. As far as Gurgaon is concerned, we are happy with the current number (5,000 SKUs).
What is your next port of call in terms of geographical expansion?
That is still under evaluation. We are open about it. We may not necessarily expand next into Delhi and national capital region, just because we are in Gurgaon.
However, eventually we hope to expand to the top 10 cities over the next, say, two years. Of course, this is a function of funding and many other factors. We might launch operations in more markets by the end of this year.
Are you looking to raise the next round of funding?
This is a constant process for a business that is in its early stages of operation and growing. Depending upon the thought process and strategy, there is always an ongoing conversation in this regard. Different funds and investors work with a different philosophy. I don't have any foresight on that as of now. As on today, I need funds.
We have strong fundamentals. Even if we do not raise the next funding round, we will still break even. We hit operational breakeven six months ago.
One of the things about online grocery is that nobody has made money from it. It was sold on a dream that unit economics would one day be achieved. We achieved that during the first six months of our operations, when we were bootstrapped. That is sacrosanct to us.
Is there any scope for inorganic growth? Would you be open to getting acquired if presented with the right figure?
While we have not actively looked at it, we would be open to that thought for both the technology and operation side of things. You have mentioned an interesting thing: the 'right figure'. I, as an individual, believe everything is up for sale and purchase. However, the thought has not crossed our mind.
---