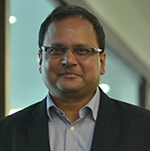 The banking ecosystem has undergone a digital transformation over the past decade. DCB Bank, which is nearly 90 years old, has been looking to stay on top of emerging technologies.
The private-sector lender has been conducting workshops on blockchain, machine learning and other newer technologies while simultaneously rolling out automated banking solutions.
In an interview with TechCircle, R Venkattesh, president and head of operations, technology and human resources at DCB Bank, provides a glimpse at how the lender is using cutting-edge technologies for core operations.
Edited excerpts:
What are the newer technologies that DCB Bank has deployed or is working on to boost customer experience?
A focus on digital and automation processes has helped enhance customer experience, customer acquisition, and back-office process optimisation.
For instance, to keep pace with the model of open banking, DCB Bank has launched an API (Application Programming Interface) banking platform that can be used by customers, fintech companies and associates.
Also, the collections team, which operates out of 236 locations across the country, uses data analytics to improve predictability, targeting and collector productivity.
How is the bank making use of Big Data and analytics for product development and customer acquisition?
DCB Bank has implemented a scalable and robust framework to handle the four Vs of Big Data — volume, variety, velocity and veracity. We have introduced machine learning and deep learning across various business units, in the areas of predictive analytics, prescriptive analytics, optimisation, and clustering.
We are in the process of creating an artificial intelligence-based engine. It will help us get a 360-degree customer view and derive insights to offer them better personalised experiences and services.
Our risk monitoring systems also use big data analytics for better risk management.
Is DCB Bank experimenting with blockchain technology?
DCB Bank is a knowledge partner of the BankChain community for blockchain technology along with Assocham and FICCI, among others. We are mentoring more than 15 fintech companies in implementing blockchain in India.
We are also working with various forums and state governments in various areas such as education and skill set creation, use case identification, technology enhancement, governance and policy standardisation.
We are partnering with academia for blockchain adoption and have conducted more than 20 workshops for various industries on blockchain awareness. DCB is also working with the Institute of Development and Research in Banking Technology for the creation of a blockchain platform for Indian banks.
We are currently evaluating various use cases of blockchain such as trade finance, invoice discounting, secure document management, purchase order management, and cross-border remittance.
Do you collaborate with fintech companies and other players in the ecosystem?
We constantly engage with fintech companies through our innovation carnival, where we also work closely with peer banks, government, accelerators, corporates, and academia. We have also participated in several hackathons.
How has the bank invested in training and development of human expertise?
We are constantly training our employees to upskill with respect to growing demand. We have our own omnichannel e-learning platform.
The bank also runs a unique programme for digital adoption called "TechFluence". It helps each employee to become knowledgeable about the various digital initiatives delivered by the bank.
What is the visibility in terms of return on investment?
I prefer that return on investment is measured on many levels and these range from improving work-life balance for DCB Bank employees, risk mitigation for our systems, providing frontline staff with technology solutions and tools to help perform better, productivity gains, delightful customer experience, and many others.
The investments made now and planned for the future are multifold. The bank is continually assimilating, adding knowledge, harnessing new capabilities, thinking up products and services in anticipation of the future as well.
---