Earlier this month, e-commerce behemoth Amazon.com Inc. became only the second US company to touch a market valuation of $1 trillion after iPhone maker Apple. What makes Amazon's investors happy? Not dividends, for sure, as Amazon doesn't make these payouts. Instead, it invests all its money back into its business. And that's exactly what it has been doing in India as well.
The e-commerce giant has accelerated the pace of its investments in India in recent years. Its appetite for growth in the world's second-largest consumer market has risen also because it lost China to local online retailing giant Alibaba Group Holding Ltd.
"India is an important market for Amazon and it has enjoyed some early success in India," said Jason Benowitz, senior portfolio manager of US-based The Roosevelt Investment Group. "It (India) is large enough to materially contribute to growth in the medium term. It is a level-playing field where Amazon does not have to battle a powerful entrenched competitor. Its rapidly improving infrastructure is connecting more consumers with e-commerce, making now an opportune time for Amazon to invest," he added.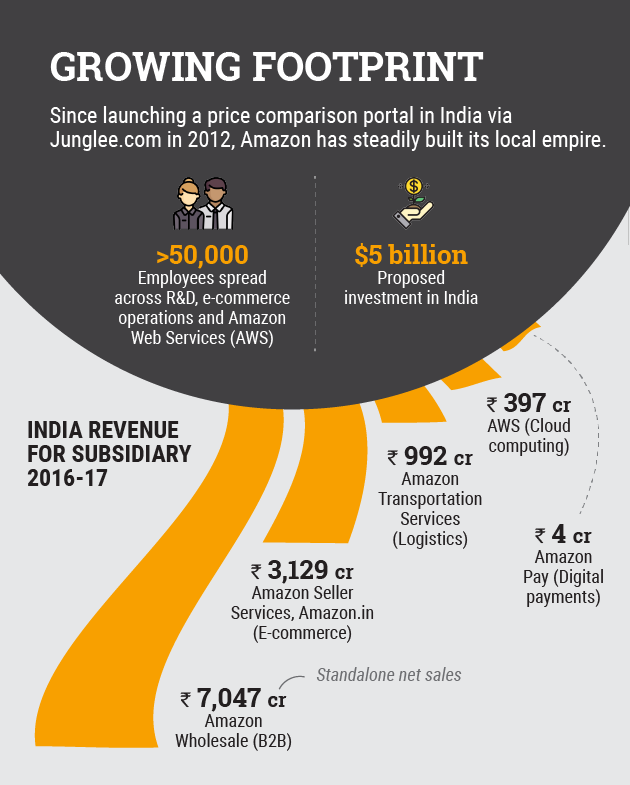 But online retail is not the only segment where Amazon has been investing in India. It has also spread its footprint in segments such as fintech, bus aggregation and offline retail.
According to Satish Meena, senior analyst with Forrester Research, the company has ambitions beyond its core businesses of e-commerce and cloud computing. "It is actively in pursuit of opportunities in the financial services sector and healthcare, going by its known partnerships. It has followed the same strategy in India, too," he said.
Anup Jain, managing partner at venture capital firm Orios Venture Partners, said the company needs to invest in startups and companies that solve the country's specific problems, rather than innovating on ideas in-house, to build its long-term India strategy.
Amazon's India bets
This calendar year alone, Amazon has invested in three Indian companies.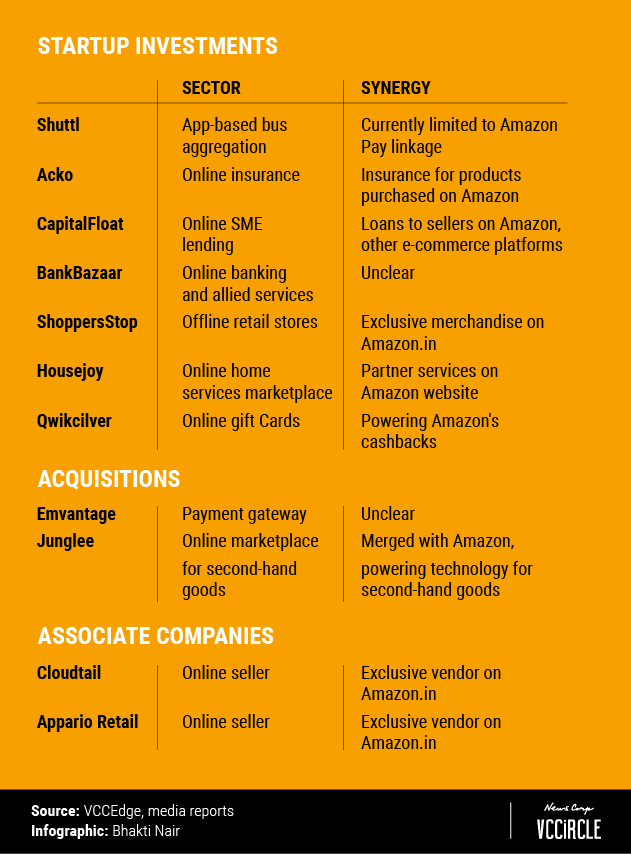 In April, it put $22 million (Rs 144 crore) into digital lender Capital Float. The following month, it led a $12-million (around Rs 80 crore) round into Mumbai-based online insurance startup Acko General Insurance.
With Acko, Amazon India is offering its customers insurance for electronic items sold on its platform, while Capital Float provides loans to third-party sellers on the e-commerce site.
Amazon's most recent investment was in Gurugram-based bus aggregator Shuttl, where it co-led the startup's $11-million (Rs 75.5 crore) Series B funding round along with Japan's Dentsu Ventures. The e-commerce firm made the investment through its Amazon Alexa Fund.
Jessie Paul, founder and chief executive of management advisory firm Paul Writer, said Amazon's investments in India are not wild bets but are aimed at strengthening its core businesses.
"Amazon historically does two things—invests in its existing core businesses and invests in wild bets like say cloud computing or the Fire phone. So far, its investments in India are linked to retail either in terms of facilitating easy payments or enabling their suppliers to get better financing. They are trying to add value to customers and suppliers, making it easier to work with them and simplifying their business model to suit the market," Paul said.
To enhance its offline retail play in India, last September, Amazon purchased a 5% stake in Indian brick-and-mortar retail chain Shoppers Stop Ltd.
Besides retail, Amazon has built its cashback offering by leading a $10-million (Rs 63 crore) round in gift card provider QwikCilver Solutions Pvt. Ltd in December 2014.
Amazon has also invested in financial services products platform BankBazaar in July 2015 and home services marketplace Housejoy in December 2015.
In addition, Amazon has developed its own subsidiaries from scratch to manage inventory, and provide transportation and payments services—it set up Cloudtail and Appario with local partners to manage inventory. For payments, it built Amazon Pay. For deliveries, it created Amazon Transportation Services.
Forrester's Meena said some of the subsidiaries or affiliate companies were formed to get around India's regulations for smoother operations. "But Amazon's ambitions go beyond e-commerce, content and devices like Kindle and Alexa. For a company of Amazon's size, the cost of experimentation is low, while the upside could be high," he explained.
Amazon's acquisitions
While Amazon has stepped up investments in the country, it has also made a couple of acquisitions.
In February 2016, it acquired Noida-based online payments firm Emvantage for an undisclosed sum. The deal allowed the e-commerce bellwether to develop payments solutions tailored to the Indian market. Amazon had previously bought price comparison platform Junglee, but shut the website down last year.
The number of acquisitions in India is minuscule compared with its hectic global dealmaking pace. Over the past 20 years, the US e-tailing giant has bought 76 companies globally, according to investment database firm CB Insights.
According to industry observers, some of the companies where Amazon has made minority investments could be potential acquisition targets, too. Roosevelt Investment's Benowitz said the financial returns on the venture investments and small acquisitions are of lesser importance for the online retailer. This is where its investments in financial services and fin-tech companies fit in.
"Amazon has had limited success building a digital payments business in the US in part because that was a complex and mature market before Amazon's entry, leaving less of an opportunity to gain share through innovation," he said. "The opportunity for Amazon is larger in the developing world where the existing payments infrastructure is less developed, and therefore, more easily disintermediated."
---