As Ola-owned Foodpanda absorbs Holachef, employees and vendors claim a raw deal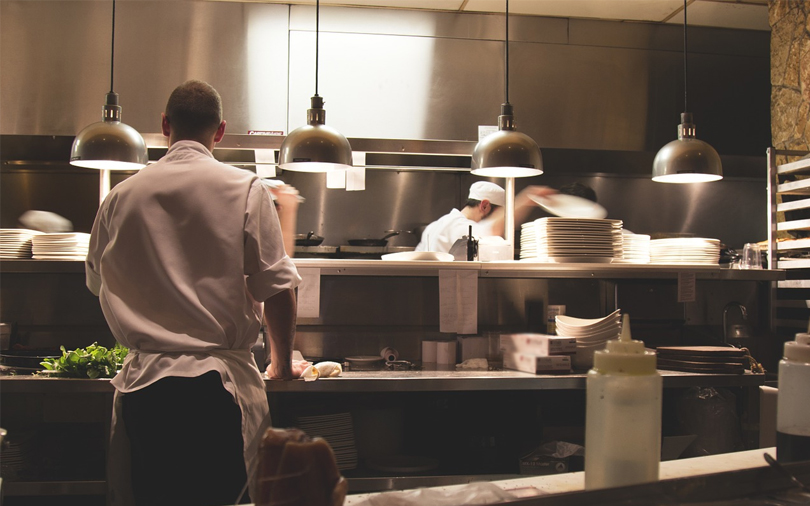 On a humid afternoon in Powai—Mumbai's startup hub—a middle-aged man came calling at the second-floor office of troubled food-tech startup Holachef in a building inside the Symphony IT Park.
As he cooled off at the company's reception, the man said he was a dairy products vendor and had come to collect the Rs 2 lakh that Foodpanda owed him for a year.
It seemed unusual to find a Foodpanda vendor at the premises of Holachef, but the man hadn't lost his way and was indeed at the right address. For, Holachef now appears to be owned by Foodpanda, and so, all Holachef vendors are now Foodpanda vendors.

The incident lends credence to a report in August in the business daily Mint, which had stated that Holachef had shuttered operations in the April-May period. It further said that Foodpanda, owned by cab-hailing firm Ola, was in talks to buy the food delivery company. However, citing unnamed persons, Mint said that the talks were a distress sale, which would result in Foodpanda buying Holachef's staff, brand and kitchen equipment.
While Ola-Foodpanda and Holachef are yet to officially announce the deal, several employees, vendors and former top executives from both firms that TechCircle spoke to said that the transaction has been completed. The individuals spoke to TechCircle on condition of anonymity.
Employees from Foodpanda and Holachef, including the latter's co-founder Saurabh Saxena, now work from the Powai office. Foodpanda, according to several employees, had on boarded Holachef's staff nearly two months ago.

Email queries to Holachef, Ola, Foodpanda and venture capital firms Kalaari Capital and India Quotient, early investors in Holachef, went unanswered. It is not clear yet whether India Quotient and Kalaari are taking a write-off on their investments following the acquisition.
Employee woes
While the deal may have gone through, the integration is proving painful for Holachef. Many employees from the defunct food delivery company claim that they have not been paid salaries since November last year.

An employee from Holachef told TechCircle that while there have been no layoffs, several employees quit after not receiving salaries for months. Over the past year, Holachef's overall headcount declined from 50 to about 20, several of the company's employees said on condition of anonymity.
TechCircle has seen a copy of the letter that was sent to the Holachef employees by Saxena on 1 June this year, seeking confirmation on the salary amounts due to them. The same is true of many vendors, according to people in the know who did not want to be named.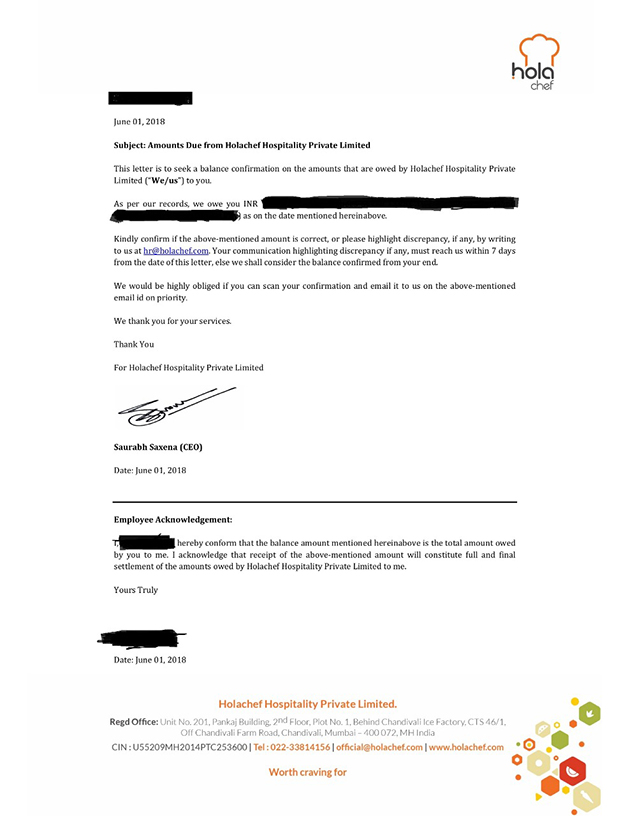 Holachef's top management plans to resolve its employee issues after it publically announces the acquisition, a person in the know said.
However, for the Foodpanda vendor at the Holachef office, personnel issues are irrelevant. "I just want to get paid. I have been in this industry for more than 20 years and it is bad. I just want my money back," he emphasised.
Funding rounds

Founded in 2014 by Saxena and Anil Gelra, Holachef is operated by Holachef Hospitality Pvt. Ltd. It delivered meals prepared by chefs at centralised kitchens and besides Kalaari Capital and India Quotient, it counted Ratan Tata, SIDBI Venture and even Innoven Capital among its investors.
Since its inception, it has raised capital in multiple rounds.
Its most recent capital raise was in February this year, when it secured Rs 2 crore ($311,200) from Ashok Kumar Gajera, director at Mumbai-based diamond manufacturer and distributor Laxmi Diamond Pvt Ltd. The investment round valued the startup at Rs 177 crore ($27.4 million), according to estimates by TechCircle.

The Mumbai-based company secured its Series B funding round in two tranches—in April 2017, it raised Rs 19.5 crore ($3 million then) from SIDBI Venture Capital Ltd and existing investor Kalaari Capital. In July 2016, bagged Rs 13 crore ($1.95 million) from Kalaari Capital and India Quotient.
In 2015, it raised capital in two rounds, which amounted to $3.38 million, according to VCCEdge, the research platform of News Corp VCCircle.
The deal to buy Holachef comes several months after Ola acquired Foodpanda from its Germany-based parent Delivery Hero in December 2017. The acquisition marks the cab-hailing firm's aggressive strategy to venture into the food delivery space, where rival Uber also operates. Ola-owned Foodpanda also competes with Swiggy and Zomato, both of which are backed by marquee investors and have secured big ticket cheques in the past few months.
---