Palo Alto has the 'PayPal Mafia', where at least 13 former staffers of the online payments giant including Elon Musk and Max Levchin have gone on to build big tech companies.
Closer to home there is Flipkart, where ex-employees such as Mukesh Bansal & Ankit Nagori (CureFit) and Sujeet Kumar, Amod Malviya & Vaibhav Gupta (Udaan), among others, have created formidable ventures of their own.
And now, as Satyen Kothari puts it, there is the 'Citrus Cartel'.
It's been two years since Citrus Pay, the homegrown digital payments firm that Kothari co-founded, was acquired by rival PayU in what was then one of the largest takeover deals in a fledgling fintech sector.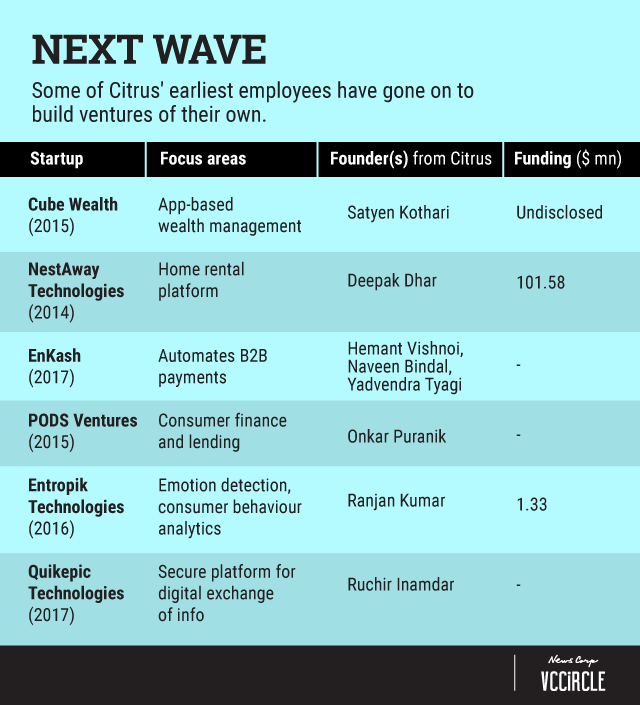 Thanks to a WhatsApp group and their former cook, 40-odd past Citrus employees still keep in touch and meet up for a meal in Mumbai every three months or so. When Kothari looked around the table at their most recent gathering in August, he realised that a handful of his former staffers had gone on to become entrepreneurs in their own right.
"We scaled Citrus from hiring the first employee to 300 people," Kothari told TechCircle. "People who joined early on saw the journey and were part of the decision making. I would call the first 10 employees co-founders."
Having seen the trailer at Citrus, he adds, these employees were prepared for the movie that is entrepreneurship.
It was quite an action-packed trailer. Kothari and co-founder Jitendra Gupta started Citrus Pay out of a basement in Mumbai in 2011. At the time, fintech wasn't the phenomenon it is today.
In less than a year, the company raised $1.8 million from global VC firm Sequoia Capital. By 2016, this number had grown to $32 million as other institutional investors such as Ascent Capital, eContext Asia and Beenos came on board.
Citrus struck gold with its focus on simplifying business-to-business (B2B) transactions - offering payments processing and enterprise payment SaaS solutions. It partnered with 10,000 merchants, processing transactions worth $2.2 billion.
And then, of course, Naspers-owned PayU paid $130 million to buy CitrusPay in 2016.
Gupta and Amrish Rau, who joined Citrus as managing director in 2014, went on to grow PayU's business in India by taking up senior roles.
Kothari had left Citrus before the acquisition, taking charge of consumer-facing app Cube which was spun off into a separate business.
Cube, which offers wealth management, savings and expense management services, raised seed funding in May last year.
Several other former Citrus members caught the entrepreneurship bug, with at least six ventures emerging as a result: home rental portal NestAway, banking technology provider Quikepic, business-to-business payments firm EnKash, emotion recognition technology provider Entropik Tech, banking services app Bankoncube, and lending services provider PODS Ventures.
Kothari says the Citrus Cartel is building it all.
Breeding ground
PODS co-founder Onkar Puranik, who joined Citrus Pay in 2013 and was among the first 30 employees, says the sense of ownership and easy flow of ideas was what kept him going in the company and beyond.
"The environment in Citrus was entrepreneur-friendly and you owned whatever vertical you would handle," he says. "Ideas were discussed at breaks, market understanding was exchanged and you had ringside view of the booming startup ecosystem in India."
Another early employee was Deepak Dhar, who left in 2014 to start NestAway, which has so far raised more than $100 million from the likes of Ratan Tata and Tiger Global.
Employee number 52, Ranjan Kumar, says Citrus brought out his entrepreneurial side. After joining in 2014, he was in charge of business development and headed the business in south India, where he was tasked with integrating Citrus Pay with the consumer internet industry. He left in early 2016 to start Entropik Technology, which raised pre-Series A funding in July this year.
While Kumar and Dhar have diversified into other sectors, other Citrus-bred entrepreneurs have stayed true their fintech roots.
Kothari says no non-compete clauses were put in place for employees going it alone.
"As long as no one uses data and IP of the company, it works well. All of them have paid their dues to Citrus and if they have a better idea in 2018 to disrupt the space, they should go for it," he says.
Selling their shares during PayU's buyout helped a few of these entrepreneurs bootstrap their ventures. Experience also goes along a way and these former Citrus employees are well-versed with the evolution of fintech in India.
"Consumer-to-merchant payments started evolving in 2008, first with PoS terminals and then companies like Citrus Pay," says Hemant Vishnoi, co-founder of EnKash, former director of digital payments at Citrus and ex-vice president at PayU India. "When we started the company two years back, business-to-business payments was where consumer payments was in 2008."
Vishnoi founded EnKash with his former Citrus colleagues Yadvendra Tyagi (former director of business development) and Naveen Bindal (former head of technology).
The founders of Citrus remain involved with their former proteges, serving as their go-to advisers these days.
While Jitendra Gupta is an investor in Entropik, Kothari says that he is keyed in to the products of Citrus alumni and there is always room for angel investing and introductions to other relevant investors.
For the others in the group, there's always the quarterly meals to stay connected with the rest of the Citrus Cartel.
---