How do you take the fun out of a holiday? When you need to recheck your bookings and confirm tickets or have to reschedule with an eye on finances. Goibibo wants to change this with its innovations using artificial intelligence. The Naspers-backed online travel portal, which was merged with MakeMyTrip in 2016 for a record $1.8 million, wants its users to leapfrog from an app-based ecosystem to a single interface where a user can specify their requirements through voice, said Anshuman Bapna, chief product officer at Goibibo.
Two years ago, the company realised that chat-based platforms were the future, especially in a market like India. "WhatsApp was by far one of the biggest applications (in India). When these WhatsApp users moved to consumer experiences online, their default expectation would be a WhatsApp-like chat experience," said Bapna. GIA, Goibibo's chatbot, was born out of that learning. The chatbot, which works on the Goibibo app, helps customers find their e-ticket, check on hotel bookings and cost of cancellation among other things.
Using voice-based search, GIA can help users check for train availability, PNR status, time schedule and other information on the goTrain app in Hindi and English. The chatbot also alleviates the experience of customer support for 10-15% of the 15,000 customer support queries that the platform fields on a daily basis. If the customer intent is unclear, the chat is directed to a customer care executive who can resolve the issue. According to Bapna, the experience on chat is measured qualitatively, as opposed to the time spent on resolving a query on a call by call centre executives.
An all-in-one platform
Virtual travel assistants are not new in the online travel space as global companies like hotel booking platform Expedia and Booking.com-owned meta search engine Kayak have integrated bots into their apps and mobile websites as well as Facebook Messenger.
The chat interface is familiar to new users of the Internet, and WhatsApp is one of the platforms Goibibo is working closely with for easy customer interaction. For example, one of the use cases built by the company includes easy web check-in for users.
"Twenty four hours ahead of the scheduled flight, we send our users a seat map. You can see the heart-shaped icon which is colour-coded (based on occupancy) and all you need to do is type your seat number and you are done. All it takes is two messages on WhatsApp," explained Bapna.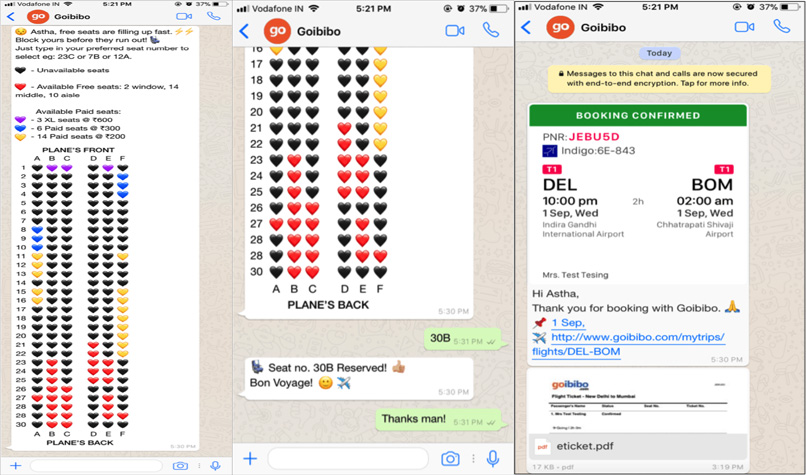 Similarly, a traveler flying to Bengaluru can book a helicopter taxi service in the city on the Goibibo platform using text.
According to Bapna, the idea is to create a single seamless platform instead of e-commerce-like buying experiences, which involve multiple steps. He adds that while customer support is the primary use case of a chatbot, using AI to help users select and buy a ticket or making a hotel booking can be challenging and isn't the key focus area for them.
"It is not suitable for a multi-step buying experience. When I say 'find me a flight from Bengaluru to Pune early morning', how 'early' is early morning? All the nuances are not captured by the chatbot," he adds.
Harnessing user data
The company uses data collected across the three platforms—MakeMyTrip, redBus and Goibibo—to understand user intent and personalise the experience for them using machine learning. Part of the data collection involves using a user's historical data while some of it works on deductions by the engine to categorise a new user in a pre-identified group.
"Depending on the search by a new user, we can put the user in a bucket, say, who prefers booking through the EMI option. We do this for existing users based on historical payments data depending on whether they prefer booking through net banking, credit card, etc.," says Bapna.
While most of these use cases are customer facing, the data parsed by the company is also utilised to drive business insights.
The company has recently been eyeing the hotel and holiday packages segment aggressively. Nasdaq-listed MakeMyTrip posted an 18.4% increase in revenue from hotels and packages to $93.4 million in the quarter ended 31 March 2018 over the corresponding quarter in 2017.
"In the hotel business, one of the key concerns of users is clean linen and clean bathrooms. We use computer image processing to identify the picture of the bathroom for a hotel uploaded by customers, our own team and the property owner. Coupled with the sentiment analysis of comments linked to it, we know that the bathrooms are clean (or not) which is then relayed to the user," Bapna stated.
The platform also helps its hotel partners modify pricing by predicting the demand for hotels in a particular area within a city based on intent searches on the platform.
Despite this, one aspect of deep learning that the platform has yet to implement is virtual reality. "VR is popular in Silicon Valley but we haven't seen any use case for India yet in the travel business. That is the only area where we are not on par with global technology in this space," Bapna said.

---