* This story is part of a fortnightly series on accelerators and incubators in which TechCircle compiles report cards highlighting the successes and failures of the startups nurtured and spawned.
Around four years ago, the Maharashtra Institute of Technology started an accelerator called Edugild with the objective of nurturing education-focussed startups using technology as their backbone.
"We wanted to do something in education and see how education can transform the lives of millions rather than hundreds who are sitting in classrooms," said Rishi Kapal, global strategist and chief executive of Edugild. "The vision was to create an Indian ed-tech ecosystem which moves from India to the world."
Pune-based Edugild now has a portfolio of 21 ed-tech startups, of which six are from abroad. It runs a business accelerator programme twice a year lasting four to six months. Five cohorts comprising three to five startups each have graduated so far. The sixth batch was formally launched around a fortnight ago and consists of two startups - sports performance analysis firm SparUp and artificial intelligence-powered assessment platform Jungroo Learning.
The accelerator programme involves providing technology guidance, organisation development support, product life cycle management, business acceleration, PR and media strategy support, investor readiness and relations, UI-UX advisory, digital marketing and global research.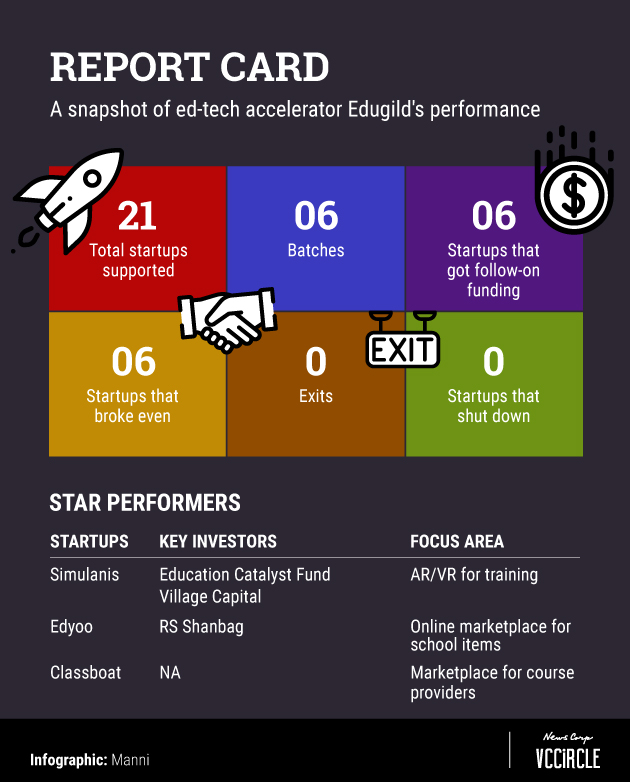 Edugild grants startups access to its partners such as Cisco, Cambridge, CodersTrust, Tata Class Edge and Upgrad.
Besides taking 3-5% equity in every startup, the accelerator also provides Rs 15 lakh to each of them.
"We have also created a module called enhanced acceleration where we re-accelerate one or two companies that are struggling, at no cost," said Kapal. "We take companies which already have a prototype or are generating early revenues, not the ones that are at an ideation stage."
Some startups from earlier batches such as Simulanis, Gradopedia, Classboat, Ahhaa, YoScholar, ProctorEdu have gone on to raise follow-on funding.
Founded in 2013, Delhi-based virtual reality startup Simulanis initially offered skilling programmes for engineering students via computer-based modules. It went on to offer work environment simulations to train employees besides incorporating virtual and augmented reality into its offerings in 2015.
It raised $500,000 in a pre-Series A round from Education Catalyst Fund in January this year.
Edyoo, an e-commerce platform which sells products primarily used by schoolgoing children, raised $1 million (Rs 6.8 crore) in pre-Series A funding in May this year. Edyoo had acquired Yoscholar.com, a company operating in a similar domain, in March this year.
"The initial support was to be able to make them reach significant revenues," said Kapal, adding that international expansion was the next step."We have international partners in Japan, Singapore, Australia and New Zealand, Israel, UK and USA who we approach on behalf of the startups that we seed fund and accelerate."
For example, Simulanis is already registered in the UK, while Ahhaa opened offices in the US and Edyoo is moving to Singapore.
"The intention is to compete at a global level in the ed-tech space where the Indian ecosystem is benefitted," said Kapal.
The accelerator has also worked with the startups to identify funding needs, likely liquidity events, utilisation of capital, optimisation in burn rates, competitive analysis, and understanding the apparent weakness of the solution as well.
"It is a long-term holistic partnership for revenue and fund raise," he added. "Some of our companies such as Simulanis, Changemypath, Edyoo, MemoryTrix, AbroadShiksha, Ahhaa have already reached break even."
While none of the startups from the accelerator's stable have shut down so far, Kapal admits it has been tough going for a few of them owing to market conditions.
"In ed-tech, access to decision makers is challenging and then the need to pivot effectively to meet demands of each potential buyer sometimes becomes more exhaustive," he added.
Given its aim of staying with startups till they reach a certain level of maturity, EduGild hasn't exited any of its portfolio companies yet.
The accelerator is now planning to set up another incubator/accelerator at Avantika University in Madhya Pradesh's Ujjain. While it will be broadly sector-agnostic, some of its focus areas will include agri-tech, clean-tech, and energy-tech.
---