BlackBuck CEO on passing over e-commerce and using tech to change the trucking industry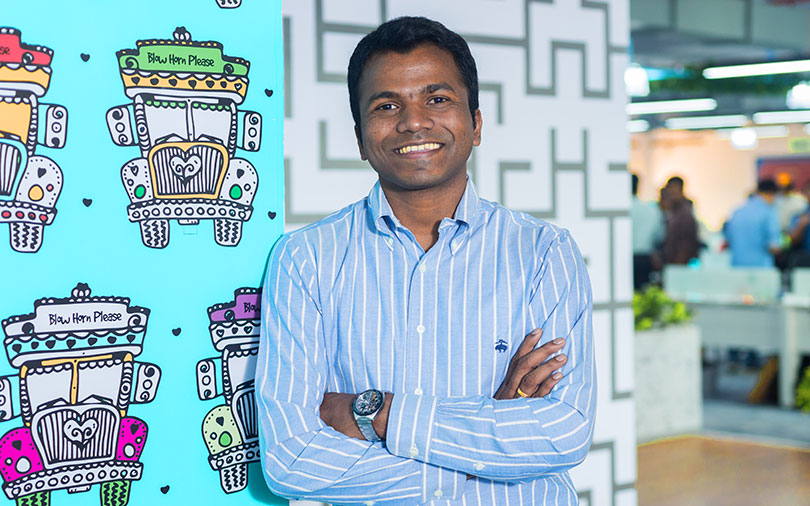 BlackBuck, the technology-enabled logistics platform owned by Bengaluru-based Zinka Logistics Solutions Pvt. Ltd, thinks that the $150-billion trucking business can be reimagined to a $300-billion opportunity. To address that opportunity, it has embarked on BlackBuck 2.0, an initiative to address every problem in the trucking ecosystem, including financial services tailored for truckers.
The company has so far raised $130 million from investors such as Sequoia Capital India, Tiger Global Management, Sands Capital and InnoVen Capital. It was founded in 2015 by IIT-Kharagpur alumni Rajesh Yabaji, Chanakya Hridaya and Ramasubramaniam B. Its business-to-business logistics solution connects shippers and truckers via an online marketplace for intercity freight transportation.
In a conversation with TechCircle at the company's Bengaluru offices, co-founder and chief executive Rajesh Yabaji outlined the firm's roadmap, the challenge and opportunities it faces and how the company is using emerging technologies to bring in greater efficiency. Edited excerpts:

Could you tell us about the latest developments taking place at Blackbuck?
The epicentre of our business model is the trucker. We have been able to position ourselves around anything relevant to the trucking ecosystem, including a fleet owner. We started off as a simple freight matching company, solving problems such as finding demand and utilising dead capacity. The traditional offline system had helped truckers in many ways like using cash and providing local connects. The challenge, as well as the opportunity, is that we have been able to recreate all the infrastructure.
Trucking is a $150-billion market. Given the number of problems to be solved, we have envisioned it to be a $300-billion market. We now provide trucking services, financial services, entire fuel-cart and toll-cart services and we also sell tyres with our unique selling proposition, insurance.

Do you offer these financial services from your own balance sheet or do you tie-up with fin-tech players?
We offer them in collaboration with fin-tech players, whose names I cannot disclose. In fact, we are in the process of floating an independent financial services company in another three months. This fin-tech company would focus on all the use-cases of credit for the trucking ecosystem. Truckers face a $100-billion credit gap, and this is a sizeable problem to address. We will offer credit services to all truckers across India and not only for those on our network.
Could you tell us more about Blackbuck 2.0?

Earlier, we were focused on getting loads for truckers and ensuring that transactions go through. Now, we want to bring efficiency into the system by taking processes online. This is what Blackbuck 2.0 is all about.
Can you elaborate on BlackBuck's tech backbone?
Tech is as good as zero if the tech stack is not able to create the intended change. The problem statement was that a trucker needed to find a load, which would usually take 2-4 days. We are able to allocate a trucker an order in negative time, much before he even needs an order.

We use machine learning algorithms to predict which routes a trucker can take and to determine the price of a transaction so that it is accepted. The algorithms, which operate on data science, produce these results using pricing and routing information.
On the front end, the pricing and route generate the money and order, which comes to you very fast.
Has the fast-growing e-commerce sector fueled your growth?

This is something that has not been well understood about us. We are everything but e-commerce. We have not done a single e-commerce shipment till date. On the contrary, we are a company that caters to the fundamentals of the Indian economy. We have consumers in agriculture, chemicals, commodities, metals, paints, consumer packaged goods, fast moving consumer durables and industrials.
There was a wave of tech-enabled companies catering to e-commerce. We are not that. As a market, e-commerce is about 0.5%, but is growing fast. We have all the large companies signed on our platform and have about 10,000 customers.
Around 97% of agriculture shipments through trucks in India are addressed by the small and medium enterprises and they are the largest shippers.

What is your roadmap in the short term?
Today, we have a market share of close to 20% in terms of the total capacity in the full truckload intercity space. When we expand further, we become more relevant for the truck owner and the shipper. When the network grows, shippers get better availability and have an advantage over pricing as we are able to easily rotate assets. The trucker gets more load and his problems are solved.
In the next two years, we want to continuously deepen our expertise in the capabilities we have developed. Besides, we will launch new business verticals.
As we speak, we are present in 350-400 locations across the country and in around 3,000 villages.
Do you plan to diversify your services, like venturing into partial truckload?
We are solely focussed on solving the problem of a truck owner who owns assets. This can be done largely via the FTL route. We have taken up one problem statement and we will solve that deeply, catering to the entire country. To give perspective, out of the total $150-billion opportunity in the trucking industry, FTL alone accounts for $100 billion.
How long will you take to turn profitable?
Our objective has always been to invest in growth and add value. This is an industry that has not really changed in many decades. We will continue to invest in this industry until we are able to transform the way the space has been operating.
We will be profitable in another 4-5 years.
Can you tell us about your inorganic route to scaling up operations?
We have not acquired, but acqui-hired some companies whose identity I would not like to mention. These companies have given us deep knowledge of one area and also a very good management team. We have been able to integrate those teams into BlackBuck well after on-boarding. We constantly evaluate more potential acquires.
How do you view the competition? Do you see many players coming up in the space you operate?
We have built deep networks for truckers and shippers and we are addressing the core problems they face. Truckers need utilisation, more kilometres and seamless payment experience. The competition trying to replicate us in this space is not similar to us at all.
Secondly, we have grown in scale. If another player did the same we do, what would be their competitive advantage?
However, the space is large and has different carts. For example, warehousing is yet to be covered by any startup and warehouse automation is another space, where a few companies operate. The space has numerous possibilities and it is very hard to define boundaries.
---