After a stint at social networking giant Facebook, Abhishek Inumella and his college friends teamed up to launch Samosa Labs in 2015. They started out by offering an app where users could download GIFs and seven-second audio clips of famous film dialogues. But users just wouldn't stick.
With data charges and download speed among the constraints, users would download fresh content and then uninstall the app before returning at some point in the future.
"We had 50,000 users back then and we tried a lot of different models including celebrity question and answer sessions via audio. It did not help," Inumella told TechCircle.
In February this year, Samosa Labs launched user-generated videos on the app. The decision has proved to be a game-changer in terms of customer retention.
"We have an independent existence in the minds of our users now. Earlier, users thought of us as a WhatsApp add-on," Inumella added.
The app now has a million users. Around 88% of them are men in the age group of 18-30 years from Tier-2 cities and beyond watching short videos in Telugu and Tamil.
Samosa Labs is among a growing number of content platforms in India that have found a hook in easy-to-consume short videos in local languages.
The emergence of video
The penetration of video apps in India is on the up, according to a recent report by Cheetah Lab and UC Media Lab which studied user behaviour between January and September this year.
According to the report, the number of online video viewers in India reached 250 million in 2017, a year-on-year increase of 64%. It is estimated that by 2020, 72% of mobile phone traffic consumption by Indian digital consumers will be used to watch online videos.
Furthermore, a recent report by Media Partners Asia pegged the online video market in India at $700 million.
And while the share of text articles continues to be higher, the Cheetah Lab-UC Media Lab report states that nearly seven out of every 10 users searching for entertainment content prefer a Hindi-based interface, with around 25% looking for content in other Indian languages.
Content platforms have realised these are opportunities they can't afford to ignore.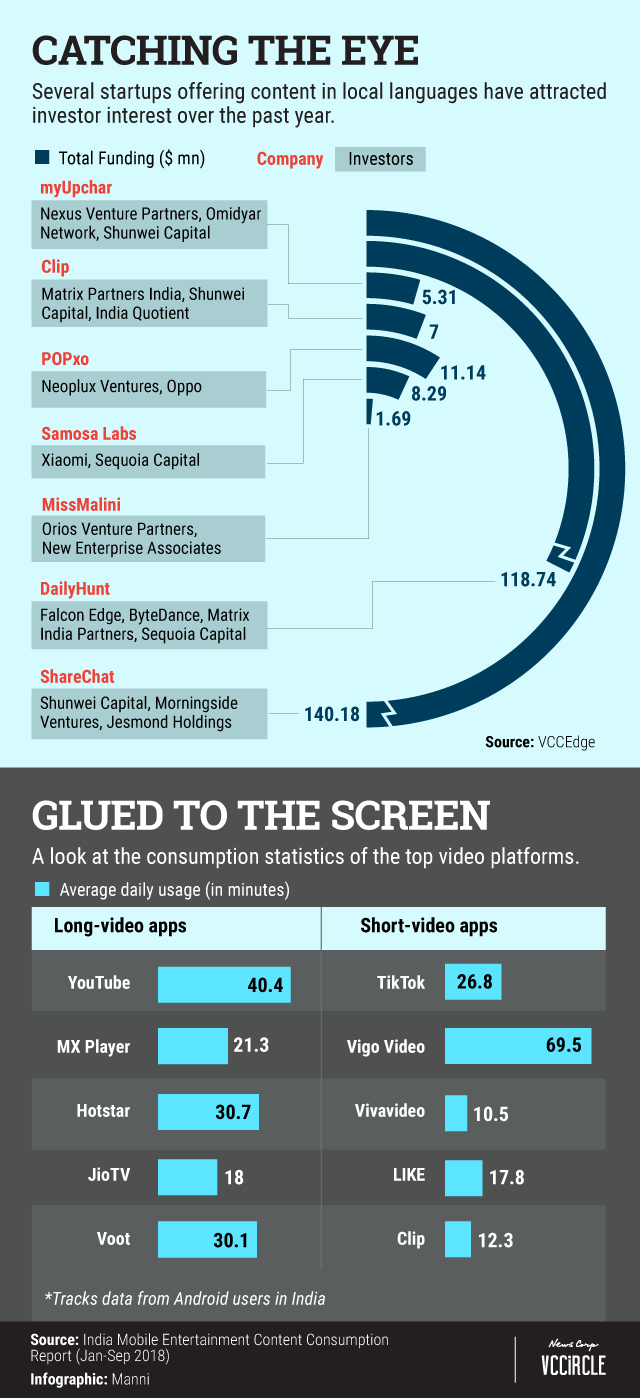 And investors are taking note, backing at least half-a-dozen native language content platforms over the past year alone. Samosa Labs has been among the beneficiaries, with mobile handset maker Xiaomi and venture capital firm Sequoia Capital India investing $7 million (Rs 48 crore) in August.
ShareChat, the native language social networking platform where users can share videos and songs, hogged the limelight last month when it raised $100 million from a consortium led by Chinese venture capital firm Shunwei Capital.
Bengaluru-based news aggregator DailyHunt has also carved a niche for itself. The platform, which offers content in 14 languages include videos in Hindi and Telugu, raised the first tranche of its Series E round last month.
Lifestyle and entertainment content companies such as POPxo.com and MissMalini, which have both raised institutional funding in the recent past, are also deepening their focus on developing text and video content in local languages in a bid to tap the next 100 million users beyond Tier-1 cities.
Chinese players are also looking to get in on the act.
Alibaba-owned mobile internet company UCWeb, which owns the UC Browser app that occupies half the local market, is shifting focus to the growing video segment and building a presence across languages.
"UC is in the process of including more content in different vernacular languages on the platform. Besides, UC is going to South of India to excavate local language insights and user demands," said Damon Xi, general manager of UCWeb India and Indonesia.
Live.me, an app for user-generated videos that is backed by Chinese internet company Cheetah Mobile, considers India its second-largest market and has also been looking to expand its offerings in local languages.
"Our content is mostly Hinglish, the most preferable content by Indians," said Johnny Wu, regional director for Indian and European market at LiveMe. "In future, we are planning to gradually add special channels and programs for regional languages like Punjabi and Gujarati."
Driving forces
The content ecosystem in India might seem familiar for investors who have already seen this story play out in their home countries, particularly China.
"Chinese investors find the space relatable," said a content industry executive who did not want to be named. "The investments are not limited to just video format, they are keen on investing in blogging, social sharing sites and others. Further the focus is on user acquisition and engagement, more on the latter. Once they have that, they need to spend on retention and not acquisition per se."
It also helps that video can tap a wider audience of people might not necessarily spend time reading in local languages.
"Content has gotten exciting because of the video format. Infrastructure and data speed is not an issue any more," said Anup Jain, managing partner at Orios Venture Partners, which has backed MissMalini. "Only 175 million people know English. The rest of the people enjoy content through videos and through cable television."
While the Cheetah Lab report cited earlier hints at "isolation" from TV screens to the personal mobile screen, the affordability of large screen smartphones and robust data network has played a major role in increasing in video consumption.
The data shows that the proportion of Indian entertainment products users using mobile phones with screens of 5 inches or above has increased significantly between January and September this year, with 26.39% users opting for a 5.5-inch smartphones.
The report further shows that there were only five short video apps of adequate scale in 2017, a number which has increased to 17 this year with a market penetration rate of 0.1% and above.
The top four apps among these are from China -- namely TikTok, Vigo, Vivavideo and LIKE. Indian short-video platforms such as Matrix Partners-backed Clip and Samosa Labs offer similar content.
Monetisation woes
Despite growing popularity, Indian content platforms have found it difficult to monetise their offerings.
"Monetisation should not be ad-dependent as revenues are generally not in your control," said the content industry executive cited earlier. "It is primarily dictated by the revenues being shared by Facebook or Google. Subscription models ensure user retention and better control on revenues, which is what works for Netflix and Amazon Prime."
For content players, user experience becomes paramount and it is difficult to strike a fine balance between generating revenues and ensuring that users keep coming back to the platform. Product placement has been one of the options considered.
In general, though, advertising isn't very lucrative for native language platforms.
"The advertisement revenue rates differ depending on the language," said Priyanka Gill, founder and chief executive officer of POPxo.com. "For example, the ad revenue for English content per 1,000 page views is Rs 30, while the same for Hindi is Rs 8. There is a stark difference."
The platform has launched a private label of lifestyle products targeted at its female user base to open a stream of revenues. At present, sponsored content and influencer marketing through the channel continues to be its primary source of revenue.
Similarly, for MissMalini, diversification of revenue channels through launch of a private label is an avenue the company is exploring.
"We generate revenue primarily by helping our partners create better content, and helping them distribute and amplify this content to the right audiences to generate conversations, awareness, and ultimately trust," said Nowshad Rizwanullah, chief executive officer of MissMalini. "We sell content solutions, not inventory, which is why it's important for us to be a multi-platform player."
---