India's over-the-top (OTT) content market is projected to expand at a faster pace than global growth in the next few years thanks to favourable factors such as low data prices, according to a report by Boston Consulting Group (BCG).
The BCG report said the size of the Indian OTT market is set to grow 10 times to $5 billion by 2023 from $500 million (Rs 3,560 crore) in 2018. The global OTT market is forecast to grow 85% to $141 billion by 2022 from $76 billion in 2018, it said.
The report is based on a consumer survey of 5,000 participants across 24 cities, passive data from Nielsen's Smartphone Panel of 15,000 smartphones and qualitative research, including focus group discussions.
"As per our estimates, India reaching China or Brazil levels would imply 10-13% compound annual growth for the next 10 years for the overall media industry," said the report.
The report said that while 84% consumers in India use traditional media, 16% use digital media. Indian youth--those below the age of 23--consumes 25% of their content from OTT platforms, which is equal to the Chinese digital media consumption, noted the report. Considering that India's median age is 28, this constitutes a sizeable chunk of the population.
Also, Indian internet users consume an average of 1.7 hours of OTT content daily.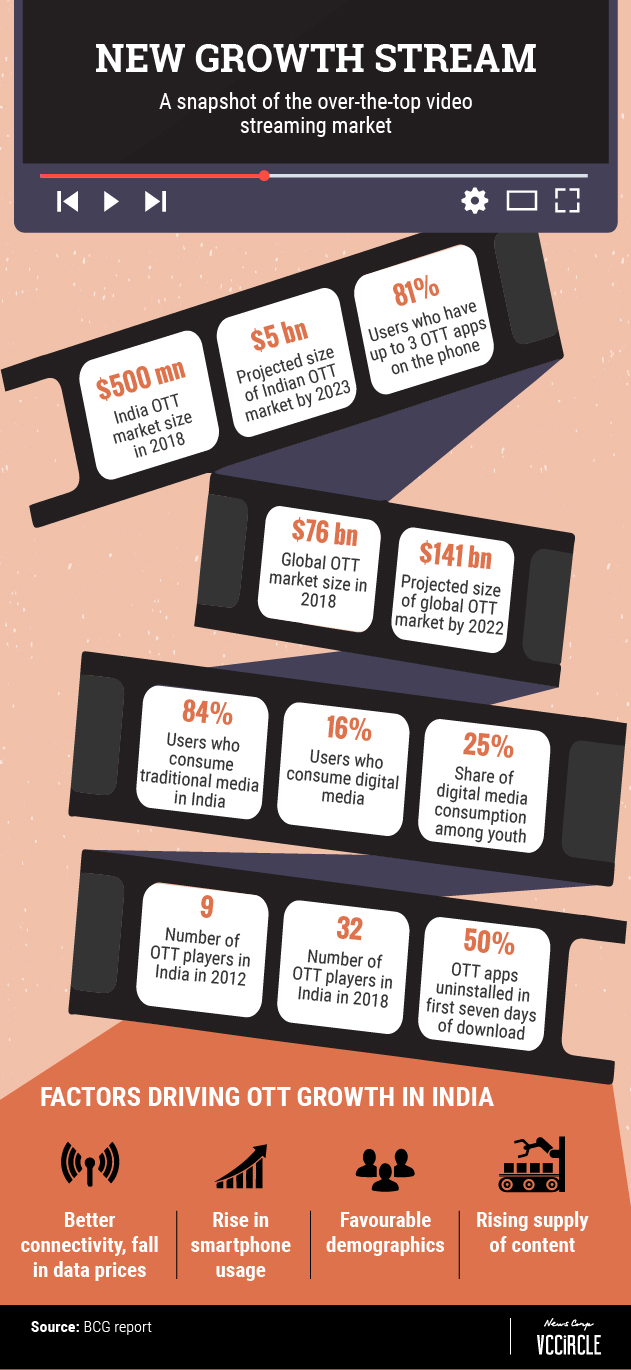 The report said that OTT players made significant investments to produce original content in 2017. Hotstar pumped in Rs 4,000 crore, Netflix Rs 500-600 crore and Amazon Prime Video Rs 500 crore. Sony LIV and ErosNow invested Rs 400 crore each while ALT Balaji spent Rs 120 crore, the report estimated.
The number of OTT players in India has grown from nine in 2012 to 32 in 2018, it said.
What's driving the growth?
According to the report, the factors driving the adoption of OTT services include better internet connectivity, fall in data prices, increased smartphone penetration, a young demographic, growing affluence and the availability of content.
However, consumers have voiced a need for better local language content on these platforms, according to the survey.
Who is watching?
Growing smartphone penetration and a fall in data prices could mean a huge rural market for OTT services. "Our estimate is that nearly 50% of internet users in India, by 2020, will be from rural India and rural internet penetration could grow to as much as 35%. This creates a very healthy environment for OTT to take off in rural India," said the report.
Another demographic that Indian OTT players can target is the diaspora.
Gaurav Jindal, principal at Boston Consulting Group, said the content market for non-resident Indians is huge and shows their willingness to pay. This market is not only dominated by cricket but Bollywood music and films are also very significant.
"With their large content libraries, Indian OTT players are sitting on a metaphorical gold mine to serve this increasingly important customer base," Jindal said.
Jindal also said that subscription models will be critical for success in India. "About 30% of the 2023 OTT revenue will be consumer-pay dependent. We don't see willingness to spend as a challenge for Indian consumers; it's more about the value-for-money question which needs to be addressed," he said.
He added that one way to address this question was to build differentiated content and increase awareness among users to drive stickiness.
Retention and pricing
The survey found that most consumers (81%) have up to three video/OTT apps on their smartphones. It added that only 3% users have more than five OTT apps on their phones. This means competition to retain customers will be intense.
Customer retention is a problem for all platforms; users uninstall half the OTT apps in the first seven days of installation.
The report also studied markets abroad. It noted that the average revenue per user per month in the US is $89 and $11 for Pay TV and Subscription Video On Demand (SVOD), respectively. In China and India, the figures are as low as $3 for Pay TV and $2-3 for SVOD.
What are the players angling for?
Global OTT players Netflix and Amazon Prime are turning to the Indian market, investing heavily in developing local content and shows. Netflix chief content officer Ted Sarandos recently said that as the US market saturates, the company will look to expand rapidly in Asia, starting with India. In an interview to CNBC, Sarandos said that the company was looking to add 100 million subscribers in India alone and is experimenting with different pricing models.
Amazon Prime Video in June started a monthly subscription plan of Rs 129, which includes express delivery, video and music.
According to a separate report by market and competitive intelligence platform KalaGato Pte. Ltd, the Indian OTT segment was dominated by Hotstar in terms of viewership, followed by Zee5 and Jio TV between September and October. Netflix ranks a distant eight and Amazon Prime ninth. However, Netflix tops the net promoter score, which is a metric for measuring customer loyalty, followed by Jio TV.
Hotstar, the market leader in the segment with over 150 million app downloads, streams most Indian language serials ahead of the TV telecast apart from live sports content. In fact, the app had set a world record for most people concurrently streaming a live sport event during the recent IPL cricket tournament.
Other than Netflix, the subscription cost in India is generally lower than in most other countries. Another study by technology research firm Comparitech Ltd found that Amazon Prime Video is the cheapest in India on a per title cost basis.
---