EOS and Etihad Airways Engineering team up to design 3D-printed aircraft interiors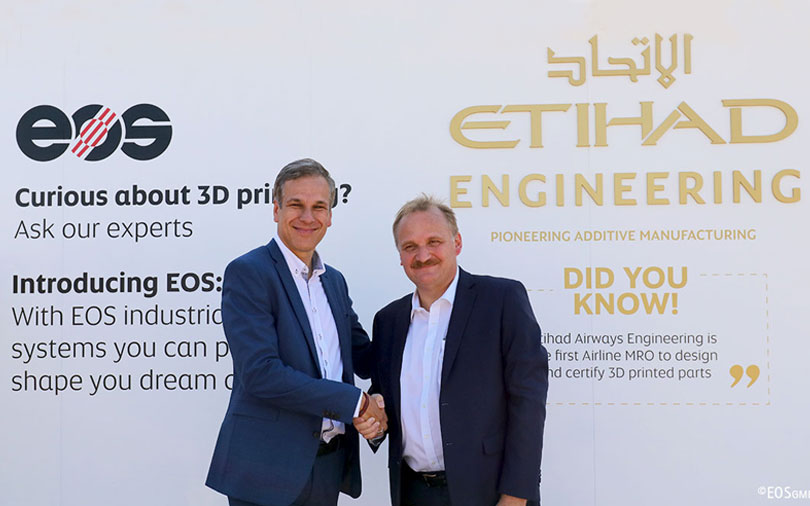 EOS, a technology supplier of industrial 3D printing of metals and polymers, and Etihad Airways Engineering, which offers aircraft maintenance and engineering solutions, have partnered to expand local capabilities for industrial 3D printing in aviation, a company statement said.
The partnership, finalised at the Formula 1 Etihad Airways Abu Dhabi Grand Prix last weekend, will allow Etihad Airways Engineering, a subsidiary of the Etihad Aviation Group, to produce aircraft parts at its facility in Abu Dhabi.
According to the statement, visitors to the race were able to view a full-scale 3D printed front wing of a Formula 1 car and speak to 3D printing experts.

In the initial phase of this collaboration, the two companies will choose the machines, processes and materials in accordance with aviation regulatory requirements. The firms will use the technology and an additive manufacturing system developed by EOS at this stage.
Following a structured selection process, suitable cabin interior parts will be produced through the additive manufacturing process, which reportedly offers a substantial value-add in terms of optimised repair, lightweight design, shorter lead times and customisation options, particularly during aircraft modifications.
"Etihad constantly invests in new technology and has identified additive manufacturing as a key technology for aviation interior parts, as well as applications beyond aerospace in the future," said Bernhard Randerath, vice president of design, engineering and innovation at Etihad Airways Engineering.

"The technology is a key enabler when it comes to design and innovation in our industry. Etihad is proud to work towards a vision of a 3D-printed cabin interior," he added.
After the initial steps are completed, Etihad Airways Engineering will certify the additive manufacturing process and further develop additive manufacturing capabilities based on this technology. The firm will also jointly work with EOS to develop, test and qualify new polymer materials.
In the long term, Etihad plans to roll out additive manufacturing for its customers and within the broader aviation ecosystem.

---