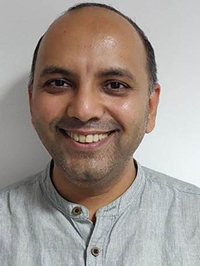 Bengaluru-based staffing company TeamLease Services Ltd wants to transition from a technology-driven staffing solutions company to a technology company on a SaaS (software-as-a-service) model. Parag Modi, who joined TeamLease six months ago as its chief technology officer, is now overseeing the digital transformation of the publicly listed company. The Rs 3,500-crore company is in the midst of migrating a lot of its products to AWS cloud, which it hopes will help the company to develop cloud-scale technology solutions for its customers. In an interview with TechCircle, Modi spoke about the potential for the company to grow to a $2 billion entity in the next five years and how technology will be instrumental in getting to that target. Edited excerpts:
What is your mandate at TeamLease?
The biggest factor the encouraged me to join this company was the conversation I had with the chairman and CEO (Manish Sabharwal). He said that right now we are a technology driven company and in the next couple of years we want to become a technology-led company. A lot of enterprises might be in the business of staffing but we want to be a technology company in the business of staffing. That is our biggest aspiration.
How is that vision going to transform the business?
Currently, we are Rs 4,800 crore revenue company and our aspiration is to get to Rs 14,000 crore or $2 billion by 2023. We are right now at a net margin of 1.6-1.7% and we want to get to 3-4% or so. Both will happen only if we have the right technical solution and the right technology in place. If we want to scale to around five lakh associates, which will help us reach achieve those revenues, it has to be through the use of the right technical solution to keep providing quality services.
Then, on the other side if we want to increase our margins, again technology is going to be a driver. We know that all our upselling going forward as well as our new products will not just be staffing products but will be technology products which are adjacencies. So can I provide an HRMS solution or a field-force solution? Basically, we're looking at products that will help us become a SaaS-based company over the next few years.
Do you already have something in place or are you in the process of developing such products?
We have some and are developing a few more. We have acquired a few companies that are giving us these capabilities and accelerating our product base. Moving to the cloud has given us scalability, capability and performance stability. While we have been using technology for the last 15 years, we needed to be reborn on the cloud. What that means is we should be able to think of building cloud-scale solutions. And we should be thinking of user experiences rather than just thinking about our profits. While digitisation is an important part of being digital, the thought process has to be very different. We have to think about scale. When we get to five lakh associates, it is going to be a big market for us. Last but not the least, the user experience - being able to build products that can be very easily used by consumers.
Which are the SaaS products in the offing?
Overall, the idea is to become a technology company providing digital workforce solutions (DWS) to our customers. Starting with online solutions for attendance, onboarding and exit, performance management, the productivity of employees, the sales effectiveness of employees and so on. And these service offerings can be monitored or tracked on Android or iOS platforms. Clients can buy the whole suite or individual products. It can even make suggestions to improve the productivity using AI and analytics in the backend based on data.
For instance, one of our customers, a large financial services company with whom we have about 10,000 associates, they use multiple products from our DWS suite. They use our attendance and field-force effectiveness products. They don't need to track their employees because our app has geofencing and geotagging to record attendance. We provide them analytics on who are the top employees. Once we get more data we can probably provide the customers with next level of insights.
Are there large digital strategic products that the company will launch towards this goal?
So one of the big projects that we started working on is to become a jobs marketplace. What are we trying to do with TL.com, which was previously our corporate website, is that we want that to become our jobs website. Any candidate who's interested in a job should be able to find a job online. That's a part of what our founder Manish (Manish Sabharwal) talks about, you know, it is not a job problem, it is a wages problem, right? Which is, am I getting the job that I want, that I aspire for. So not only do we want to provide somebody a job, we want to provide them their aspirational job. There is not much trust among the partners at the entry level jobs and we see a chance for us to be able to emerge as one to the job seeker.
A few other online job marketplace did not do well and there were distress sell-offs. Being a staffing company, how can you make this work?
If you see, at any point in time, India has about 500 million people who are searching for a job. Formal jobs is a very small percentage of that. But the way digitisation is going, we think that formalisation is going to happen much faster based on what the government is doing and how the economy performing. This is a huge opportunity. While a lot of new jobs are not being created, some of the informal jobs such as delivery and logistics are now becoming formalised. At least 10-20% of these people are looking out for a new job at any given point in time. There is a huge demand and supply but matching the two today is a difficult process. The fulfilment cycles are anywhere between 30 to 60 days and sometimes even more for specialised jobs. So we see a clear market and there are various ways to monetise as we look at it based on our expertise and client requirements. It is not just the Naukri or Monster ways of monetisation.
Since you are an employer too, would the website be just an onboarding interface for your platform?
That is definitely an opportunity for us, a backward integration because I'm adding more than 50,000 people a month. It can be used for matching or for doing video interviews. We have developed artificial intelligence based software solutions and running analytics to figure out who are the right people. One objective is to make it easy for a candidate to apply for a job and also to make it easy for employers to search for a candidate. We also have learning services which can help potential employees to upskill and match their talent according to the requirements of the market. How do you learn basic English, how do you behave or how do you speak and so on. These skills will help them in getting better jobs. This as a platform will provide us with monetisation opportunities.
---