Licious' Vivek Gupta and Abhay Hanjura on the firm's growth plans for 2019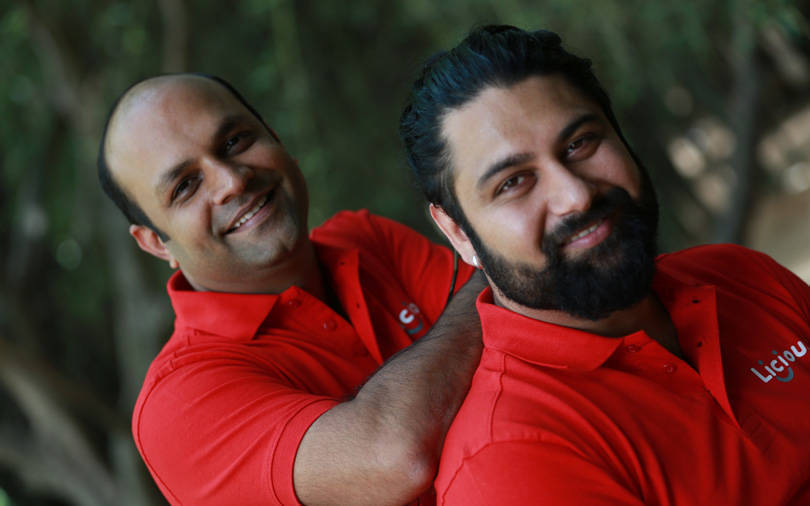 Delightful Gourmet Pvt. Ltd, the Bengaluru-based startup that owns online meat and fish ordering platform Licious, is on a growth drive, having attracted the interest of marquee investors.
Last week, it raised $25 million (Rs 185 crore at current exchange rates) in a Series D funding round led by Japanese conglomerate Nichirei Corporation.
3one4 Capital, Bertelsmann India Investments, Vertex Ventures, UCLA Investment Company and Sistema Asia Fund had also put in money in this round.

This was Licious' second capital raise this year. In September, it secured another $25 million (Rs 181 crore then) in a Series C funding round, and in March 2017, it scored a $10-million Series B cheque.
Founded in 2015 by Abhay Hanjura, an executive from the insurance industry, and Vivek Gupta, a former finance controller at Helion Venture Partners, the venture presently runs in Bengaluru, Hyderabad and Delhi-NCR. It not only procures fresh produce but also processes, stores and delivers it. It plans to expand to seven more cities next year, including Mumbai, Pune and Chennai.
In an interaction with TechCircle, Hanjura and Gupta spoke about how Licious will use the fresh capital it raised, the company's road ahead, its tech capabilities and more. Edited excerpts:

Tell us about how Nichirei Corp came on board as a new investor.
Gupta: We met them at a Bengaluru-Tokyo technology initiative conference in April this year. We realised we have a common interest. Gradually, we kept meeting them in India and Japan as well. We visited all their facilities in Japan. They also visited us in Bengaluru and saw our entire back-end process of cold chain facilities.
Japan is the only economy that has an organised meat ecosystem, unlike India, where the ecosystem is raw and unorganised. We started Licious to organise this whole industry. In our previous round, we had raised money from Korean investor, Neoplux Technology Fund. Korea again has an organised meat market. We want to learn from all our investors, especially from Nichirei, and bring a lot of learnings from Japan as well.

Hanjura: The Nichirei Group has a very strong understanding of the meat and seafood industry among other businesses. We share a common philosophy. This partnership has been formalised with a very long-term view.
You raised $25 million in the Series D round. Any reason you capped it at this number? What is the valuation of this round?
Gupta: We would not like to comment on valuations. We were never in need of money. We had good relations with Nichirei, and to strengthen that, we raised this round. We do not require more money for the next one and a half years.

What are your immediate business plans?
Gupta: We recently raised a Series C round, and with this new round as well, we have enough capital which we will use for expansion in the next few years. The first thing on the cards is city expansion. We'll go live in Mumbai and Pune this month. We will also expand to Chandigarh in January 2019, and by March, we will start operations in Chennai too.
Our city launches come with a lot of complexities as we have to set up the processing plant in each city. Currently, we are present in Bengaluru, Hyderabad and Delhi-NCR. In addition to that, we are also looking at vertical expansion of products.

Hanjura: We will continue to experiment with our product offerings and will further build on our value-added offerings such as ready-to-cook an ready-to-eat portfolio. We are looking to launch some meat-based gourmet products early next year besides continuing to innovate on our existing products.
Does Licious use deep technology to run operations?
Hanjura: Meat is a highly perishable product. Today, we have different processing centres with different supply chains in every city.

Gupta: We have solved this problem entirely through technology since we began our business. We have tech that manages production, sourcing plans, delivery centres and dispatch in real time, all of which are completely automated in-house. We are currently in the process of building a full chain enterprise resource planning (ERP) system to manage our business more efficiently.
Has the business model changed much since you began operations?
Gupta: When we started out, we spent a lot of time thinking and finding ways to approach the problems in this space. Since our inception, we have focused on building the supply chain. Our fundamentals of ensuring high quality and product safety are very strong. For the first two months, we just observed the mindset of consumers. We have a customer base of 300,000 and over 90% of our transactions come from repeat customers. Our focus will continue to remain the same.
How do you manage your warehousing and procurement facilities?
Gupta: We have large procurement centres which are full-fledged manufacturing spaces.
Hanjura: Setting up a supply chain and creating an infrastructure is very complicated. We deal with the fresh category which has a minimum shelf life. We have to keep in mind the local demand and facilities for cold chain facilities. Every city is different. While this complexity exists in training and hiring people, it's also a unique advantage for us as we are in a supply chain business. We have to control the back-end supply, cold chain across procurement, processing, storage till the delivery stage. There are no benchmarks in India and we have to create one.
Licious is one the most well-funded players in this space. How do you leverage this opportunity?
Gupta: Licious manages its own supply chain and processing centres and that is how we approach the meat ecosystem. Other startups in this space have built their business models based on the e-commerce market, which is not the solution of unorganised meat processing in the country. This is a $40-billion market. One single player will not be able to bring the change. We are ahead of some players but we would also want others to change the way how Indians consume meat.
Do players like BigBasket andAmazon pose any challenge for you?
Hanjura: They are our partners and they carry our brand on their platforms. Retailers cannot become brands. Licious is a consumer brand with a strong online presence.
Do you see consolidation in this space? Are you looking at inorganic growth opportunities?
Gupta: We did look at inorganic growth but that's not a major part of our plan. We are looking at expand offline too.
---