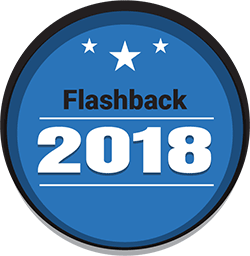 When it comes to M&A deals, Flipkart undoubtedly stands out as the Indian startup ecosystem's greatest success -- not just of 2018 but arguably of all time. US retail giant Walmart's acquisition of India's largest e-commerce company this year was defined by superlatives. The deal to buy out Flipkart for $16 billion at a valuation of nearly $21 billion was Walmart's biggest acquisition and the biggest-ever inbound acquisition in India.
But while the Walmart-Flipkart deal hogged the limelight, there were several startup M&A deals across sectors and this in turn spurred investor sentiment. Experts say 2018 has been an exciting year for value creation as compared to the past five or six years as most tech startups justified their valuations by raising huge rounds of capital.
"I was surprised with the kind of value creation that has happened in the market," said Karan Sharma, executive director, co-head, digital & technology investment banking at Avendus Capital. "We started seeing companies becoming stronger, raise larger pools of capital and become more aggressive in organic expansion."
Sharma believes that the big drivers of value creation have been in sectors such as e-commerce, which includes both physical retail and online services encompassing food delivery, education, and entertainment.
With plenty of capital in their kitty, big players have splashed the cash and given acquisitions a leg-up.
Flipkart and its group companies -- fashion portals Myntra and Jabong, and digital payments platform PhonePe -- were also active on the M&A front.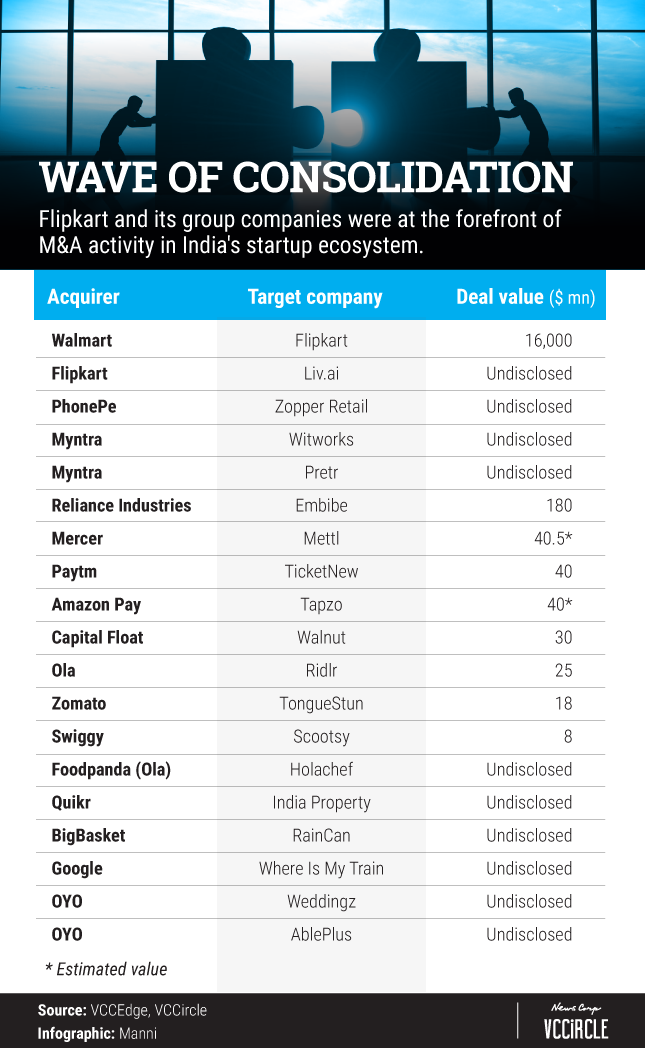 Days after Walmart completed its buyout of Flipkart, the e-commerce behemoth announced the acquisition of Liv.ai, an artificial intelligence-based speech recognition startup, as part of efforts to enable voice shopping on its platforms.
A month later, Flipkart snapped up Upstream Commerce, an Israeli startup which uses predictive analytics to automatically fix retail prices of products.
Myntra made two acquisitions in 2018 - omnichannel platform Pretr and wearable-tech startup Witworks.
TechCircle was the first to report that PhonePe had sealed a deal to acquire Zopper Retail, a Point of Sale software-as-a-service (SaaS) platform, as it looked to augment its offline presence.
Flipkart's main rival Amazon also got a piece of the action with its payments arm, Amazon Pay, reportedly acquiring now-shuttered personal assistant platform Tapzo.
"It has been an exciting year for startups, particularly in the e-commerce space, looking to expand their services through organic or inorganic means," said Ankur Pahwa, partner and national leader -- e-commerce and consumer internet at EY India. "International expansions have become a reality, consolidation is playing out, and players are being funded to create deeper pockets."
Food-tech firms, which had a record year in terms of fundraising, made a number of acquisitions to boost their expansion initiatives.
Swiggy, which secured three mega funding rounds in 2018, bought out online startup Scootsy Logistics Pvt. Ltd, which delivers food, fashion apparel and accessories, and home décor.
Rival Zomato, which added more than $400 million in fresh capital to its kitty this year, acquired TongueStun, an online startup which aggregates caterers for offices and events. Earlier this month, Zomato made clear its ambitions of drone-based delivery by absorbing Lucknow-based TechEagle Innovations.
Foodpanda India, the online food delivery firm owned by cab-hailing company Ola, set to rest months of speculation by confirming its acquisition of shuttered venture capital-backed food-tech startup Holachef for an undisclosed sum.
The acquisition was another statement of intent from parent Ola, which has been doubling down on the food-tech space where cab-hailing rival Uber has also been growing its footprint via Uber Eats.
And sticking to its bread and butter, Ola made another play to grab a bigger share of the market by acquiring Ridlr, a public-transport ticketing app.
Secondary deals, exits
While Ola did not have a significant fundraising event this year for a platform of its size, it got a marquee investor on board in the form of Singaporean state investment firm Temasek Holdings, which purchased a single-digit stake for more than $200 million in a secondary deal.
Experts say secondary deals emerged as a theme in 2018 in a maturing ecosystem.
"Secondary transactions happen when the underlying assets are performing very well," said Avendus Capital's Sharma. "Those assets are very well-capitalised which means companies need not necessarily raise more primary capital. Even in primary deals there were secondary transactions which was a good sign. We expect this trend to continue in the coming year."
Secondary transactions have also provided exits for venture capital firms.
A case in point is global human resources consulting firm Mercer's acquisition of Gurugram-based online skills assessment startup Mettl in a deal pegged at around Rs 300 crore (around $40 million).
The transaction gave venture capital firm Blume Ventures a decent exit. The fund made seven times returns on aggregate capital, taking into account its combined seed and Series A investments in the company. Kalaari Capital, on the other hand, earned about Rs 75 crore from the deal.
"Mercer-Mettl was not a big-ticket M&A yet delivered healthy returns to its VCs and above all was a global exit," said Sharma.
In October, online grocer BigBasket bought out subscription-based e-grocery startup RainCan to strengthen its micro-delivery operations. RainCan co-founder Abhijeet Kumar had told TechCircle that it was a deal in which all of its angel investors had exited.
And while the specifics remain under wraps, Kalaari Capital and Lightbox Ventures most likely profited from selling stake in ed-tech startup Embibe to Reliance Industries Ltd (RIL). The energy-to-retail conglomerate said in April that it would acquire a 72.69% stake in Bengaluru-based Embibe and invest $180 million (Rs 1,175 crore) in the venture.
However, an initial public offering (IPO), which is considered by many to be the best exit route, remained elusive in 2018.
"Secondary transactions have given a partial exit or liquidity to VCs but the eventual exit is through IPO or a trade sale as this gives them more opportunity and flexibility to demonstrate some returns for their limited partners (LPs)," Sharma said.
Sharma also believes that the big-ticket deals in 2018 have set the stage for further consolidation in 2019.
"For the next 12 months, we will see a much higher level of M&A activity as cross-border M&As in India were on the lower side in terms of the internet space," he added.
---