India is going digital faster than any other major world economy barring Indonesia, according to an index compiled by IT lobby NASSCOM (National Association of Software and Services Companies) and the Union ministry of electronics and information and technology.
As per the Country Digital Index, India registered a 90% growth in digital adoption between 2014 and 2017.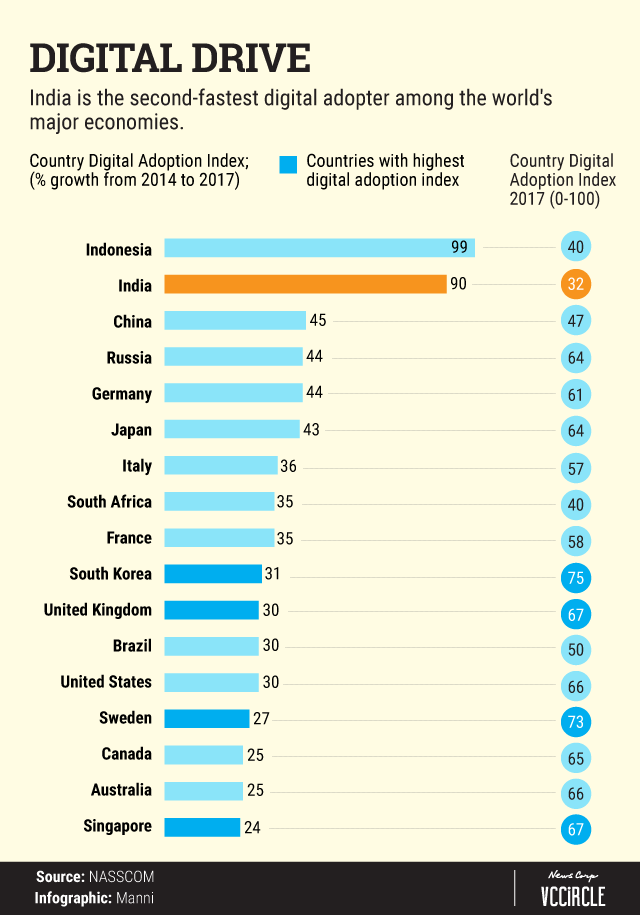 The government's rapid digitisation efforts could catapult the country to a trillion-dollar digital opportunity by 2025 from $200 billion at present, the report added.
But despite rapid growth, India's value in the index stood at 32, which was the lowest among the other 17 countries on the list -- most of which were developed countries and three other large emerging economies.
The index took stock of digital initiatives and also extrapolated values based on the vision and roadmap for the future.South Korea and Sweden topped the list while Indonesia registered the fastest growth at 99%.
Union IT minister Ravi Shankar Prasad said that the government's flagship Digital India programme and the rapid rise of internet users, which now stands at more than half-a-billion, could create a huge market for a host of digital services, platforms, applications, content, and solutions.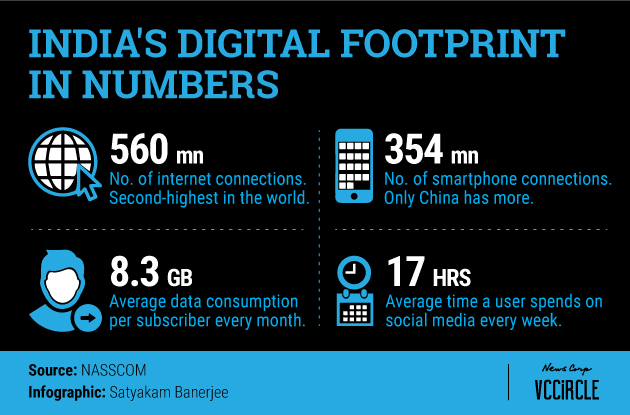 "India could potentially see a five-fold increase in economic value from digital transformation by 2025, representing an attractive opportunity for global and local businesses, startups, and innovators to invest in emerging technologies in ways that are customised to India's needs," Prasad said while launching the report at the annual NASSCOM Technology and Leadership Forum in Mumbai.
He added that the central government was looking to accelerate the process of scaling up 30 digital themes in nine priority areas that could generate productivity and output sufficient to support 55-60 million workers in 2025.
Prasad further said that cheaper data was narrowing the country's digital divide, with close to half of the new internet subscribers in the last four years coming from low-income states.
According to the NASSCOM report, half of the potential economic value of $1 trillion in 2025 could come from new digital ecosystems in diverse sectors, including financial services, agriculture, healthcare, logistics, jobs and skills market, e-governance and other areas.
The report also laid out a roadmap for Digital India 2.0, which includes focusing on the use of technology in areas like education, healthcare, energy and agriculture.
For India to achieve its full digital potential, it recommended a few enabling initiatives including improving ease of operations for digital businesses, unlocking the flow of capital to them, facilitating a booming open-application programming interface (API) ecosystem, supporting digital innovators through government procurement, and strengthening centres of higher education and innovation in new and emerging technologies like AI.
---