Health-tech startup MyHealthcare gets Series A funding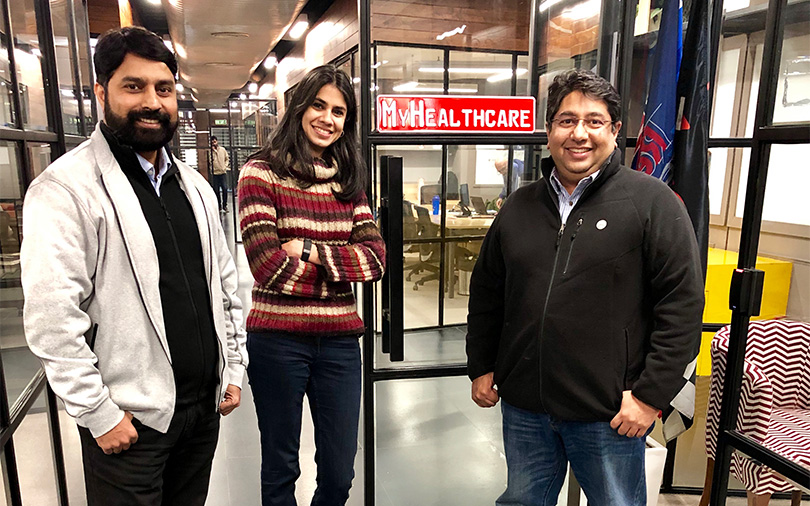 Gurugram-based digital integrated healthcare technology platform MyHealthcare has raised $3 million (about Rs 21 crore at current exchange rates) from Sixth Sense Ventures.
The deal is part of the health-tech company's Series A funding round, it said in a statement. Last year, MyHealthcare had raised $2 million in a round led by early-stage investment firm Hunch Ventures.
Separately, company executives said the funding from Sixth Sense is the first tranche of its Series A round. The startup aims to close the Series A round at $6.5 million in a month's time and will likely rope in new investors for the remaining amount, the executives said.
Owned and operated by InnoCirc Ventures Pvt. Ltd, the company was founded in October 2017 by Shyatto Raha, Aneesh Nair and Divya Laroyia. It offers services such as electronic medical records (EMR), health trackers, emergency services, video consultation and health monitoring. The firm acts as a technology partner for the hospital network across all its patient-facing services.
"Our endeavour is to build the digital healthcare delivery protocols in partnership with the best hospitals in the private sector and work towards enhancement of primary and secondary public healthcare needs in partnership with national and state governments," Raha said.
MyHealthcare's hospital enterprise collaboration platform, called MyHealthcare SPINE, integrates into various systems at a hospital such as the Hospital Information System, EMR and its pharmacy. It offers user-friendly digital platforms for its doctors, nurses, paramedics and patients.
Nikhil Vora, founder and CEO of Sixth Sense Ventures, said MyHealthcare has improved commercials for hospitals and healthcare providers, and enhanced customer experience. Also, it runs on a transaction-oriented sustainable business model, he said.
The company currently operates in Bengaluru and Gurugram, and is planning to expand operations to Southeast Asia.
Sixth Sense's investments
The consumer-focussed venture capital firm was founded in 2014 by Vora, the former managing director and co-head of research at IDFC Securities. It runs two funds—it raised Rs 125 crore for the first fund and had a target corpus of Rs 350 crore for the second fund. The company claimed to have marked the first close of the second fund in March 2018.
In its debut deal, it had invested in luxury watch retailer Ethos.
From the first fund, it invested in 10 companies such as Cross Roads India Assistance Pvt. Ltd, a roadside assistance provider for cars and two-wheelers; media group NDTV's e-commerce venture Gadgets360; Grab, a Mumbai-based hyperlocal logistics service provider; gaming arcade operator Smaaash Entertainment Pvt. Ltd, besides Hindustan Foods and JHS Svendgaard.
From its first fund, it has made Sixth exited three investments, recording an internal rate of return of 40%.
From the second fund, it has invested in seven companies and exited none so far. These include Rakesh Jhunjhunwala-backed Fullife Healthcare Pvt. Ltd, which sells sports nutrition supplements under the brand Fast & Up, AVG Logistics, and Eupheus Learning, which develops textbooks and their digitised versions to integrate class and home learning.
Comment(s)