The Indian arm of Seattle-based e-commerce behemoth Amazon said it is targeting $5 billion (Rs 34,791 crore at current exchange rate) by 2023 in exports through sellers on its network.
The target was announced as part of scaling up the firm's global selling programme launched in India in 2015. The company also claimed that it had crossed $1 billion (Rs 6, 957.73 crore) in e-commerce export sales in three years since launch.
In its current form and size, the Indian operations of the global selling programme has around 50,000 sellers selling around 140 million products to 350 million customers across the globe, the company said in a release.
It added that Indian products are being shopped on its international marketplaces from customers in the US, Europe, the UK, Asia-Pacific and Australia.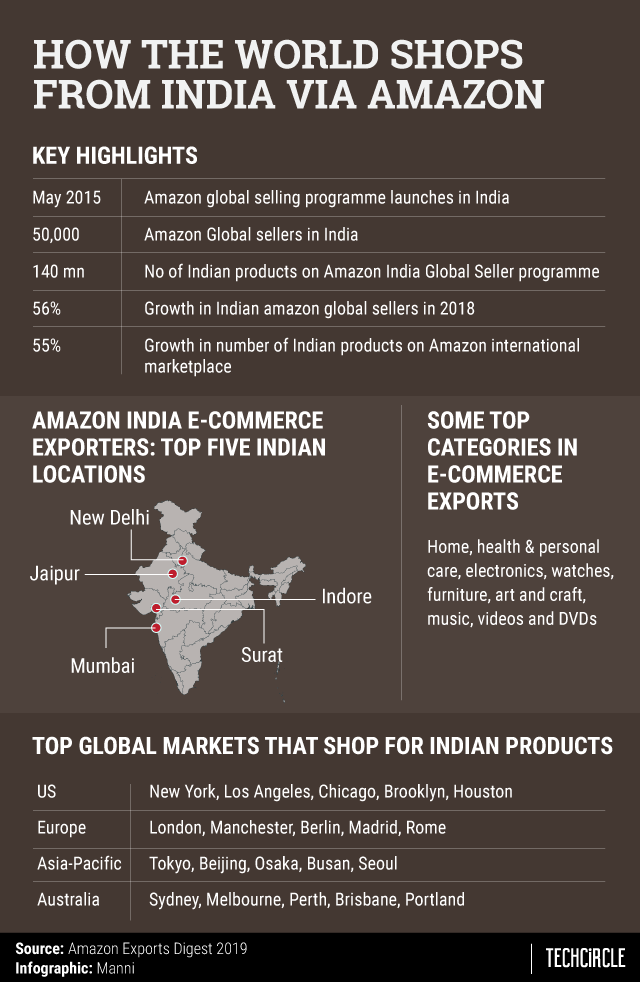 Amit Aggarwal, senior vice-president and country head of Amazon India, said that the programme would also help achieve the central government's goals on exports, encouraging 'Made in India' products to go global without the sellers having to leave their homes.
The company made a special mention of its performance numbers in Australia, which was added as part of the global selling programme in 2018. In a span of a year, it claimed that more than 500 Indian exporters now offered over 12 million products to customers across Australia.
"It's interesting how the programme has scaled up in the country, with more than 80% of these exporters coming from non-metro and Tier-II and below cities. Amazon wants to expand and grow the programme further to bring more and more small businesses to unleash the potential of 'Make in India' initiative by enabling e-commerce exports and leveraging global customer access," Gopal Pillai, vice-president of seller services, Amazon India, said.
The announcements were made on the sidelines of its second edition of the Annual Exports Digest, which showcases top Indian states and cities with international exporters and most popular product categories abroad.
Accordingly, the company disclosed that its India global sellers' network saw a 56% rise in the number of global sellers from India in 2018. Likewise, Amazon's international marketplaces also saw a 55% rise in the selection of Indian products offered globally.
The most popular categories in terms of Indian e-commerce exports across the four regions of the country include watches, camera, pet products, outdoors, home entertainment, board games, shoes, home entertainment, sports gear, camera bags, watches, furniture, personal care appliances, tools, electronics, arts & crafts, music, luggage, videos & DVDs, personal care appliances
The company's latest focus on its India global selling programme also comes amidst a couple of recent setbacks. Earlier this month, Amazon said it will shut its China online store by 18 July to shift its focus on India.
While the global selling programme may enable Indian sellers to showcase and sell Indian products to global consumers, the company recently removed the "global store" option for its Indian customers, which could give Indian consumers access to products from its global store. The company had launched it in October 2016.
---