Blockchain-based universal ID system will share revenues with all users: MyEarthID's Aggarwal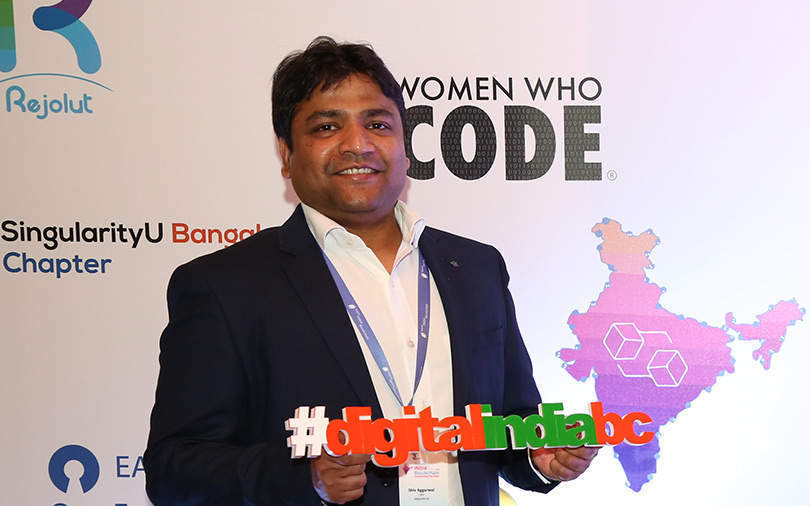 Shiv Aggarwal is the chief executive of MyEarthID, which aims to provide a universal identity to each human through a decentralised platform built on a blockchain.
As European head of the Government Blockchain Association (GBA), Aggarwal recommends blockchain solutions to the European and the UK parliaments, in order to improve governance, identity and voting.
In a talk with TechCircle, he shares his blockchain journey and sheds light on why the tech can be critical for governance and improving facilities for immigrants, among others. Aggarwal is also of the opinion that a universal identity can help create better global citizens. Edited excerpts:

What is your background and where did the idea to pursue blockchain germinate?
I did my graduation in electronic engineering in Delhi and passed out in 2003. After which, I joined Infosys and worked for six years. So far, I have been working with clients in the US and UK for close to 10 years.
Four years ago, I started a consulting company called Fumae in the UK. Fumae helped clients such as Unilever and British American Tobacco with their integration strategies in the cloud space for their APIs (application programme interfaces).

Eventually, I wanted to explore the technology behind the bitcoin hype. During this period, Fumae built a cryptocurrency for one of our clients in Dubai. It never went live owing to budget issues but it gave me a first-hand report of the blockchain industry.
How did MyEarthID and your interest in blockchain start?
I noticed a lot of immigrants and refugees globally who do not have an identity and, hence, cannot have access to basic services. There was also a lot of misuse of personal data and frauds were rampant. I started MyEarthID to resolve such issues.

During 2018, there was a lot of talk in big technology conferences about the social applications of blockchain. One such idea in the conference spoke about giving an identity to the people in Bangladesh who did not have basic documents, hence weren't able to access normal amenities. We also noticed a spike in cybercrimes related to the misuse of identities, so we took all of these pain-points and decided to deploy blockchain.
Where can a blockchain identity solution be helpful?
Governmental, public or private organisations deal with an extensive amount of user information. They usually deploy a team to monitor the data or buy an external data monitoring solution. The power to use the data rests solely with the monitoring team or the external vendor. We want to change that.

In terms of India, the e-commerce industry loses a billion dollars every year in terms of frauds that happen on their platforms. Solutions such as a universal identity can also provide trust scores for individual users.
The better the user utilises a product or platform, the higher his/her trust score is. The website in turn can provide benefits or offers for their higher trust score. The trust score could be a mechanism for organisations to handle services better and recognise potential harm, while the users have an opportunity to get extra services for a good trust score.
How can blockchain help Aadhaar and help lay the foundation for global citizenship?

MyEarthID can take Aadhaar one level up using blockchain. It can do everything that the Aadhaar is supposed to do in a more secure and borderless manner. The biggest problem currently with Aadhaar is the security of the information. The idea is to collect all of the information of the users so that the quality of services that the government provides improves. But the information of one billion people is residing on one platform. If it is hacked, they can steal the data of all the people. The idea of Aadhaar is good but its implementation can be more effective with blockchain.
Additionally, humans are also becoming global citizens as many of us visit multiple countries, but documents such as driving licences, life insurance and health records cannot be used in multiple countries or are deemed invalid. A universal identity system can ensure global citizenship whose information is more secure and free flowing. Due to the linking of all identities into one, global service providers could give better services to the owner of a universal identity.
For example, a user with fewer driving offences can be given a driving licence easily in another country, while somebody with a higher amount of offences has to undergo extra tests to get a driving licence.

For the user, there are incentives to improve, and also incentives to avoid bad behaviour.
Another important aspect is that blockchain can secure the information of users, and help reduce the financial costs as well as maintain a good reputation.
Many current identity solutions today have to be bought and maintained, which translates into a huge cost of ownership. But a blockchain-based universal ID can be built on a pay-per-use model, which can reduce costs drastically.
How can blockchain bring transparency to systems and still secure data? Can it help in avoiding misuse of data by governments and organisations?
Blockchain brings transparency to the source of the data and the lifecycle of the data. If somebody has modified the data or tweaked the data we will be able to know who has made the change.
Most database technologies have an administrator, who always has the authority to make changes in the backdoor. Hence, when there are multiple partners in an ecosystem they are not able to trust each other, thinking that the administrator could be compromised.
Just how banks create trust between two parties, blockchains will create trust among parties in many scenarios.
When we apply blockchain technology to identity management, the distribution and redistribution of data cannot be done without being recorded.
You can also give control to the user with regard to what information they want to share and for how long. So the ownership of data is always with the user.
For MyEarthID, the user owns the data, controls the data, and if MyEarthID makes any revenue out of data, a percentage of the revenue can be shared with the clients as it a revenue-sharing model.
What is the Government Blockchain Association (GBA)? When did it begin?
GBA is a non-profit organisation based out of Washington DC, US. It has 100 chapters across the world with close to 7,000 members. We have four regions: America, Europe, Asia and Africa. I lead the GBA in Europe.
GBA is not a lobbying organisation. However, the association strives to bring together governments and industries globally. We want to create dialogues for efficient, ethical and rational adoption of blockchain to help citizens all across the globe.
We talk to civil servants, ministers, and talk about problems in a particular area and how blockchain can solve them or make things better. The members are volunteers and are experts in the field.
We have had discussions in the European parliament and have helped them understand the current advances in the blockchain sphere. Many projects have already been auto-piloted in different governments. GBA currently has four chapters in India.
What are some of the pilot projects undertaken by GBA globally and in India?
We have a pilot project being undertaken in Spain where they are trying to build a voting solution. The poll is to vote for the distribution of government money for societal causes. Using blockchain, we are going to build a voting solution where the citizens can participate in a transparent way and build a consensus as to where the money should be used. We are also talking to UK parliamentarians to take this forward in the UK.
Similarly in India, we are talking to the Karnataka government where we are trying to pilot a blockchain solution for newborn children. Whenever a child is born, their information would be published and recorded on a blockchain platform.
We can then register these kids for new initiatives that the government of India does. For example, in a vaccination project, the kids will be automatically registered and they will be able to get new schemes in such projects. We are at the conceptual stage but discussions are going on.
What are the future applications of blockchain and when will the tech go mainstream?
Financial technologies are one of the prominent industries. The second-most effective area where blockchain can be applied is supply chain management.
Blockchain can help analyse the entire lifecycle of the goods in the supply chain and help in saving time and avoiding wastage.
The third is in identity management, which MyEarthID is working on.
Healthcare could also find use as medical data is usually entered into different systems. Blockchain can help centralise the data.
Fifth is the overall governance and voting. Currently, it can be deployed in smaller countries where they are looking at blockchain to optimise their voting. It also has the potential to resolve issues such as fake news and fake voting.
As of today, every corporate is doing a pilot or a proof-of-concept (prototype) on blockchain. But it will take five years for blockchain to have widespread global impact and mass adoption.
---