Global capability centres (GCCs) run by large multinationals in India have generated $28.3 billion in value for the financial year ended March 2019, up from $19.4 billion for 2014-15, said a joint study by National Association of Software and Services Companies (Nasscom) and consulting firm Zinnov LLC. (A GCC is an insourced, employee-based alternative to the traditional outsourced IT services model.) The number of GCCs rose from around 1,000 to 1,250 during the period, it added.
From around 745,000 workers by the end of 2014-15, these centres had around one million employees by the end of March 2019, the study noted.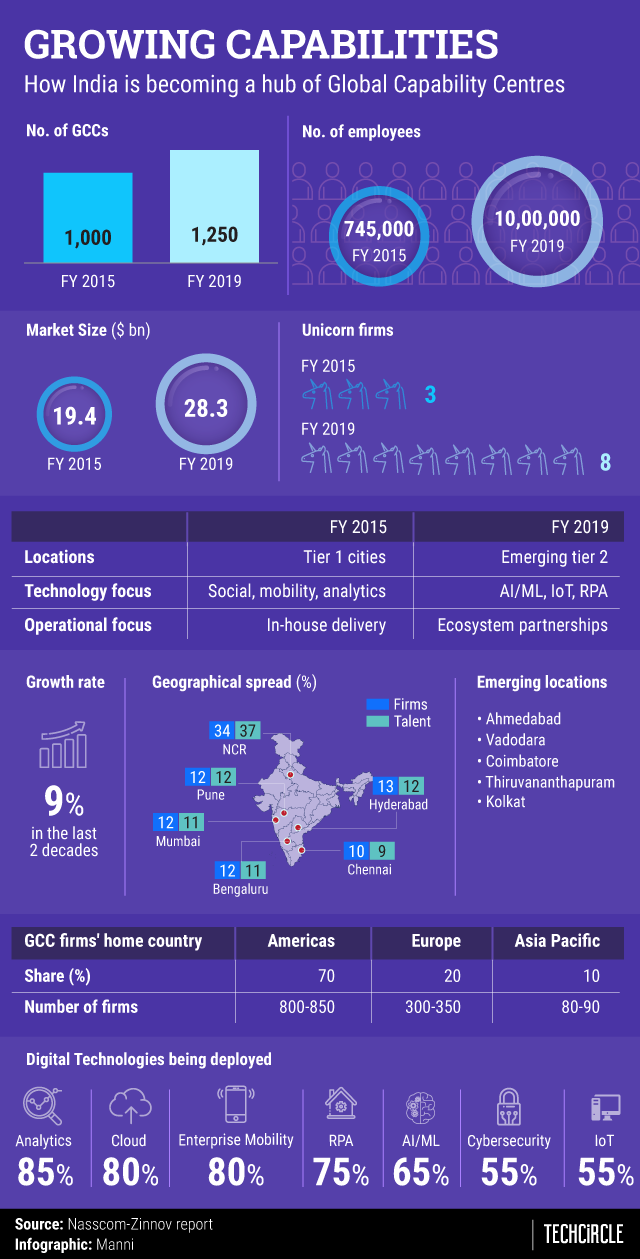 The GCCs, which began as technology backoffices of large enterprises, have turned into research and development centres or innovation labs working on the latest emerging technologies like artificial intelligence (AI), machine learning (ML), Internet of Things (IoT), data analytics, robotic process automation and cybersecurity, the study noted.
"GCCs have transitioned from being cost-effective delivery centres to value creators. With a renewed focus on innovation, maturing startup ecosystem and convergence of digital technologies, India is well-positioned to continue its growth story in this space," said Nasscom president Debjani Ghosh.
Growth rate of GCC establishment has been nine per cent over the last two decades. GCCs today house research labs of global companies like Goldman Sachs, Shell, Diageo, Mercedes-Benz, General Electric, SAP and Microsoft.
The country's Silicon Valley, Bengaluru, is the most popular host: It houses 34% of GCCs as well as 37% of the GCC talent pool. The National Capital Region (NCR) comes second, with 16% of GCCs and 15% of the GCC talent pool. Hyderabad, Pune, Mumbai and Chennai follow, the study said, adding that GCCs are now increasingly setting up in emerging Tier-II cities like Thiruvananthapuram, Coimbatore, Kolkata, Ahmedabad and Vadodara.
"GCCs have gained maturity evolving from being single-function to multi-function centres, local to global governance, delivery-focused to business-focused. This has co-incided with digital disruption changing the shape of the global-business landscape. Global organisations are rapidly adopting digital across workplaces, building new products/services to transform their business models," said Pari Natarajan, chief executive of Zinnov.
According to the study, while digital transformation has been an operative word for organisations across the world, the companies need to do more in terms of vision, strategy and execution for operationalising this transformation. The study said 85% of the GCCs in India are into analytics, 80% into cloud, and another 80% into enterprise mobility.
While most of the firms having GCCs in India -- around 70% -- are headquartered in Americas, 20% are from Europe and the rest 10% from the Asia-Pacific, the study said, adding that increasingly Asia-Pacific companies including those from China are looking at India as a research hub.
---