The booming fintech sector may be on Tiger Global Management's radar for its next India deal, as the New York-based firm presses on with a fresh investment blitzkrieg that is beginning to mirror the one that marked its presence in the country in the earlier half of this decade.
Cred, Freecharge founder Kunal Shah's second startup, is reportedly in talks with Tiger Global for a $20 million infusion. Should the deal materialise, it would mark a slight deviation from Tiger Global's investment preferences during the current deal run.
Since January last year, when the firm resumed investing in startups in India after an interval, it has closed 14 deals worth more than $600 million that have been a mix of new and follow-on investments. The pace of dealmaking has quickened visibly this year with eight of those 14 deals being struck within the last three months.
More strikingly, out of the 14 deals closed since January last year, eight involve B2B (business-to-business) startups across sectors such as fintech, SaaS (software-as-a-service), logistics and agritech.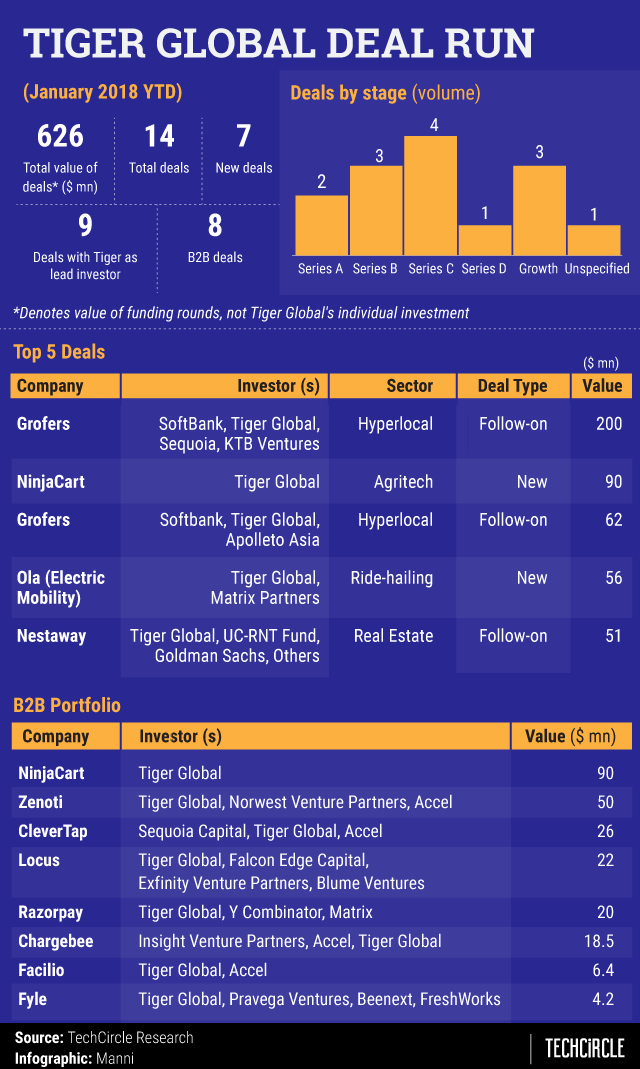 Tiger Global's interest in B2B startups opens up access to the follow-on capital that such startups need at the Series B and C stages. Further, with Tiger Global's entry into the sector, more deep-pocketed investors are likelier than not to also place bets on such businesses. This trend has already played out once in the e-commerce and larger consumer internet sector.
During its previous phase of investing in India's startup market, between 2005 and 2015, the firm amassed a portfolio of 45-odd investments. With managing partner Lee Fixel at the helm (Fixel will step down at the end of the month), these investments were focused largely on B2C (business-to-consumer) startups.
The current deal run, led by Scott Shleifer, who now heads the firm's private equity business, is just getting started but already looks as aggressive in terms of speed and scale as the first.
---