Startup funding value jumps 76% this week even as deal volume falls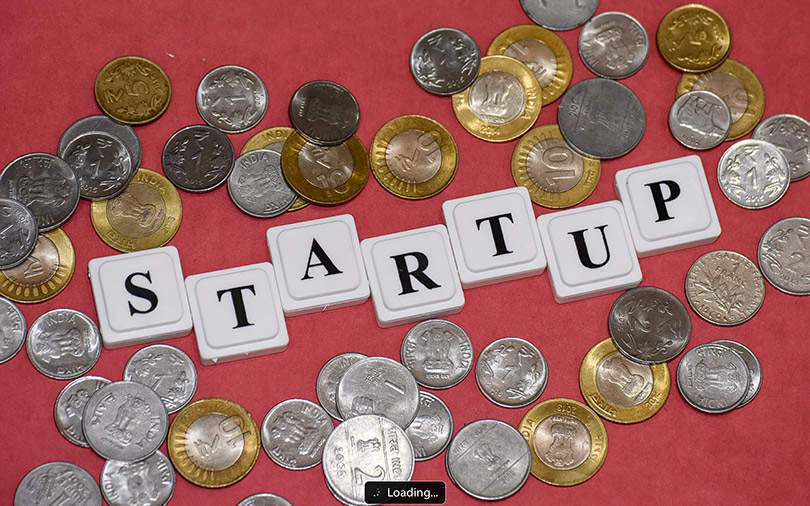 The first week of June saw a 76% rise in startup deal-making activity, with the transaction value reaching about $162 million from $92 million a week before, though the number of deals did slow down to 14 from 20.
The investments were spread across sectors including real estate, clean-tech, mobility, fintech, grocery, personal care, furniture rental marketplace, and personal care.
Those actively betting this week were, among others, Nexus Venture Partners, Westbridge Capital, Omidyar Network, Alteria Capital, General Atlantic, and SAIF Partners.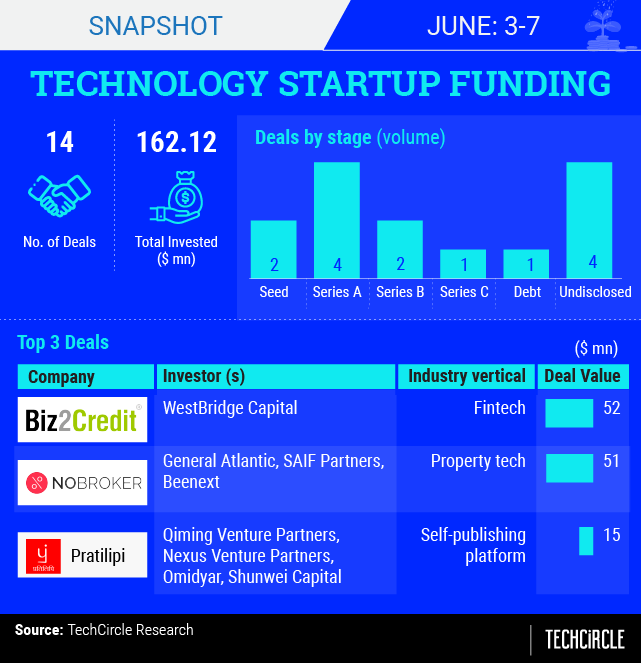 NoBroker gets funding
Property listings portal NoBroker raised $51 million (around Rs 354 crore) in a Series C round of funding led by private equity firm General Atlantic to expand its operations.

Existing investors SAIF Partners and Beenext also took part in the funding round, which took the total funding the firm has raised so far to $71 million.
The startup, operated by Bengaluru-based NoBroker Technologies Solutions Pvt. Ltd, is a home rental and purchase platform that helps users find homes without paying any brokerage. It currently offers end-to-end services in five cities: Mumbai, Bengaluru, Pune, Chennai and Gurugram.
The fresh round of funding comes after the firm had raised $17 million in a Series C round in two tranches in 2016.

Chinese investor bets on Pratilipi
Self-publishing e-platform Pratilipi, which offers content in vernacular languages, raised $15 million (Rs 104 crore) in a Series B funding round led by China-based Qiming Venture Partners.
Existing investors Nexus Venture Partners, Omidyar Network India, Shunwei Capital, Contrarian Vriddhi Fund and WEH Ventures also participated in the round.

Pratilipi, owned and run by Nasadiya Technologies Pvt. Ltd, will use the fresh capital to improve its technological infrastructure, including its recommendation and personalisation engines. The company is also aiming to increase the number of writers on its platform.
Founded in 2015 by Ranjeet Pratap Singh, Sahradayi Modi, Rahul Ranjan, Sankaranarayanan Devarajan and Prashant Gupta, Pratilipi acts like a discovery and reading platform for readers, allowing writers to e-publish their poems, stories and other literary works.
The startup currently offers services in 10 languages – English, Hindi, Urdu, Bengali, Gujarati, Marathi, Tamil, Malayalam, Oriya and Kannada.

Investors pump more money into Milkbasket
Gurugram-based grocery delivery startup Milkbasket raised nearly Rs 73 crore ($10.5 million) in a fresh round of funding led by existing investor Unilever Ventures, the venture capital arm of consumer goods giant Unilever Plc.
Other financial backers including Mayfield India, Kalaari Capital and Blume Ventures also participated in this round.

Milkbasket, operated by Aaidea Solutions Pvt. Ltd, said it will use the funding for geographical expansion, hiring professionals, and research and development.
The startup was founded in 2015 by Anant Goel, Ashish Goel, Anurag Jain and Yatish Talvadia. Unlike Bigbasket, Grofers, Amazon and Flipkart -- the big players in the online grocery delivery market -- Milkbasket positions itself as the online version of local mom-and-pop grocery stores, only with more stock-keeping units.
Today, TechCircle reported that more than one month after Flipkart co-founder Sachin Bansal's BAC Acquisitions committed to loan Rs 20 crore ($2.86 million then) to Milkbasket, both have mutually decided not to proceed with the deal, without citing a reason for the move.
Fintech on the rise
Today, TechCircle reported that online lending platform Biz2Credit Inc. raised $52 million (about Rs 360 crore at current exchange rates) in a Series B funding round led by private equity firm WestBridge Capital.
Biz2Credit will use the fresh funding to expand its marketplace lending business as well as support the expansion of Biz2X – its digital lending platform for banks and financial institutions – through partnerships with global entities.
The firm, whose Series A round was led by Nexus Venture Partners, was founded in 2007 by Rohit Arora and Ramit Arora.
Earlier this week, Bengaluru-based Goddard Technical Solutions Pvt. Ltd, which operates and owns online lending platform Avail Finance, raised another $9 million (Rs 62.2 crore) as part of its Series A funding round led by existing investor Matrix Partners India.
Avail Finance will use the funds to foray into neo-banking.
Other deals
Venture debt firm Alteria Capital invested another Rs 25 crore ($3.6 million) in scooter-rental startup Vogo Automotive Pvt. Ltd.
Employee performance management platform Dockabl raised $1.26 million (around Rs 8.7 crore) in a pre-Series A funding round from Innov8 founder Ritesh Malik, others.
Chakr Innovation Pvt. Ltd, which is building a suite of products to reduce air pollution, raised Rs 19 crore ($2.87 million) in its Series A round of funding led by IAN Fund, the debut fund of the Indian Angel Network.
Gurugram-based Casa2 Stays Pvt. Ltd, which operates budget hotel aggregator FabHotels, received $7.86 million in a fresh tranche of funding led by existing backer Goldman Sachs.
Digital documentation platform Leegality raised an undisclosed sum of money in a funding round led by Mumbai Angels Network.
Personal care brand mCaffeine raised $2 million (Rs 13.8 crore) in a Series A round of funding from a clutch of investors led by RP-SG Ventures.
Poochkoo Pvt. Ltd, which operates an aggregation platform for pet care services called Floap, raised an undisclosed amount from a clutch of angel investors.
Waste management and recycling startup Recykal raised $2 million in pre-Series A funding from Triton Investment Advisors and the Mumbai-based family office of adhesive maker Pidilite Industries director Ajay Parekh.
Cityfurnish, an online rental marketplace for furniture and consumer appliances, raised $5 million in a Series A round of funding from a clutch of investors including Gmail creator Paul Buchheit and YouTube co-founder Steve Chen.
Consolidation
There were about four consolidation-related deals this week. While some of them were buyouts, a couple turned out to be acqui-hires.
Digital insurance platform Acko Technology and Services Pvt. Ltd acqui-hired car-retailing platform VLer Technology.
Acko aims to expand the base of its auto ecosystem with this acquisition, whose value it did not disclose. VLer's capabilities and know-how in the online car-retailing space will be leveraged by Acko to improve customer experience throughout the lifecycle of car purchase and usage.
CleanseCar Washing and Repair Services Pvt. Ltd, a mobile application-based car wash service provider, acquired Carnanny Solutions Pvt. Ltd in a stock deal to expand its presence in Mumbai.
US digital marketer IntellaSphere Inc. agreed in principle to buy Mumbai-based Edgytal Digital Marketing Pvt. Ltd, which operates in the same segment. The two companies did not disclose the financial details of the transaction.
Edgytal has a presence in India, the US and Canada, while IntellaSphere operates offices in the US and India. The acquisition will see IntellaSphere's India operations merge with Edgytal India. The merged entity will be led by Edgytal chief executive Kirti Bhargava. Edgytal managing director Aditya Mehta will join IntellaSphere US as its vice-president of business development.
KPMG in India acqui-hired Recommender Labs Pvt. Ltd, which provides decision-making services driven by artificial intelligence. Recommender Labs' managing director and four of its employees will be joining KPMG.
---