Dealmaking activity was relatively muted this week as compared to the previous fortnight, when some big-ticket deals and a flurry of early-stage investments pushed up deal value and volume respectively.
In all, 12 startups raised $46.15 million in fresh capital over the past five days. In the first week of June, funding worth $162 million was spread across 14 startups.
To be sure, this week's deal value could well be higher as the financial specifics of the standout transaction of the week -- Facebook's investment in social commerce platform Meesho -- were not disclosed.
Apart from social commerce, the other sectors in focus were software-as-a-service (SaaS), industrial Internet of Things (IIoT) and business-to-business (B2B) e-commerce.
Among the investors, Tiger Global made headlines again as did Nexus Venture Partners and Lightspeed Venture Partners.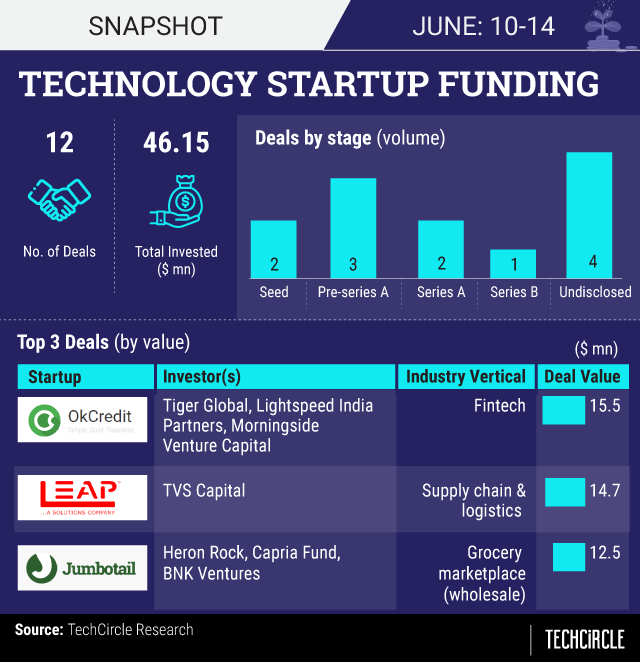 Here's a summary of the top deals:
Facebook makes first startup investment in India
Social networking giant Facebook backed Bengaluru- and California-based Meesho, an online marketplace for resellers, in its first equity investment in India.
While the value of the deal was not disclosed, multiple media reports pegged the transaction at $25 million.
Meesho said that the capital will help it enable independent entrepreneurs to build businesses and grow their customer base via social channels.
Facebook's investment came months after Meesho had raised $50 million in a Series C round of funding last November from China's Shunwei Capital, Russian billionaire Yuri Milner's DST Partners and RPS Ventures, a fund set up by former SoftBank managing director Kabir Misra. Existing investors Sequoia Capital India, SAIF Partners, Venture Highway and Y Combinator also took part in that round.
Facebook had previously bought out Bengaluru-based Little Eye Labs, which built a platform for developers, in 2014.
Grocery bet
Jumbotail Technologies Pvt. Ltd, which runs an online marketplace for food and groceries targeted at wholesale buyers, raised Rs 90 crore ($12.5 million) in its Series B funding round led by Heron Rock, an omni-stage venture fund with offices in Toronto and San Francisco.
Jumbotail will use the fresh capital to boost its artificial intelligence-driven supply chain, forward integration of its platform with point-of-sale (PoS) teams, team expansion and to establish new clients in the fast-moving consumer goods (FMCG) segment.
Jumbotail, which was founded in November 2015 by Stanford University alumni S Karthik Venkateswaran and Ashish Jhina, offers a wide selection of products, including staples, spices, dry fruits, packaged foods and other fast-moving consumer goods (FMCG) items.
More capital for fintech
Tiger Global's dealmaking spree in India continued with yet another bet on a B2B startup. This time, it was the lead investor as OkCredit, which helps merchants keep track of payments and credit records via a mobile application, raised $15.5 million (Rs 107.73 crore) in a Series A funding round.
Morningside Venture Capital, Lightspeed India Partners, Venture Highway and Y Combinator were among the other investors who participated in the round.
The company will use the fresh capital to expand its merchant base as well as create and staff teams in verticals such as product, technology and digital banking.
Other deals:
Conversational artificial intelligence (AI) platform Yellow Messenger pocketed $4 million (Rs 27.7 crore) in a Series A funding round from Lightspeed Venture Partners and other angel investors.
Bolo, a video-based knowledge-sharing platform which offers content in Hindi, raised Rs 3 crore in a seed funding round led by Nexus Venture Partners.
Vowelor, a startup that provides a real-time interactive platform for book lovers, raised Rs 1 crore ($140,000) in a pre-Series A funding round led by angel investor Sanjeev Juneja.
IIoT startup Syook secured an undisclosed amount in funding from Inflection Point Ventures, an investment initiative floated by a group of chief financial officers and finance professionals from India's startup ecosystem.
Startup incubation platform Venture Catalysts invested an undisclosed sum of money in customer interaction platform Jumpstart.
Gurugram-based fintech platform Gromo raised Rs 4 crore in seed funding led by angel investors, namely Livspace co-founder Ramakant Sharma and AngelList India partner Utsav Somani.
Arzooo, a business-to-business (B2B) e-commerce platform floated by two former Flipkart executives, raised $1 million (around Rs 6.95 crore) in a pre-Series A round of funding.
Intra-city logistics aggregator Cogos Technologies Pvt. Ltd received $1 million (around Rs 7 crore) from the Indian Angel Network (IAN), Emergent Ventures and high-net-worth individuals.
Consolidation
Indonesian startup Go-Jek, diversifying from its roots in ride-hailing to food delivery, courier and hairdresser services, acqui-hired Bengaluru-based artificial intelligence (AI) powered recruitment platform AirCTO.
As part of the deal, the financial details of which were not disclosed, AirCTO's team will join Go-Jek to help recruit coding talent for scaling up the Indonesian firm's super app.
---