Fish and meat e-tailer FreshToHome raises $20 mn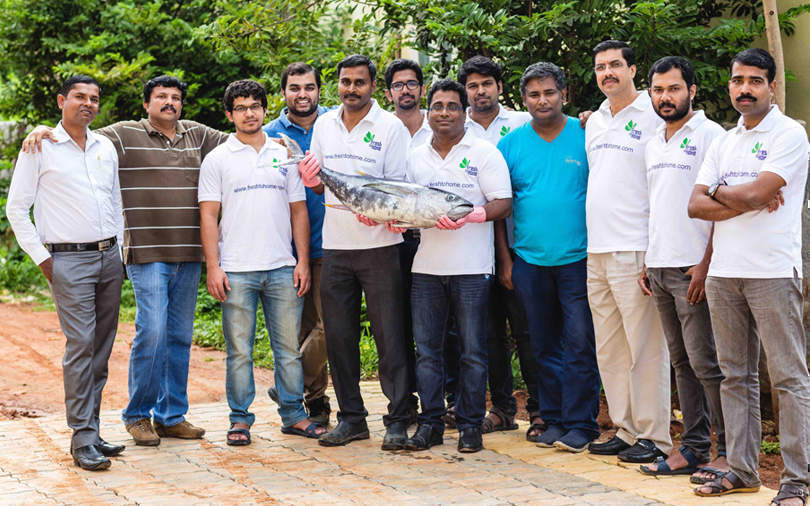 Bengaluru-based online fresh fish and meat retailer FreshToHome has raised $20 million in a Series B funding round led by venture capital firm Iron Pillar with the participation of Joe Hirao, founder of Japanese multi-business firm ZIGExN.
A few of its existing investors including UAE-based Crescent Enterprises Ventures, Al Nassar Holdings and Massar International participated in the round.
The fresh round will see FreshToHome spread operations to more cities in India and the UAE besides expanding its product portfolio.

The company will diversify product offerings to other fresh and chemical-free food categories like fruits and vegetables, cold pressed oils, organic cow & buffalo milk, dairy products, organic staples and other healthy food products, it said in an official statement.
These products will eventually be distributed across ecommerce platforms, retail outlets and other channels across multiple geographies, the statement added.
The investment comes just three months after its Series A funding round when the company secured $11 million led by CE Ventures. Das Capital, Kortschak Investments, TTCER Partners, Al-Nasser Holdings, M&S Partners and investors based in Silicon Valley and Asia also participated in the round. Kortschak had backed FreshToHome in the past while the rest are new investors.

The company has expanded to new cities like Mumbai and Pune, and also ventured into the global market by launching its operations in the UAE.
FreshToHome also announced it crossed $30 million in annualised direct to consumer sales with a 30% month on month growth. It claims to receive over 14,000 orders and processes around 20 tonne fresh food produce every day.
Being its first foodtech bet, Iron Pillar wanted to be certain of the value offered by the brand and strong technology-enabled moats for the business, said Anand Prasanna, managing partner of the VC firm that provides growth capital to mid-stage tech companies in India.

"FreshToHome's brand proposition has been to provide 100% fresh food with 0% chemicals, not an easy thing to achieve in India on a large scale. They have thoughtfully created the largest and fastest perishable supply chain for fish and meat in India to make this happen. By smartly using Big Data and machine learning, they have created a sustainable supply chain, which offers a fair price to consumers, fishermen and farmers, for their premium produce," he added.
Freshtohome Foods was founded in 2015 by Shahnawaz Kadavil, former country manager at Zynga India and fish exporter Mathew Joseph.
The company has followed the growing omnichannel trend recently to open outlets in Bengaluru and Chennai. It serves 650,000 customers across 10 cities in India and the UAE. It directly sources from 1,500 fishermen and farmers and delivers to consumers.

FreshToHome's patent-pending direct sourcing commodities exchange platform allows fishermen from coasts across the country to bid directly with the company via a mobile application.
"We are just getting started and with a $250 billion market size in front of us in the perishables category alone in India - this is just the tip of the iceberg. We recently crossed 14,000 orders a day - this reinforces our belief that if you give consumers safe to eat food at an honest price, you can create a brand loved by thousands thanks to our loyal customers, fishermen and farmers who trade or farm directly on our platform," Kadavil said.
In the first quarter of 2016, a group of early-stage investors including Sequoia Capital India MD and former Google India executive Rajan Anandan wrote the first cheque for FreshToHome. At the time, Kadavil had said the amount was in "single-digit million dollars".

Zynga co-founder Mark Pincus, Google Ventures' David Krane and former SoftBank director Pavan Ongole were among the others who invested in the early stages.
FreshToHome competes with Bengaluru-based startup Licious, which raised $25 million in a Series D funding round, led by Japanese conglomerate Nichirei Corporation last October.
Grocery-focused ecommerce firm BigBasket also operates in the domain.

---