Jack Ma stepped down as chairman of Chinese retail behemoth Alibaba today, and the ecommerce conglomerate will now be run by chief executive officer Daniel Zhang and co-founder and vice-chairman Joseph Tsai.
Alibaba hosts marketplaces like B2B (Alibaba.com), C2C (Taobao) and B2C (Tmall), and runs various businesses like electronic payments, shopping search engines and cloud computing services.
The Alibaba Group, under Ma, had over 66,000 full-time employees, 750 million active monthly users and a market capitalisation of about $420 billion, according to media reports.
Alibaba's India bets
In an attempt to perhaps create the exactly similar infrastructure in India, the Chinese tech giant has extensively bought into parallel Indian companies.
A few of its most valued bets in India include digital payment platform Paytm and its ecommerce arm Paytm Mall, restaurant aggregator Zomato, online grocery delivery platform BigBasket, ecommerce marketplace Snapdeal and logistics firm Xpressbees.
Alibaba entered India in 2014 with Paytm and has invested $1.7 billion in Indian startups till date, a media report said.
In February 2015, Alibaba Group invested $709.46 million for 41.01% stake in One97 Communications, the parent company of Paytm.
In March 2018, it infused $45.67 million in Paytm's ecommerce arm Paytm Mall, increasing its stake to 62%.
Alibaba Group invested $500 million in ecommerce marketplace Snapdeal in August 2015.
In January 2018, logistics firm Xpressbees raised $35 million in its Series D round of funding from Alibaba.com Singapore ecommerce, a wholly-owned subsidiary of Alibaba.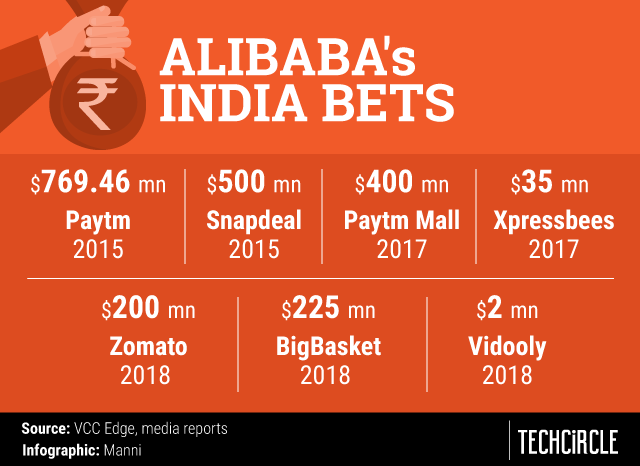 A month later, in February 2018, Alibaba's payment affiliate, Ant Financial, pumped in $200 million in online restaurant discovery and food delivery company Zomato and picked up 18.18% stake in the company.
Ma-led Alibaba sent out a strong signal of its growing interest in India's digital economy by sealing two deals of more than $400 million in a single day. On the same day as it invested in Zomato, it also led a $300 million round in online grocer BigBasket.
The company's latest investment in the Indian market is in video analytics startup Vidooly Media Tech. It invested $2.12 million in the company's Series C funding round in February 2019.
Growing scepticism
Alibaba has not been able to make a profitable exit from any of its portfolio companies in the Indian market to date, majorly because of the disappointing performances.
Topping the list of Alibaba's misfortune is Paytm Mall, which is undergoing an overhaul since its earlier model of heavy discounting and cashback did not work well for the company.
The company is now reorganising itself including being hived off from parent One97 communications to an independent identity and a top-order reshuffle ending with elevating Rudra Dalmia as executive director in June 2019.
Alibaba's investments worth $500 million in Snapdeal hit a major block when the latter sunk to a 4% market share in March 2017 from about 26% in September 2015. Major quality oversights, failure in value proposition and marketing lapses were highlighted as causes for Snapdeal's failure by the advisory firm RedSeer Consulting.
Alibaba's latest nightmare is the #LogOut campaign started in August 2019 by restaurant partners against food delivery unicorn Zomato.
Zomato is facing the ire of restaurant owners due to heavy discounting practices, especially through loyalty programme such as Zomato Gold, which had led to growing losses for the restaurants.
Three major setbacks, coupled with a downturn in the Indian economy, seems to have ruffled Alibaba's investment plans for India. Ant Financial did not participate in the latest funding round of Paytm Mall in which it had been a major existing investor until early 2018.
Alibaba's India investment team of four experts, led by Raghav Bahl, has been advised to focus only on the existing portfolio for the time being and not rush into fresh deals, The Mint reported.
Multiple media reports said the company is eyeing only smaller early stage deals now, going by the trend of its latest investments including Vidooly.
Alibaba rewind
Alibaba was started in 1999 by Ma in a small apartment in Hangzhou, China. Almost 20 years later, Ma's initial group of 17 employees anchored the small business into a diversified conglomerate that often goes neck-and-neck with global competitors like Google, Amazon and Paypal.
Ma had announced his retirement exactly a year before and said he will go back to his previous field of education and engage in philanthropy. Ma draws inspiration from Microsoft founder Bill Gates.
"I can never be as rich but one thing I can do better is to retire earlier," he had said in an interview last year.
---