Markets regulators Securities and Exchange Board of India (SEBI) and the Securities and Exchange Commission (SEC), for India and the US respectively, have initiated independent probes related to whistleblower complaints against Infosys.
The Bengaluru-based information technology services firm said it was in touch with the SEC regarding the anonymous whistleblower complaints and that the regulator has initiated an investigation into the matter. Meanwhile, New York based investor rights law firm Rosen Law Firm also initiated a class action suit against the company in the US courts.
"The company will cooperate with the SEC's investigation. The company is also aware of a securities class action lawsuit that has been filed against the company in federal court in the United States based on the generalized allegations in the anonymous complaints. The company intends to defend itself vigorously in such a lawsuit," Infosys said in the statement to stock market exchanges.
Separately, responding to queries from SEBI on Thursday morning, Infosys said that it was not bound to disclose all whistleblower complaints according to the present regulations. The firm said that before the conclusion of the investigation of the generalised allegations in the whistleblower complaints, a disclosure under Regulation 30 of SEBI"s LODR Regulations, 2015, was not required and was hence not provided.
Both the SEBI and the SEC investigations pertain to why the IT firm did not disclose information about the whistleblower complaints, it said in its statement to the bourses.
In the aftermath of the whistleblower complaints being made public, the firm's shares plunged 16% on the Bombay Stock Exchange (BSE) on Tuesday. On Monday the company's ADRs (American depositary receipts) on the New York Stock Exchange and NASDAQ fell 14%.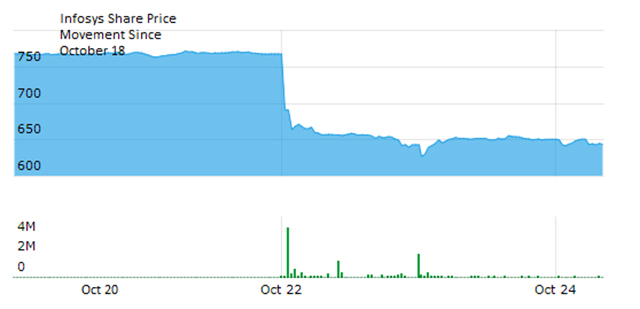 On Monday, news reports said that a whistleblower group that called itself 'ethical employees', had complained against Infosys. The group alleged that the company was taking unethical steps to boost its short term revenue and profit numbers.
According to a statement from Infosys to the BSE on Tuesday, one of its board members received two anonymous complaints on September 30, 2019, titled 'Disturbing unethical practices' and the second undated with the title, 'Whistleblower Complaint'. Following its internal policy, the firm placed both complaints before the Audit Committee on October 10, 2019, and before the non-executive members of the Board on October 11, 2019.
Several market analysts told TechCircle that the storied IT firm should have taken faster action and been more forthcoming with disclosures to contain the slide in the value of its shares as well as shore up the image on account of whistleblower complaints.
Infosys announced its quarterly earnings for the second quarter of the financial year 2019-2020 on October 11. At the press conference to announce the earnings, the senior management did not speak about the whistleblower complaints and nor was there any mention of the complaints in the company's statements to the BSE or media outlets.
---