Amazon Wholesale India, the local B2B arm of Seattle headquartered ecommerce major Amazon, reported an 8% decline in revenues for the financial year 2018-19 at Rs 11,232 crore. Losses widened marginally to Rs 140 crore against Rs 131 crore in the previous year.
The company generates all of its revenues from wholesale trading. In February, the government barred sellers on foreign-owned ecommerce platforms from sourcing more than 25% of their inventory from group companies. Subsequently, Amazon pared its stake in two subsidiaries, Cloudtail India and Appario Retail, after the new norms became effective. It had briefly suspended the operations of the two arms.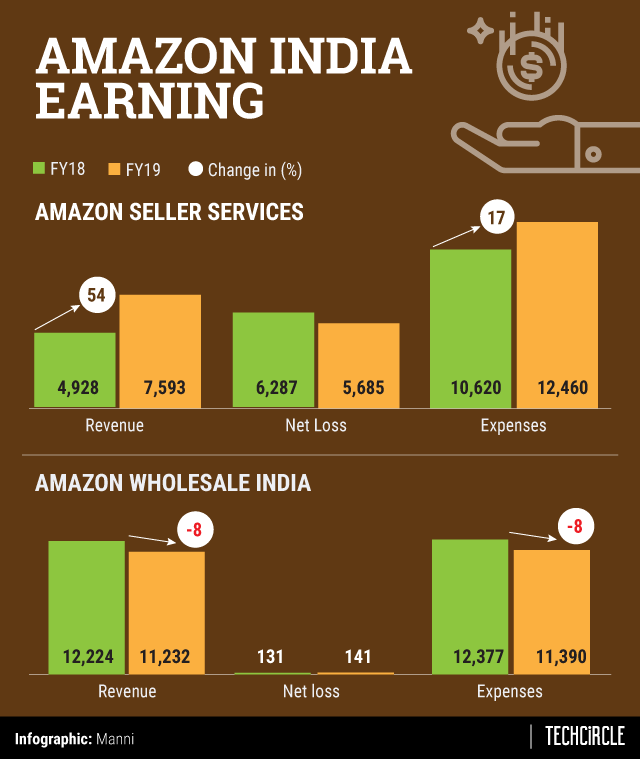 Cloudtail reported a 25% increase in its topline at Rs 8,945 crore for FY19. Appario Retail is yet to declare its earnings for the year.
Separately, Amazon Seller Services, another local entity that operates Amazon's ecommerce marketplace, reported a 54% growth in revenues forFY19 at Rs 7,593 crore.
Despite the healthy topline growth, Amazon Seller Services reported net losses at Rs 5,685 crore on account of investments in technology, infrastructure, and opening new fulfilment centres. The losses, however, narrowed from Rs 6,287 crore in the previous year.
"Amazon Seller also continues to invest in launching new products and services for its customers and sellers and is confident of its future growth," the company said in a regulatory filing.
The company's total expenses for the year were at Rs 12,460 crore, up 17% led by higher delivery costs at Rs 3,663 crore (up 23%); salary costs of Rs 1,183 crore (up 13%) and advertisement costs of Rs 2,330 crore (up 11%).
However, royalty costs dropped drastically to Rs 16.5 crore from Rs 2,706 crore in the previous year.
In calendar year 2018, the global parent also invested less capital in Amazon Seller Services. Against Rs 9,450 crore invested in 2018, it had infused just Rs 2,800 crore till October 2019.
---