Walmart-owned digital payments firm PhonePe reported a three-fold growth in revenues for the financial year 2018-19 but the gain was shadowed by a wider losses chiefly on account of a steep increase in spends on advertisements.
PhonePe, earlier a business division within Bengaluru based ecommerce firm Flipkart, reported higher net losses at Rs 1,905 crore in FY19 against Rs 791 crore in the previous year even as its topline grew 400% to Rs 245 crore, showed regulatory filings.
The company's expenses with respect to advertisements increased 115% to Rs 1,296 crore in the financial year ended March 31.
PhonePe's total expenditure shot up by 156% in FY19 to Rs 2,153 crore mainly on account of higher other expenses. Other expenses, which included advertising, legal, transportation costs, increased more than two times to Rs 1,511 crore.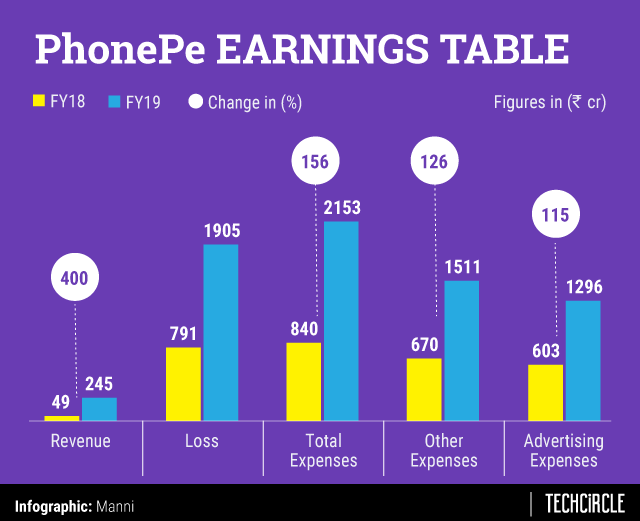 During the year, the company acquired the PoS (point-of-sale) business of Solvy Tech Solutions for Rs 334,428 to strengthen its merchant payment solution business.
Rights issue
Last month, PhonePe, earlier known as Flipkart Payments, infused $57 million (around Rs 404 crore) into the digital platform through a rights issue, according to a separate regulatory filing. This is the second time in the current financial year that the promoter infused funds in the platform via a rights issue.
In FY19, the promoter had infused Rs 2,573 crore through a rights issue spread over four tranches.
The systemic funding comes amid increased advertisement expenses incurred by the company and rising competition among fintech companies to capture higher market share. Separately, Walmart is also planning to hive off PhonePe as a separate entity from Flipkart, to gain more control over the payments platform, The Economic Times reported.
PhonePe operates its payment system through unified payment interface (UPI) and prepaid instruments services in a highly competitive market. Paytm, Amazon Pay, and Google Pay are some of its peers.
"PhonePe is actively exploring other business avenues in the payments and ecommerce space," the company said without elaborating further.
---