Online car marketplaces Cars24, Droom and OLX (the used cars vertical) spent most of financial year 2018-2019 spending generous amounts of cash, even as the losses piled up and growth in the overall automotive market slowed down.
The three companies together put Rs 2,652 crore to work during the year, with each spending significantly higher this year on advertising and marketing in a bid to grab market share.
Cars24 spent a total of Rs 2,013 crore in FY19, up nearly 170% from the previous year. Droom saw its overall costs jump 74% to Rs 274 crore. OLX, also a significant player in the space, saw its overall costs increase 135% to Rs 365 crore (includes the used cars and classifieds businesses).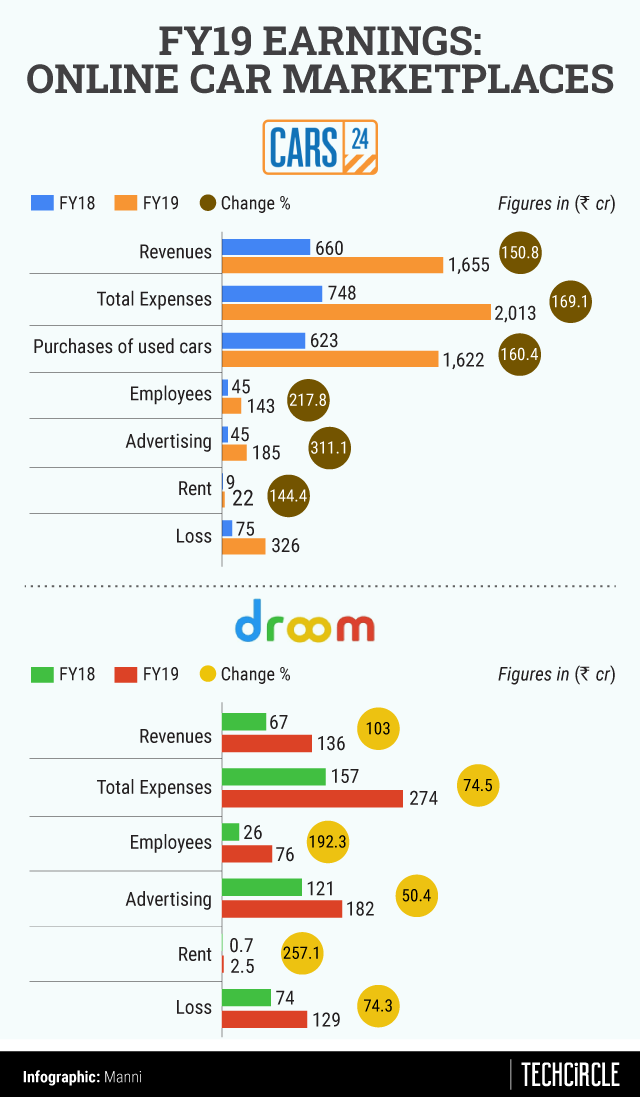 For all three companies, advertising was one of the major spending heads during the year. While both Cars24 and Droom spent similar amounts on advertising, the former saw its spends increase more than 300%. OLX also increased advertising spends to Rs 7 crore from Rs 1.8 crore in the previous year.
It is important to note that unlike Droom, Cars24 and OLX have a different cost base on account of their business models. Cars24 follows the relatively asset-heavy, inventory-led model whereby it acquires used cars for its marketplace. Out of the Rs 2,013 crore it spent during the year, as much as Rs 1,622 crore went into buying used cars. OLX follows a hybrid model where it aggregates and buys cars. In FY19, it bought used cars worth Rs 184 crore, significantly higher than the Rs 3.3 crore it spent in the previous year.
In order to sustain the rapid scale-ups, the companies also faced higher employee costs. In the case of Cars24, salaries and wages increased two times to Rs 93 crore, taking total staff costs to Rs 143 crore, higher by over 200%. It also issued ESOPs worth Rs 43 crore during the year. Droom paid Rs 76 crore to its employees, higher by 193%.
Founded by Sandeep Agarwal in 2014, Droom raised $60 million in FY19, as per data compiled by VCCEdge. It also acquired NBFC Xeraphin Finvest to improve operations of its own lending arm, which claims to have processed 10,000 loans.
The higher spends in 2018-2019 did yield the desired results in terms of increased transactions and revenues for the companies. While Cars24, owned by Global Car Group, closed the year with revenues at Rs 1,655 crore, up 150% from the previous year, Gurugram-based Droom Technologies reported a two-fold increase in topline at Rs 136 crore.
OLX's automobile segment reported revenues at Rs 210 crore, contributing 54% of the company's overall topline of nearly Rs 400 crore.
In April 2019, Girnar Software-owned CarDekho had said that the company's revenues rose 62% in FY19 to Rs 260 crore, without disclosing other details.
---