Think & Learn, the Bengaluru-based company that owns and operates online education platform Byju's, narrowed its losses more than four-fold in the financial year ended March 31, 2019, even as its expenses vaulted more than 150%.
The company's losses for the year stood at Rs 8.8 crore against Rs 37.1 crore in the previous year, its FY19 consolidated earnings filed with the Ministry of Corporate Affairs showed. Overall expenses during the same period stood at Rs 1,376.5 crore against Rs 537.3 crore in the previous year.
The company was able to narrow its losses significantly despite the jump in expenses on account of a 177% growth in operational revenues, which stood at Rs 1,305.9 crore.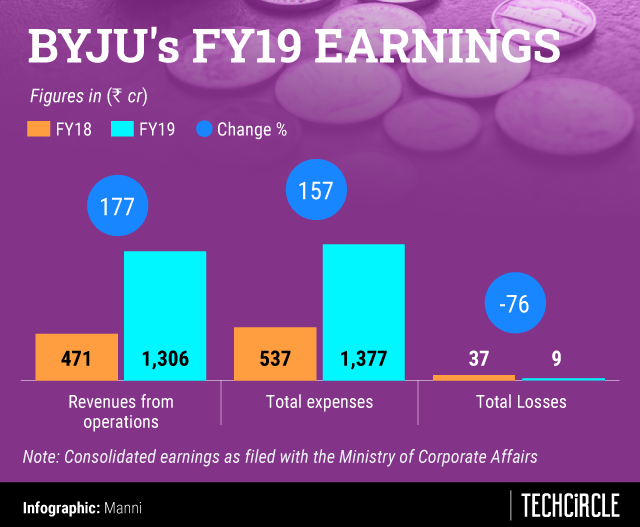 Think & Learn's consolidated earnings for FY19 take into account six subsidiaries.
Specadel Technologies: The company, which Byju's acquired in 2015, is engaged in the business of online tutoring, publishing, and marketing educational products. In 2017, Specadel in turn acquired the online tutoring and publishing and marketing of educational products business of Pearson India.
Infiken Internet: Byju's acquired this company in 2016. It is engaged in the business of information technology related activities.
Span Thoughtworks: Engaged in the business of research, development and delivery of career development content and services via internet, television and radio, for children and young adults. Byju's acquired this company in 2016.
Think and Learn: The eponymous subsidiary was incorporated in 2017 and offers K12 learning programmes. It was through this subsidiary that Palo Alto, California-based Tangible Play's Osmo was merged into the parent.
Byju's K3 Education: Incorporated in 2018, the company engaged in the business of training students in India and abroad for various educational programs, research and development of products and development of teaching aids to supplement education using latest technology tools using different mediums like internet, television, and computers.
Byju's Inc: This is a Delaware incorporated subsidiary and is an education technology company for students in the US. It was incorporated in February this year.
Based on Think & Learn's standalone earnings, the company closed FY19 with a net profit of Rs 20 crore. Operating revenues, on a standalone basis, stood at Rs 1,281.1 crore against Rs 460.9 crore in FY18.
"Deeper penetration across India and significant growth in the number of paid subscribers have been the primary drivers of growth," the company said in a statement Tuesday, with respect to its standalone earnings. It is now on target to double its revenues to Rs 3,000 crore in the current financial year, the statement added.
"We have exceeded our financial goals that we set at the beginning of the year. Expanding our base across smaller towns and cities and introducing new products have been pivotal to our growth. With 60% of our students based outside the metros, the aspiration and need for quality learning has never been higher," Mrinal Mohit, COO at Byju's said. The company's to be launched online tutoring services will further accelerate growth and profitability in the coming year, Mohit added.
Founded in 2015 by 37-year old, Kerala-born entrepreneur Byju Raveendran, the company now has over 40 million registered users and 2.8 million paid subscribers. It claims that the average number of minutes a student spends on the app has increased from 64 minutes to 71 minutes a day over the last 12 months and the annual renewal rates are as high as 85%.
In January, the edtech unicorn forayed into the United States with its $120 million acquisition of Osmo, a learning platform. In June, it launched the Disney-Byju's Early Learn App, an offering for students in classes 1-3, featuring Disney's characters.
The company has raised multiple rounds of funding from investors such as the Qatar Investment Authority, General Atlantic and South African conglomerate Naspers. It was last estimated to be valued at more than $5 billion, according to multiple media reports.
---