The deposits and interest income by payment banks doubled in the financial year ended March 2019 even as the aggregated losses increased 21% compared to last fiscal, according to a Reserve Bank of India report.
Payment banks — including the ones floated by Paytm, Reliance Jio, Airtel and Fino— suffered heavy losses for the third consecutive year due to mounting operating costs. They registered a 21% increase in losses as they reported a cumulative Rs 626 crore loss in fiscal 2019 over Rs 516 crore reported last year.
The deposit base for the payments banks grew two-fold in the year to Rs 883 crore from Rs 438 crore in FY18. Banks are not allowed to secure deposits of more than Rs 1 lakh from the customers. There was also a visible swell in liabilities and provisions, as the number grew to Rs 4,363 crore from Rs 2608 crore in FY18, according to data from RBI's Trend and Progress of Banking in India, 2018-19 report.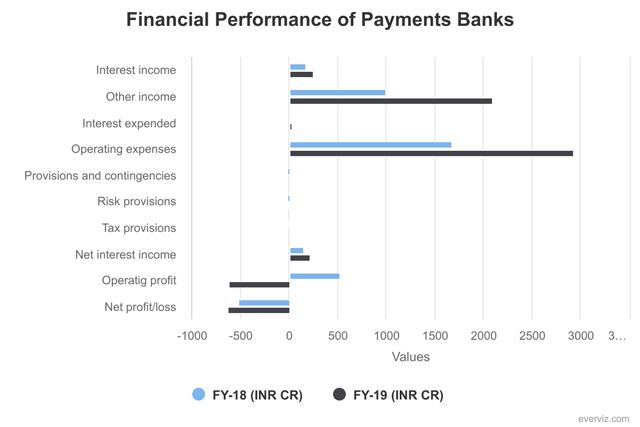 According to the report, seven out of the 11 payment banks were approved by RBI operated this year compared to the five functional ones in the year before. Together, the banks reported an interest income of Rs 255 crore this year, a 45% growth from the previous fiscal.
Other incomes, which include commission on transactions also almost doubled this year to Rs 2093 crore against Rs 1003 crore in the last year.
Adding to the good news were the remittance numbers, which rose to Rs 1.10 lakh crore this fiscal from Rs 89,653 crore in fiscal 2018, booking a 23% surge. Another trend was UPI (unified payments interface) based transactions taking over from the e-wallets as the most popular channel for inward as well as outward remittances, both value and volume-wise.
UPI transactions from all payment banks added to 499 million this year at a total transactional value of Rs 57219 crore, accounting to 70% of total transactions. E-wallets settled at 18.6%, clearly suggesting an upturned trend.
Payments banks in India have been dealing with limited channels of revenue and high infrastructure costs.
In July 2019, Aditya Birla Idea Payments Bank (ABIPBL) decided to shut operations 18 months after its launch. It said it was closing down because of "unanticipated developments" in the economic environment that made the business model unviable.
---