The number of UPI (unified payments interface) transactions in India sequentially peaked by 7% in the last month of 2019, National Payments Corporation of India (NPCI) said in a tweet on Thursday.
The total number of transactions jumped to 1.31 billion in December 2019 from 1.22 billion in November 2019. The total transaction value of UPI increased also increased by 7% to Rs 2.03 lakh crore, sequentially.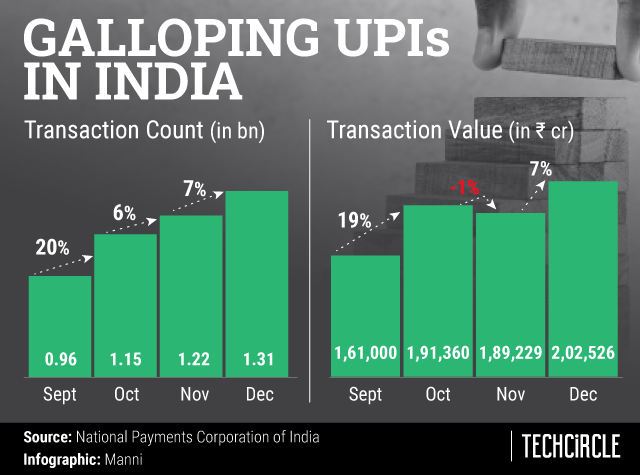 It is encouraging to witness digital payments being widely accepted across the country. This momentous achievement is a result of the continued support that UPI has received from the ecosystem including banks and third-party payment apps and the policy initiatives by the government and RBI in the digital payments," Dilip Asbe, chief executive and managing director at NPCI said in a statement, back when the transactions had touched a billion in October.
UPI as a technology that allows users to transfer money on a real-time basis, across multiple bank accounts without revealing details of one's bank account to the other party.
The mobile-based payments system has become one of the most prominent forms of digital payments. Currently, 143 banks are live on UPI, compared to 21 banks when the payments system was launched in 2016, according to UPI Live Members data available on NPCI's website.
About 5.35 billion UPI-based transactions were recorded in the financial year 2018-2019 as compared to 915.2 million in financial year 2017-2018, NPCI had said.
UPI has also reportedly toppeled debit and credit card transactions in the financial year ended March 2019, according to data available with the Reserve Bank of India (RBI) and NPCI.
In August 2019, it launched UPI 2.0 in a bid to further push the adoption of digital payments across the country. This resulted in additions to its key features such as 'linking of overdraft account', 'one-time mandate', 'invoice in the inbox' and 'signed intent and QR'.
NPCI's other products include RuPay card, Immediate Payment Service (IMPS), Bharat Interface for Money (BHIM), BHIM Aadhaar, National Electronic Toll Collection (NETC) and Bharat BillPay.
---