The year 2020 is likely to see a rise in the ownership model -- developed in partnership with land owners, developers or space providers -- in the co-working spaces segment, ANAROCK Property Consultants' chairman Anuj Puri said in a statement on Friday. The move comes on the back of the cost inefficiency and inflexibility of the current lease-based structure.
The new arrangement will create built-to-suit spaces that are customised to the tenant's needs, Puri said, identifying one of the top trends that will shape the sector in 2020.
"There's no doubt that co-working creates an inventive and stimulating work environment. However, it also comes with certain risks and conditions. Such a shared format may not be suitable for companies dealing with high volumes of confidential data. It is up to operators to take steps to minimise such risks and scale up cyber security within shared working spaces. The shared work culture also translates into loss of privacy, which is a major concern for several companies," the statement said.
The demand-supply equation
The total supply of flexible workspaces was between 7 and 7.5 million square-feet towards the end of 2018, Puri said. That figure crossed 12 million square feet by the end of 2019.
The demand is only set to further increase in 2020, with large companies opting for flexible co-working spaces for their short-term expansion plans, Puri said.
"... it (co-working segment) now caters to mainstream corporates and large enterprises as well. Global tech giant Google leased an office space with co-working operator Simpli Work in Gurugram to expand its operations. Even banks and telecom companies are keen on teams to operate away from headquarters and closer to entrepreneurs," Puri said.
There are currently over 200 players operating across the country, according to ANAROCK's year-end estimates in 2019.
The top seven co-working players alone have more than 350 centres across India – the number is set to double or treble in the next two years, said Puri.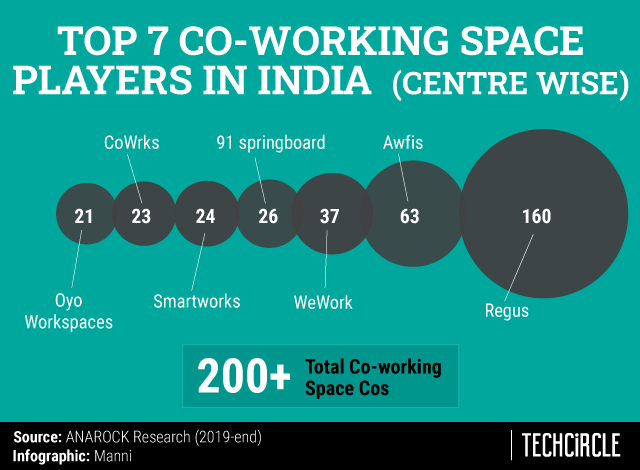 Funding set to increase
Institutional funding is set to grow with the capital-intensive nature of co-working spaces. While most deals in 2017 were driven by angel investors and only a few PE (private equity) players, 2018 saw maximum deals driven by large PE players and venture capitalists. This trend continued in 2019, which witnessed strong investor confidence in India's co-working story with three major deals being inked in the year, Puri said.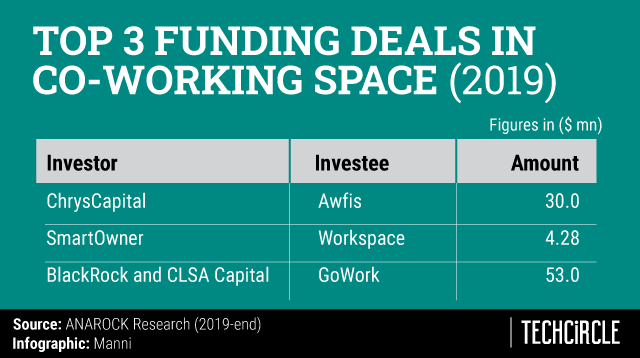 Sector consolidations
In 2020, we will see smaller or city-specific operators merge with national players looking to enter or establish themselves in tier-2 and tier-3 markets, said Puri.
The sector consolidations took off in 2018, with major acquisitions like One Co.Work acquiring IShareSpace and AltF CoWorking acquiring Noida-based Daftar India. It continued in 2019 with Oyo's takeover of Innov8 for Rs 220 crore.
"The success of the business model hinges on the operator's capacity to scale up and not every company may have the financial bandwidth or resources to do that. Survival in such a competitive environment will be a challenge for smaller players, and we will see more mergers and acquisitions in 2020," Puri said.
---